Some of our legendary climbers, on a pretty legendary climb.
A story of guts and toughness. A survival story of sorts!!
I felt that these pictures were worth putting in both places.
I'll let the man himself be in charge of the story telling, if he chooses.
North Ridge of Latok 1, with team members in foreground.
Visit on photobucket.com

Climbers, left to right, Jeff Lowe, George Lowe, Michael Kennedy.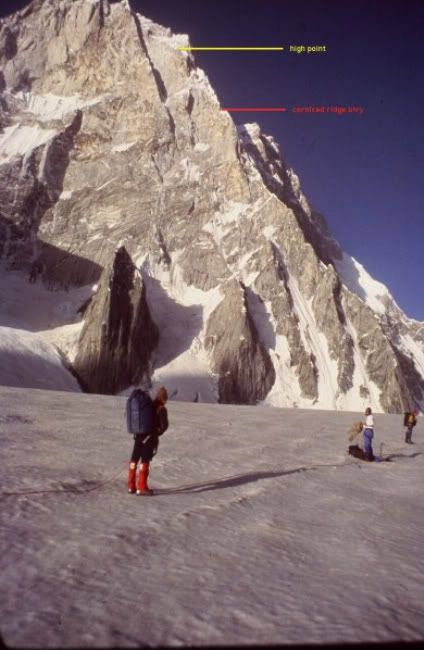 Visit on photobucket.com

New commentary from Donini:
"The ridge starts at 15,000 feet and goes to 23,500 feet. With
the usual twists and turns of a route, over 10,000 feet of climbing at
altitude is involved. In 1978 nothing of this magnitude had been tried in
anything but expedition style and likely nothing with this amount of
continuous technical difficulty had been attempted period.
We climbed capsule style with two climbers pushing the route with the
other two getting the loads up and switching responsibilities on a daily
basis.
26 days were spent on the climb due to the continuous nature of the
climbing and the two six day storms that impeded progress. Unfortunately
the two weeks supply of food that we brought proved insufficient and led
to a phrase I used years later during a storm high on Cerro Torre;
"survival is not assured."
I believe that the technical difficulties were pretty much behind us and
despite the bad weather and exhaustion we would have summited if Jeff had
not had become ill.
The four day descent, in storm until the last day, was an epic requiring
85 raps and devious traversing. Needles to say we had to get very creative
in regards to rap anchors.
I still don't think anyone has gotten to within 2000 feet of our high
point. This surprises me given that there have been over two dozen
attempts by teams possessing superior knowledge, equipment and ability.
Every year I think that this will be the year the damn thing gets
finished- I'll be the first one to applaud the successful effort."
George Lowe in good weather low on the route. Low on the route?? Look at that exposure and drop off!
"There was no stopping George. Here is raring to go just after sitting out a 5 day storm low on the route."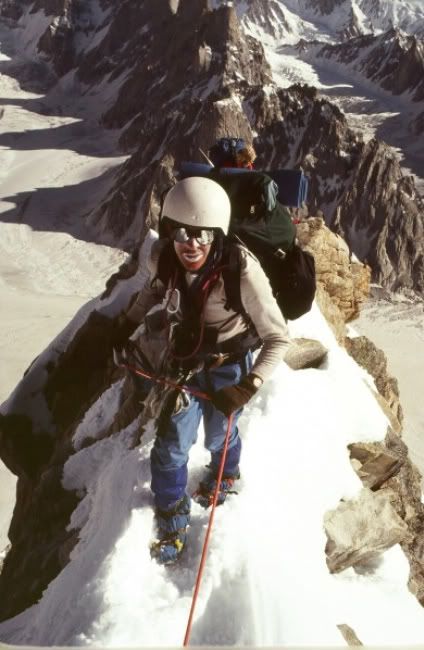 Visit on photobucket.com

New Commentary From Donini:
"The climb was George's idea, he had seen a black and white
photo of the ridge taken by Shipton and Tillman during their epic traverse
of the Karakorum range. We were likely the second group of westerners to
visit the cirque."
Michael Kennedy, with the Ogre in the background.
"Michael was unflappable throughout the climb.
As far as I know Peak 6980 just left of the Ogre is still unclimbed."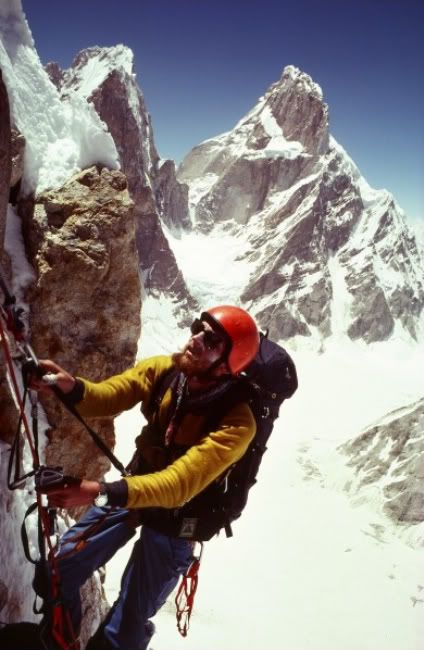 Visit on photobucket.com

New Commentary From Donini:
"Michael was a joy to climb with- the word unflappable comes to
mind."
Jim Donini, looking like a POW!!
"Me at our highest bivy after many days of little food. A very ill Jeff next to me. We spent 26 days on the route with 14 days of food. Fritz wondered if I lost weight."
Visit on photobucket.com

New Commentary From Donini:
"In the one and only snow cave we were able to build- it likely
saved our butts. You can see what a starvation diet will do to someone
with my high metabolic rate- it took me 6 months to fully recover. A very
ill Jeff Lowe is lying next to me. The cave is three hundred feet below
our high point."
Jeff Lowe working on a rather exposed bivouac.
"Jeez, I think that Latok1 is far more interesting than whether or not A5 exists- seems people here don't agree."
Pithy indeed. I agree with curmud...er...I mean Jim.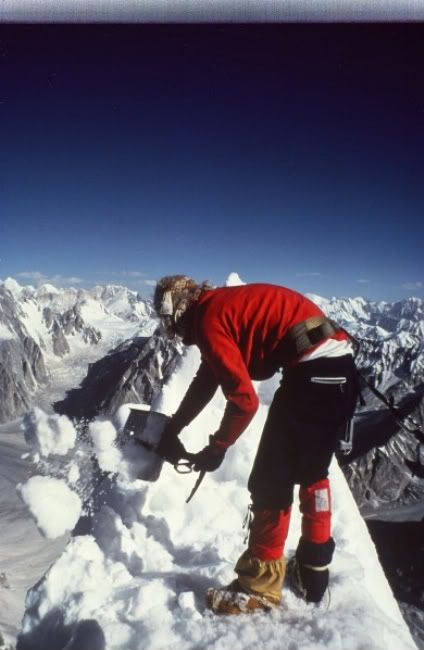 Visit on photobucket.com

New Commentary From Donini:
"Jeff hard at work constructing a platform for a comfortable but
airy bivouac at the end of the knife edge ridge."
"The first traverse. 800 feet and scary seracs.
Committing and strenuous to get the gear across. We now felt fully engaged.'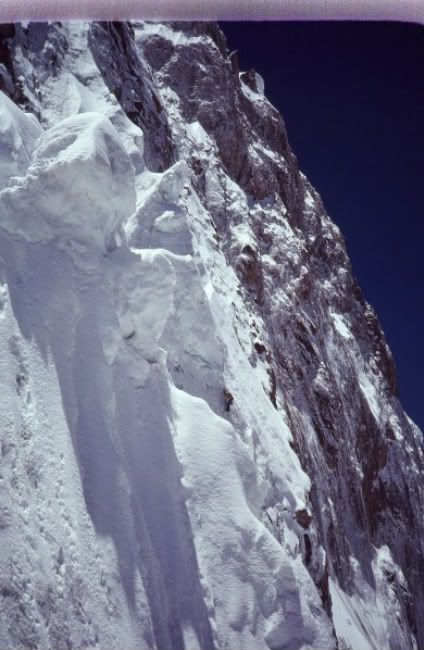 Visit on photobucket.com

New Commentary From Donini:
"George far out on the first traverse, 800 arduous feet under
creaking, unstable ice mushrooms- phew!"
Jeff Lowe on the knife edged ridge, approaching what would become one of the best bivy sites on the climb.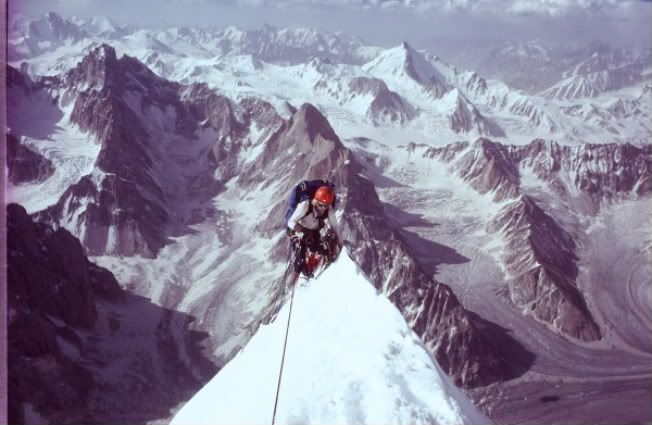 Visit on photobucket.com

New Commentary From Donini:
"Jeff following my lead of the last pitch of the knife edge ridge.
Jeff's climbing ability and work ethic were a wonder to behold."
I hope this helps keep this historic climb visible for awhile!