Obligatory Warning: Rock Climbing is inherently fun.
It's May and Mike is at the end of his Yosemite trip. After a hard night of drinking and posting on the Taco, I find Mike laying on a practicer's pad in Camp 4. Kind of hard to spot the tallest guy in C4 when he is laying down, but after a couple passes I find him at his site.
"You's Bike Mike?' the Canadian Giant rises slowly and grabs his chalk belt.
"Depends, who's asking?" He replies. I watch his hand perched and ready to chalk up. I put up my hands and reply,
"Whoa, now simmer down, it's me This Just In" A big sigh of relief on both sides and he drops his chalk.
My memory isn't the best, but I'm pretty sure this is how it went down. The usual awkwardness of meeting someone new wasn't a big deal, cause we have come to know each other over the years on this site. Plus, we had a ton of climbing to talk about. After a stop at South Gate Brewery in Oakhurst, we were at my house Sunday evening and ready for climbing.
DAY 1
I figured the best way to start was to run up The Big Sleep. 900' of mellow climbing we did Moonlight Madness, 5.9. I made sure to set Mike up for the crux and best pitch, so I had P1.
Mike at P2 belay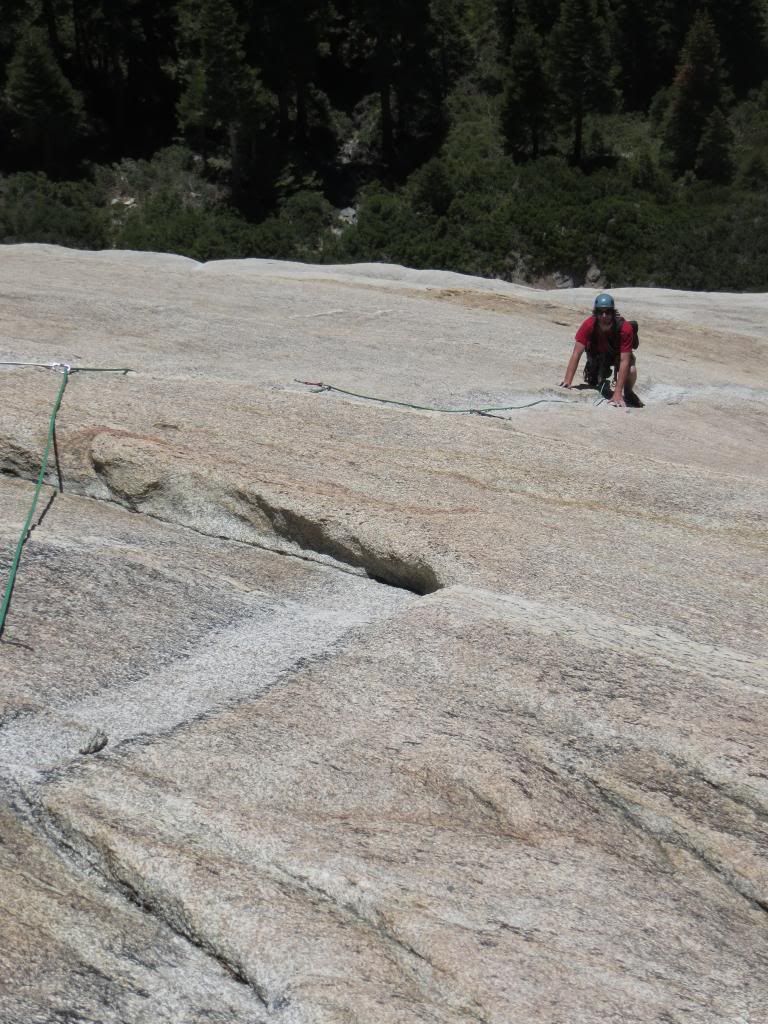 P3
Mike through the crux on P4 and into the chickenheads of Shuteye. He gave a yell after pulling the roof and feeling the jugs. After tying his first slipknot he said it was one of his most unique pitches he had done. A little bit of everything.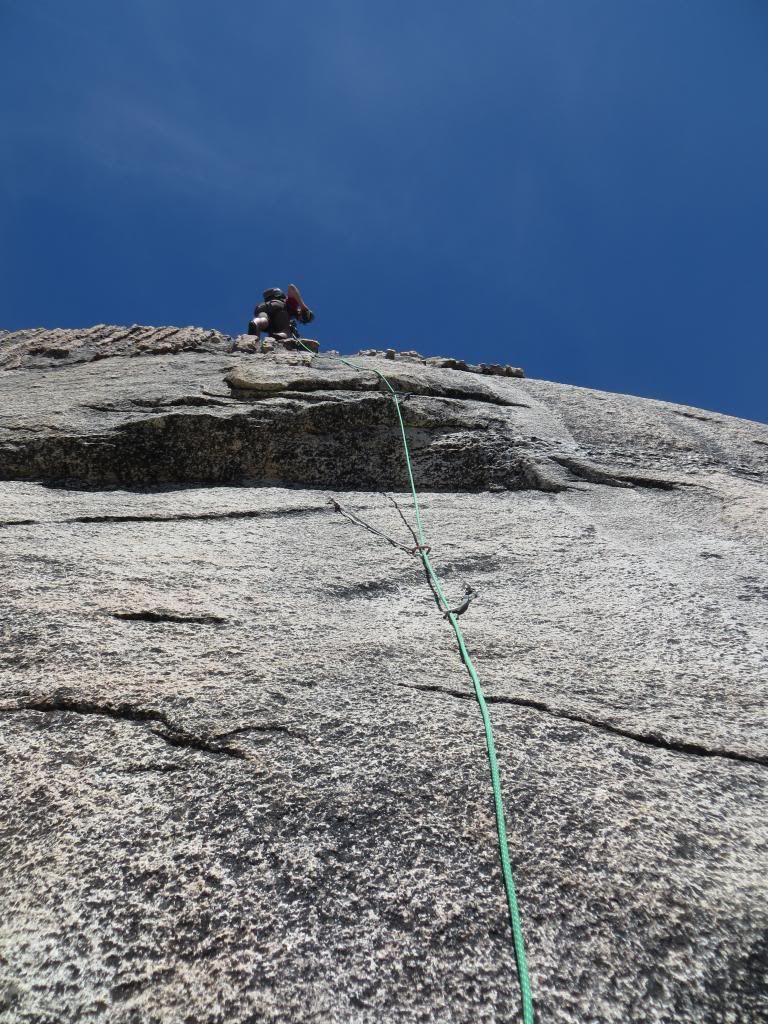 Mike taking a pic
P5 is very mellow. After untying he was set on reaching the true summit and when I told him I hadn't ever actually walked up to it, he shook his head and said we had to.
Most parties rap the dome, but I prefer to use it to access other formations. Walking down towards the pass will get you to Crocodile and we did just this. Crocodile is mostly a single pitch formation with some awesome sport routes on perfect granite, but it also has some really good trad climbs.
Willy Nilly is a route (not root) that is an obvious gem, corner/crack climb on less than vertical rock. 35 meters will get you to the anchors or you can do another 15 to the top. At 5.8 and scoping it from the ground you think it is going to be a cake walk. Well after being humbled by it and really happy I made it through the struggle and back on the ground I untied and handed the rope to Mike. He joked about me struggling on it and I laughed cause I thought it looked a lot easier. I laughed more to myself when I heard him grunting and struggling up it too. HA!
Warning Buttshots!
Mike finding the gear isn't as great as it looks from the ground. I hate when that happens.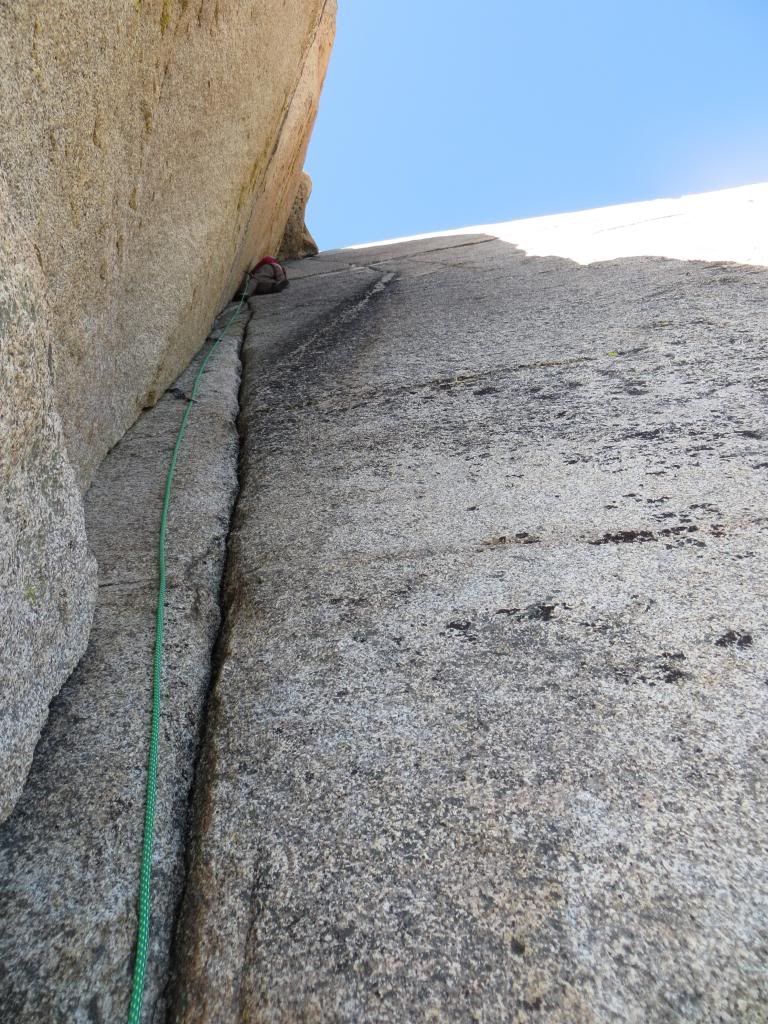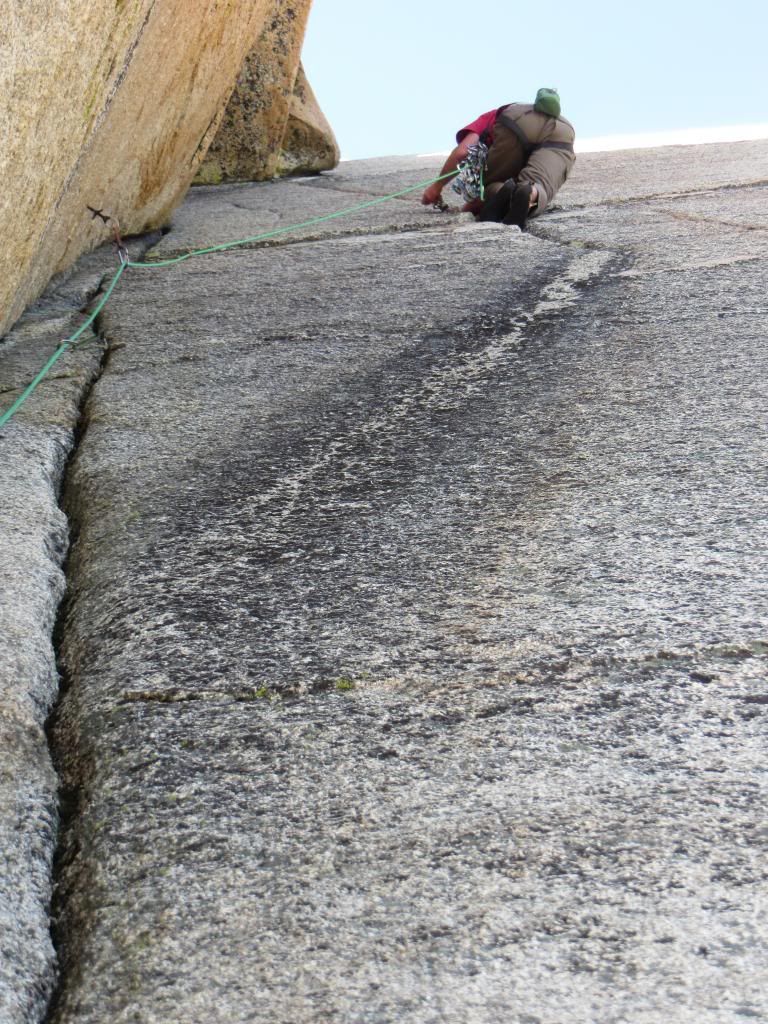 Out of the awkward corner and into the better crack
Into the wider upper corner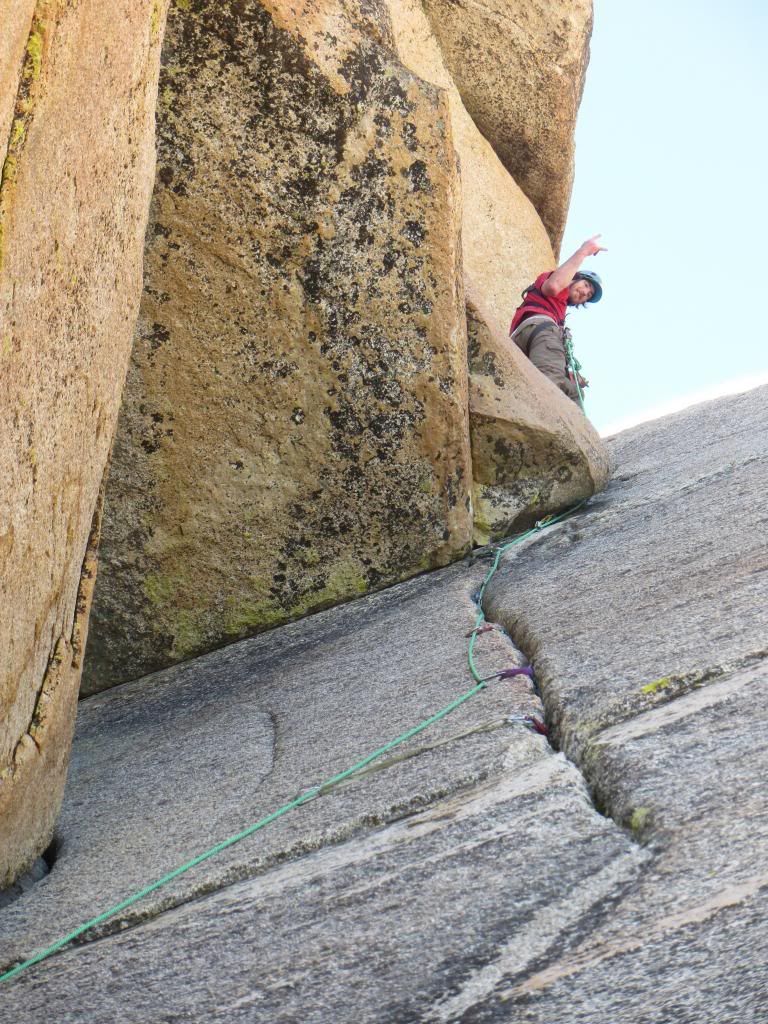 Sh#t Yeah! My ego felt better, even though Mike climbed smoother and placed less gear, I told him I was glad to hear him have to work.
Rapping the Will Crlljenko, Herb and Eve Laeger Classic. Cold beers met our arrival back at the truck.
DAY 2
I had always wanted to climb day 2s agenda and I brought in reinforcements to handle the Canadian threat.
Jeremy starts up Wing Feather, 5.8. Mike Photo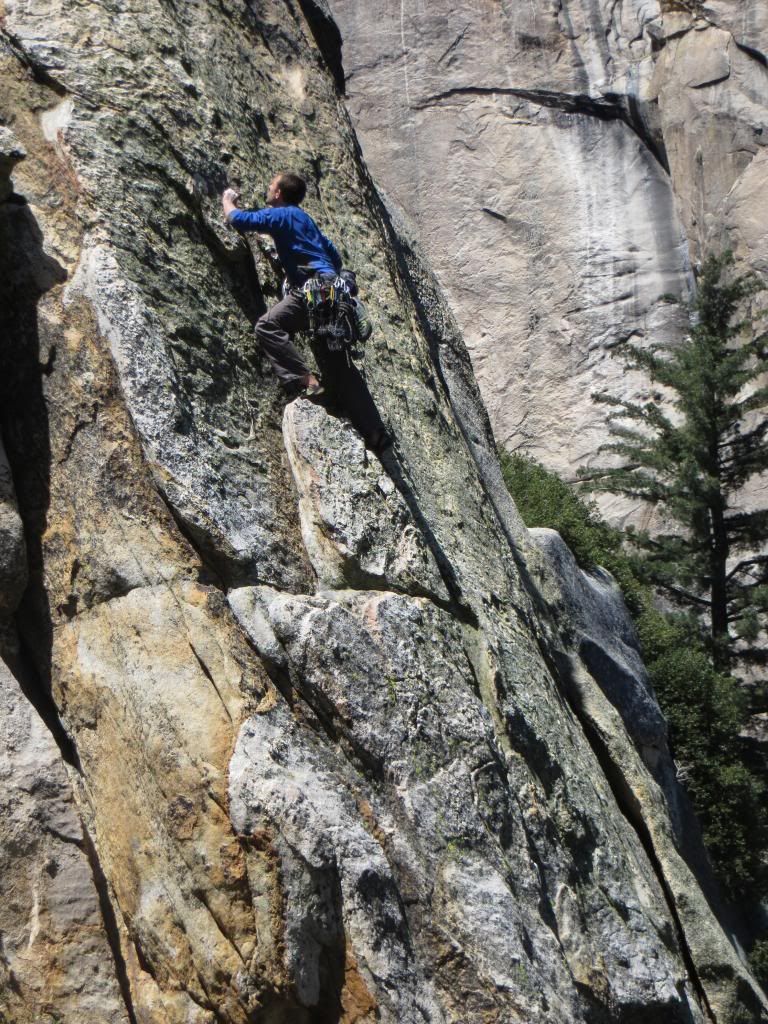 Mike Photo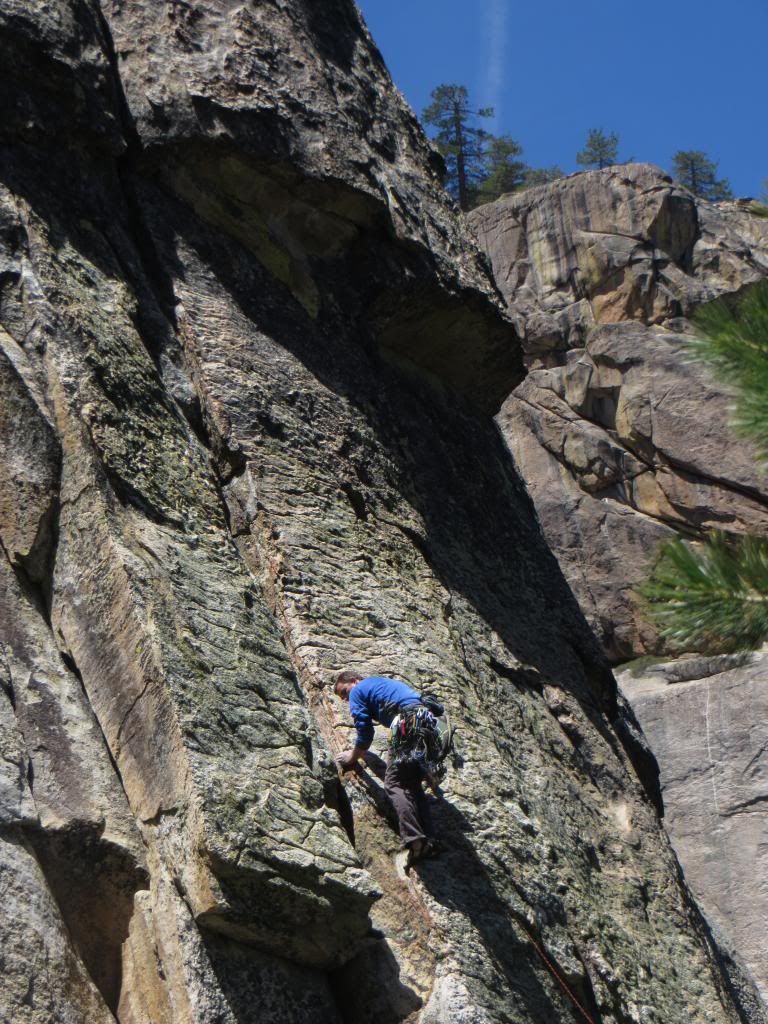 Mike Photo
Mike Photo and I'm tired of writing this so pretty much all photos without Mike in them are Mike Photos. Sh#t,
P1 is too cool.
[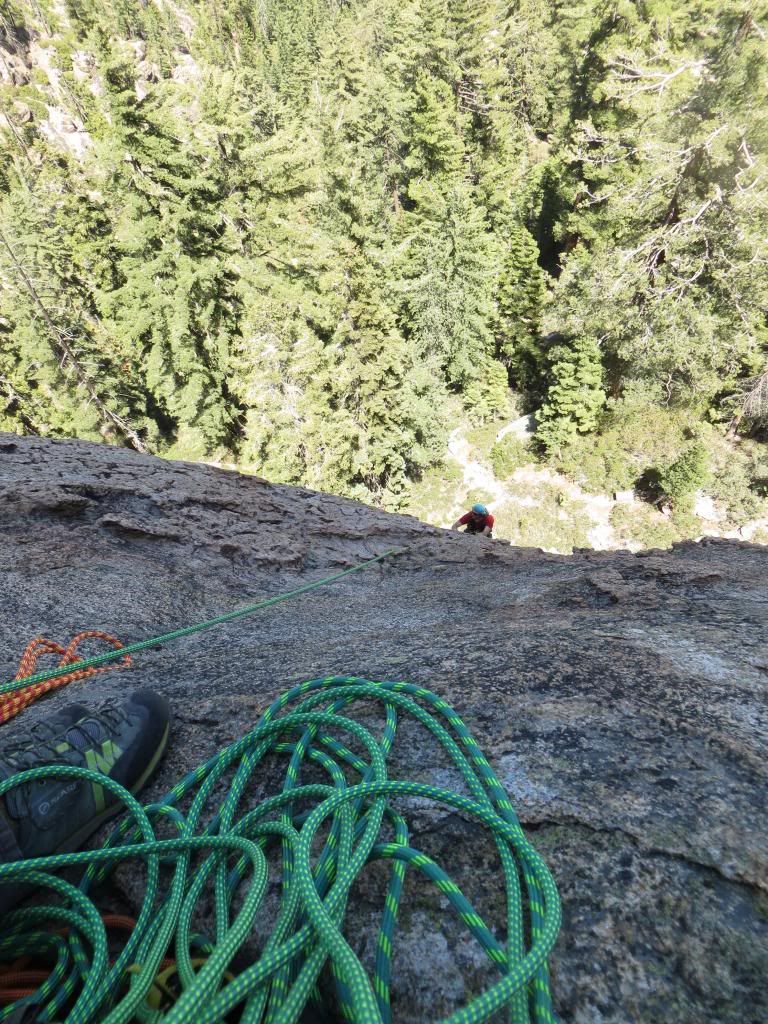 Mike coming up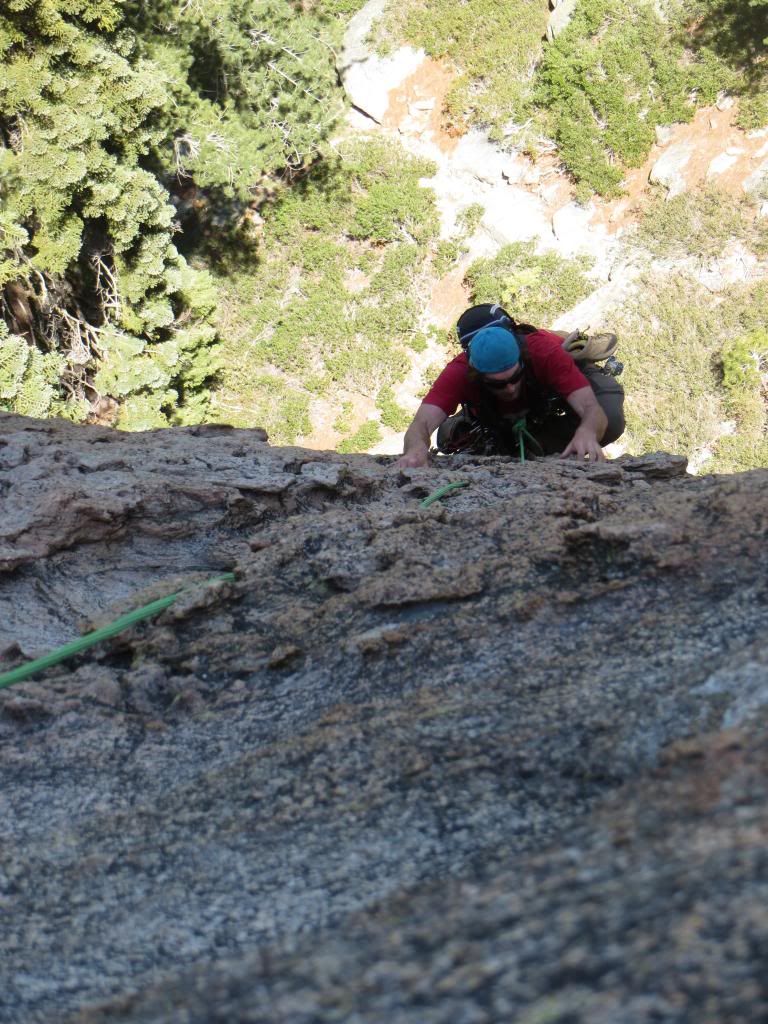 Soyo gym climbing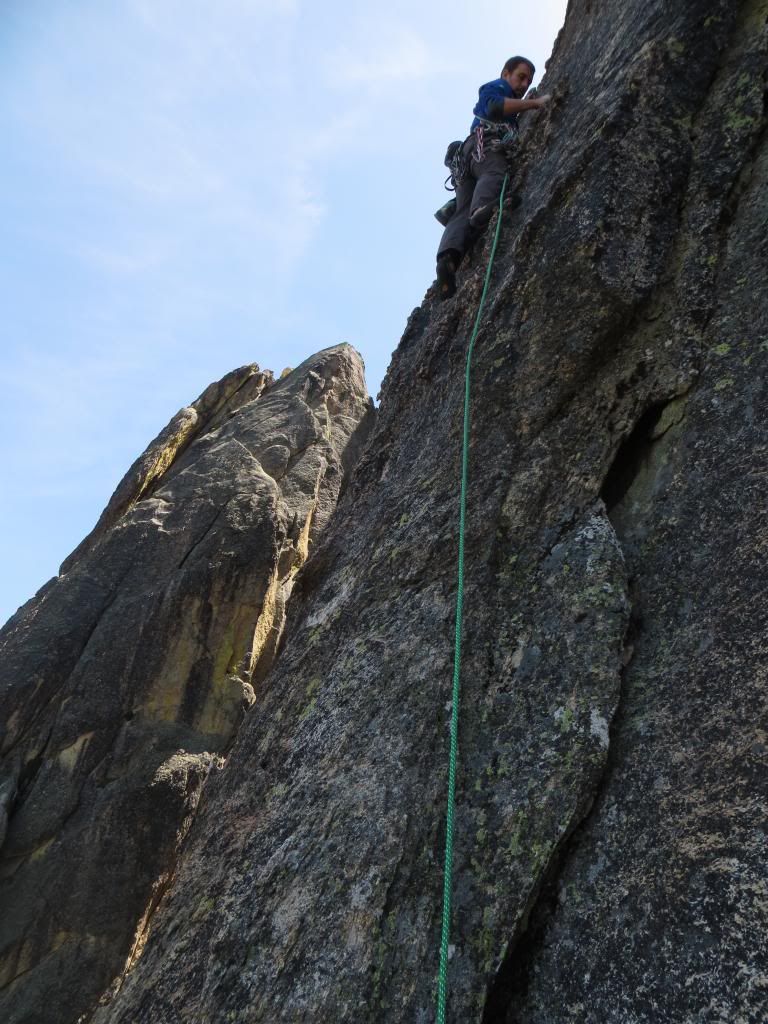 Jeremy taking P2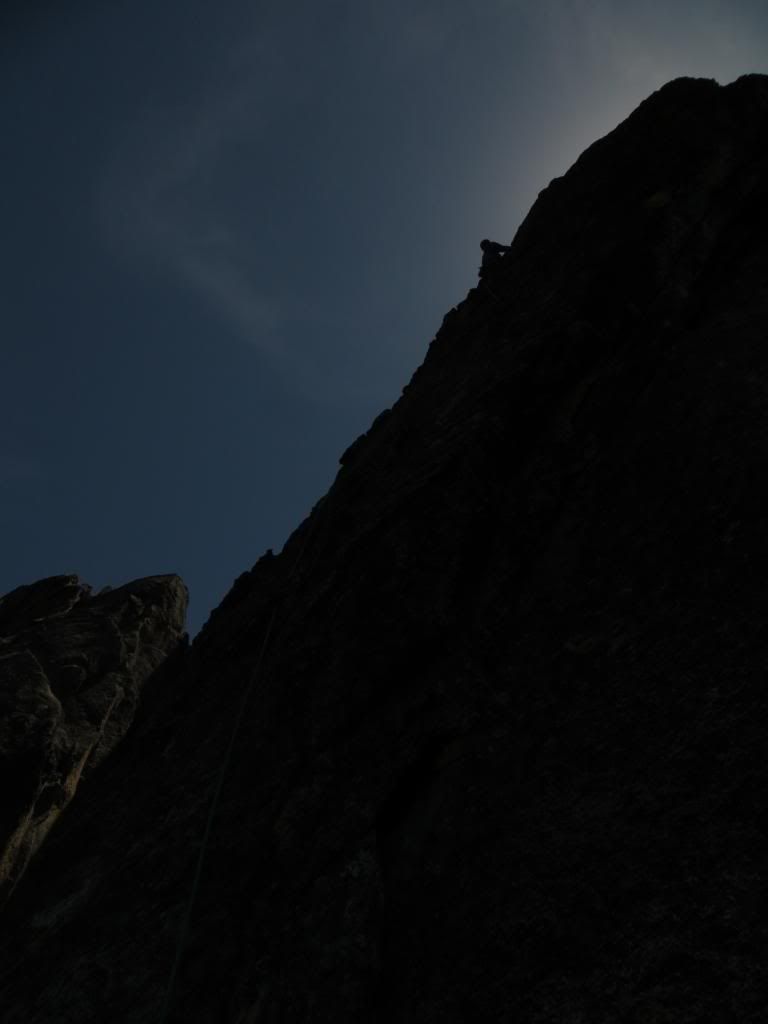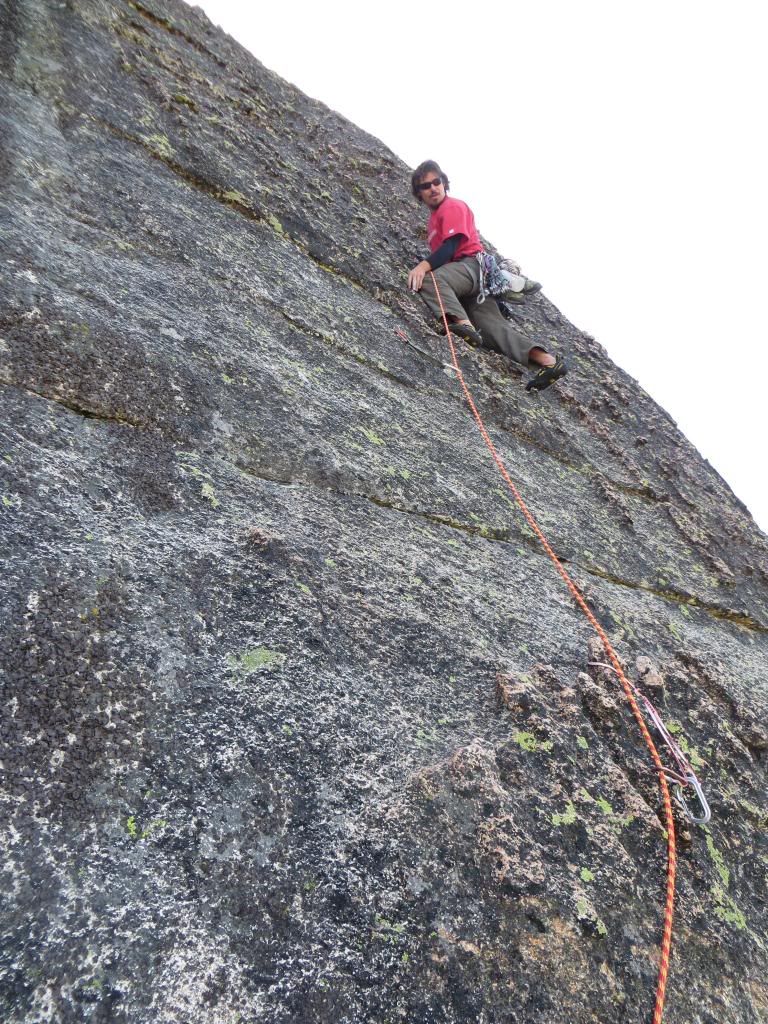 Myself, relieved after the crux. P3.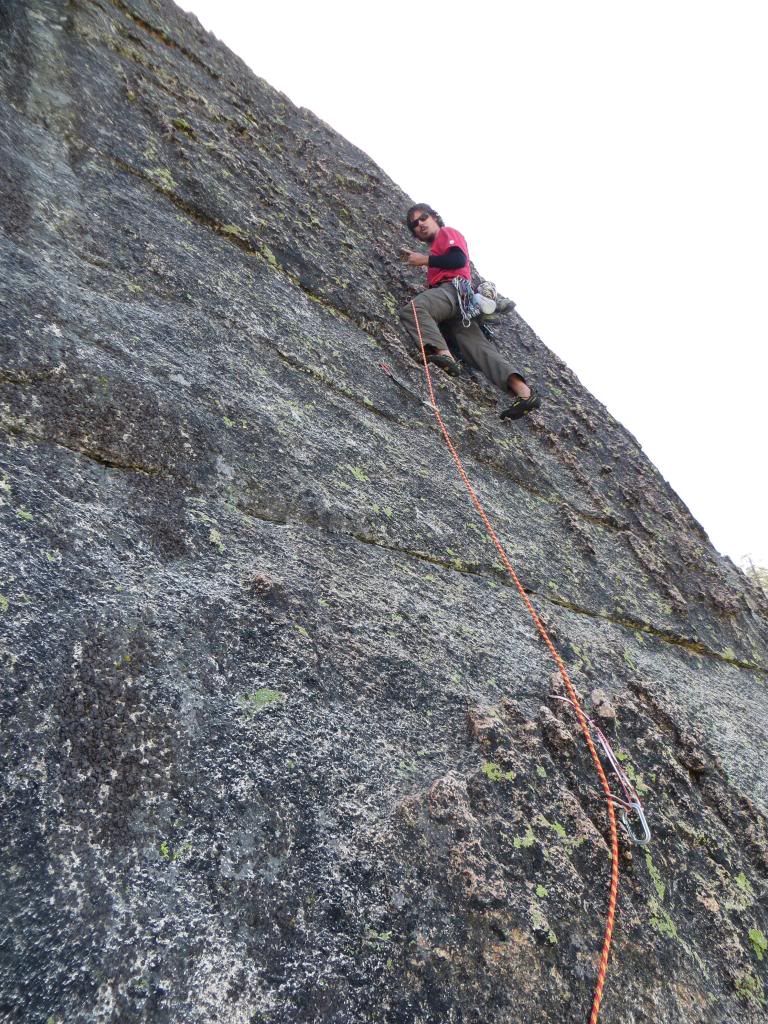 It got dark quick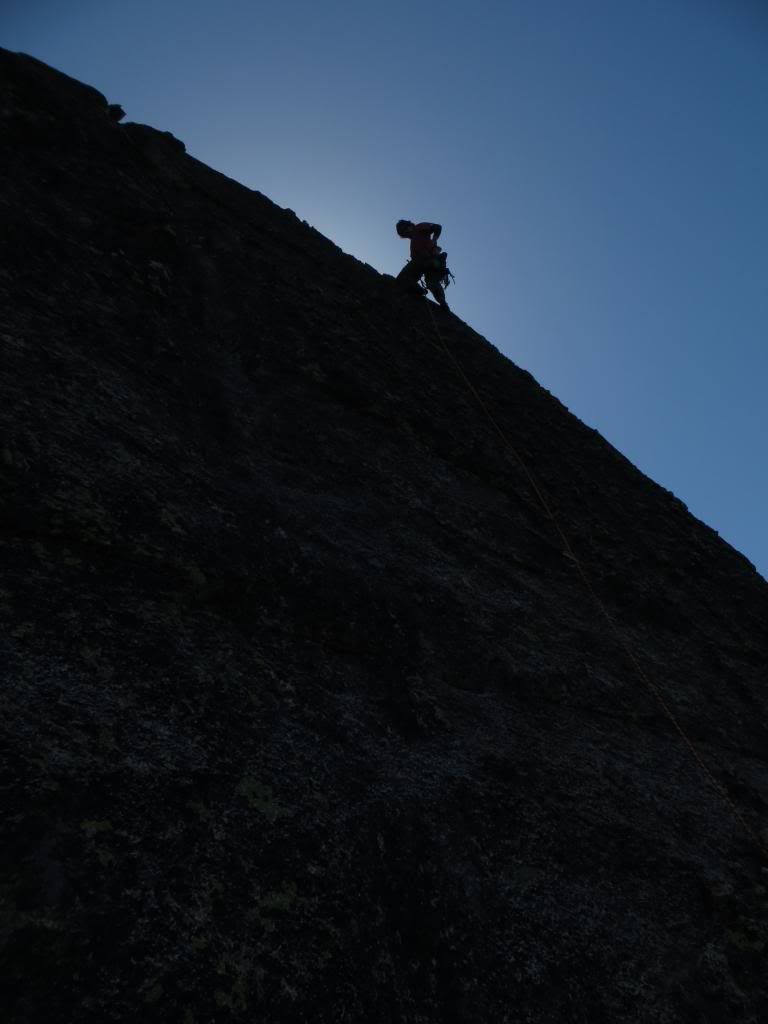 Mike got P4 and did a OW that Jeremy and I said "F*#k That", but if we were leading would have had to.
We were approaching the time we needed to be in the car to reach our indoor soccer game in Fresno, so we hiked as fast as we could and showed mike the beauty of Shuteye bushwacking. Halfway down, most people are livid and want to kill us for taking them through the sh#t of the bush, but Mike simply smiled, took a deep breath, and said thanks. Huh? As most know Mike has had an incredible recovery from a spinal cord injury and he was thanking his ability to being able to walk down through tough terrian on his own. He said he was Independent again and to me this was the coolest part of the trip.
Day 3
Sport Climbing. We had to show Mike some Sport or that Ryan D fella might have scolded us. We arrived at High Eagle, opened some approach beers and made our way to the base with my two crag dogs. Unfortunately, we forgot the Boom Box, but I did manage to insult a climber upon arriving at the base. Bad Climber had been saying he would be in the area and I saw a truck that he described at the 2wd lot. I asked the guy with his girl if he was Bad Climber. Immediately, I felt stupid with the look of "what the f*#k did you just call me" on his face.
"What??? No I'm not a bad climber" I quickly backpedaled and explained Bad Climber from the Taco.
Don't think he ever understood what I was asking. Sorry. But, besides the lack of Boom Box we were representing the Sport Climbers Guild quite perfectly.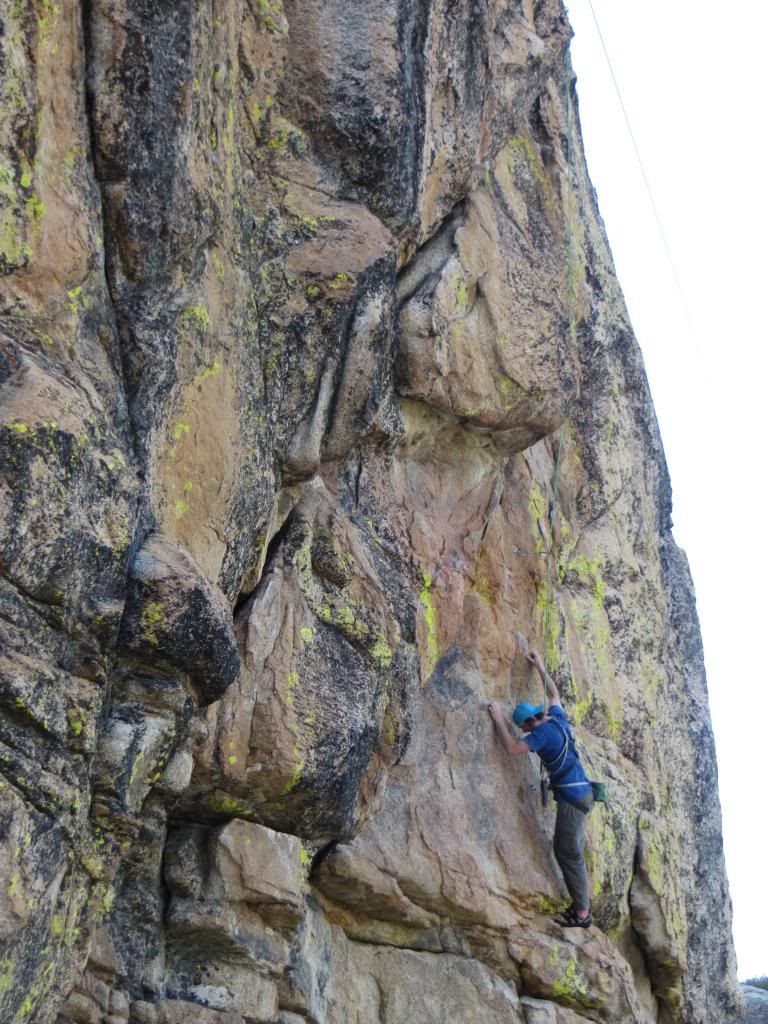 Mike on the Dan McDevitt route Not Afraid. I made it 2/3s up and took a whipper and called it early. In my defense I was off the couch, but I also wanted to be true to the Guild and just sit at the base and spray.
Mike asked to not post the Talon pics from that day, so hopefully he will add them to his TR or to this one, but Day 3 was full of laughs and bullshitting. What everyday should be.
Justin