Another summer and another fantastic 7-night family camp out in Tuolumne Meadows, with all the accouterments (including A. Crowley, Swilliam, Lynne, and others).
We packed up the family wagon and headed out on Friday from Olympia, arriving in Chico on Saturday, where the hot summer had us in the concrete pool within minutes at Nita and Timid Top Rope's place: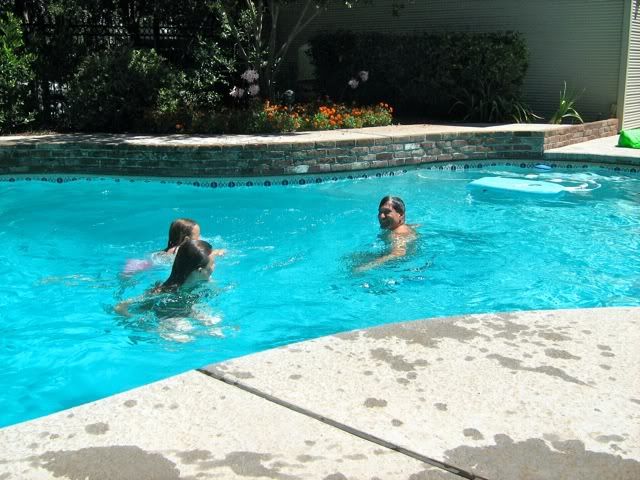 Morning came and so did a few good tunes by Andy
Then, off to Joe's place on Shell road near the Grotto, where the evening sound of field crickets along with that sweet summer smell of grass browning beneath the foothill oaks had the local cows (and me) real happy to be right there for the night.
Our layover day in Tuolumne County included a hotter-than-hell hike down to Natural Bridges and a trip to the Columbia Candy Kitchen.
Discriminating shoppers. . . .
Enough of this lowland touristy stuff, time to head to Tuolumne! A brief stop at the May Lake Road to get acclimated a bit to our favorite environs.
With possible showers in the forecast, we drove directly to the campground where we got a flat, great site on the upper edge of A loop near the river and next to backpackers - the best place to be as far as I am concerned
As always, we headed over to the government barn where we scavenged firewood and said hello to the help
With camp nearly set up, up rolls A. Crowley himself
Needless to say, our recycling area became pretty full by night's end, and I was relieved there were no recycling patrols after hours!
After breakfast was our annual pilgrimage to Soda Springs (the center of the universe)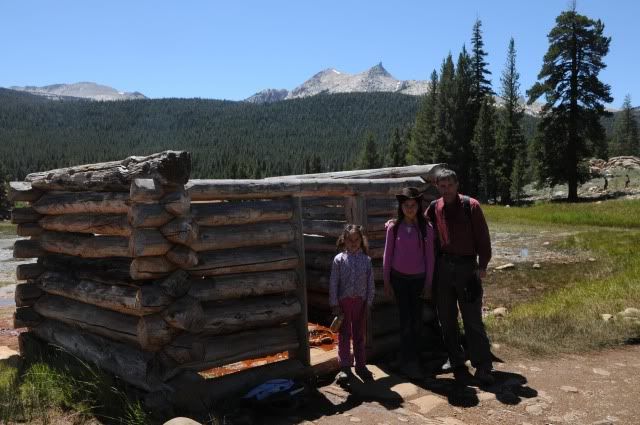 We had our traditional lunch across the river, complete with the requisite kipper snacks and cheese
And of course the exploring. We also watched squirrels swim across the river here.
Afterwards, we strolled up the Lyell Fork for some splashing around. A handsome long tailed weasel briefly spied us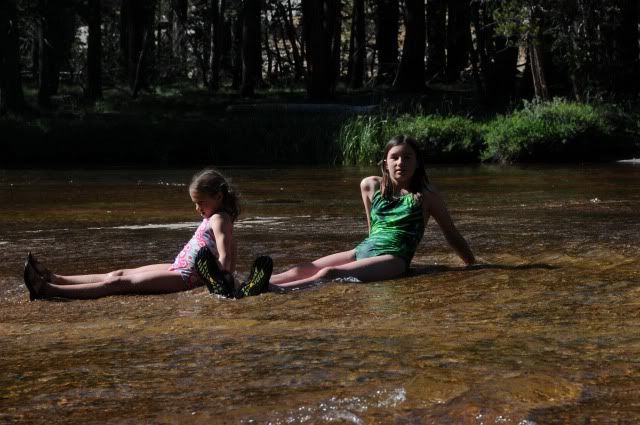 Crowley and his brother Buck held down camp after they got back from fly-fishing on the east side. Pitch logs burned throughout the night, and Crowley and I had it out over Middle East politics
The next day we headed straight to TPR for breakfast and a brief meet-up with our own Lynnie
And of course the County Park at Mono Lake (we wanted to go to Bodie, but heard there were swarms of biting flies)
On the way back, we stopped off at my old homestead in Bug Camp, where the old canvas tent is gone and replaced with plywood.
The afternoon finished up with a great hike up Gaylor Creek in search of the illusive Tower Delphinium (
Delphinium glaucum
).
Somewhere in here, I think. . . .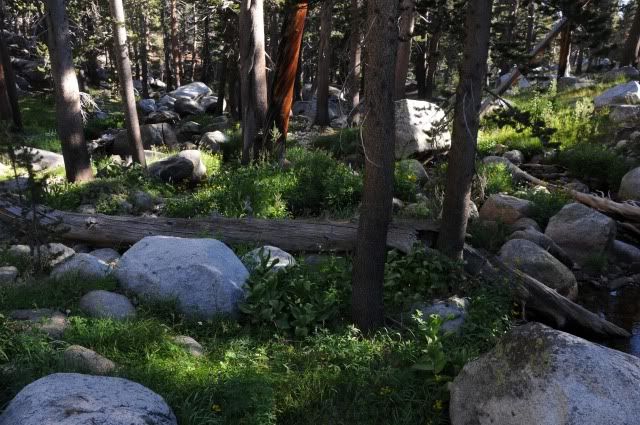 Lo and behold, we found what we went looking for, spending an hour or so in it's royal blue presence, listening to the poetry of the creek's gurgling.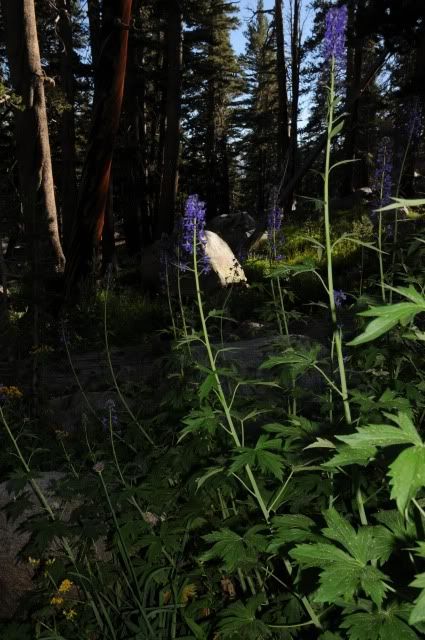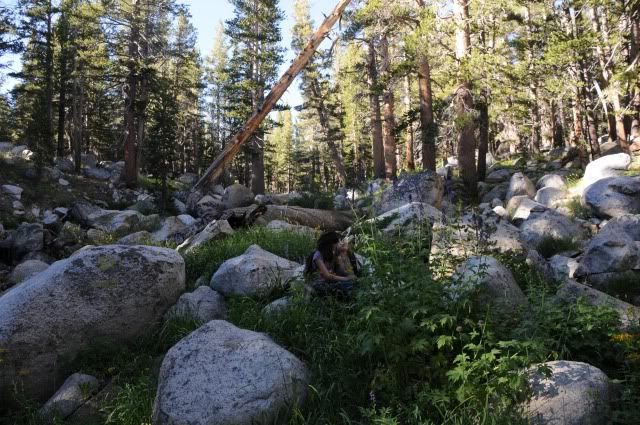 We took the scenic (trail-less) route back, finding new friends, like this old timer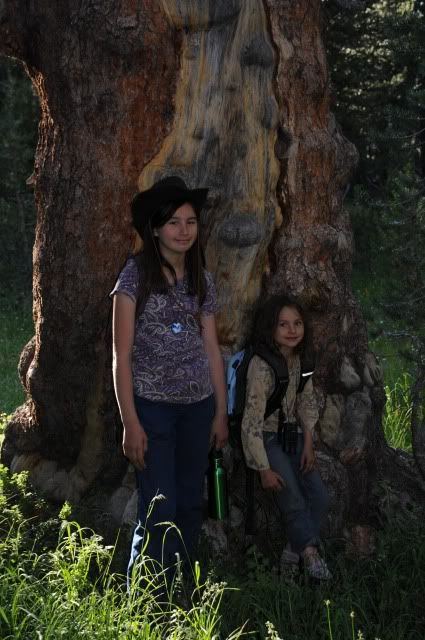 The stroll in the meadows near the old horse camp is especially serene in the late afternoon
Buckwheat pancakes and locally pastured grass-fed bacon make a fine camp breakfast, we thought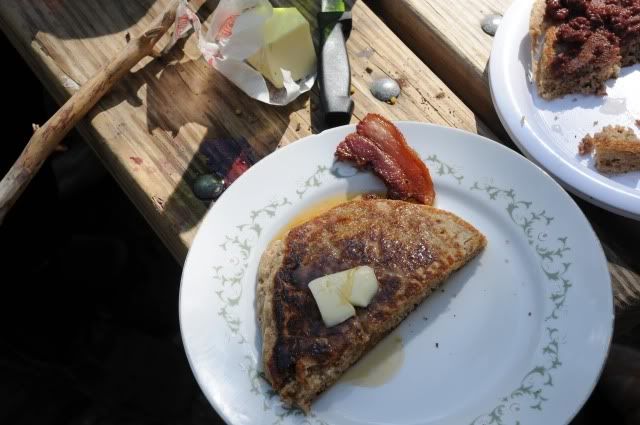 With that distinctive smell of sizzling bacon in the TM Campground air, in wanders you-know-who- - - -
And her new sidekick, Boo Boo
We were treated to an hour-long spectacular show of ranger and bear antics with chasing, napping, climbing, yelling, etc. This had to be the best bear show I've ever seen.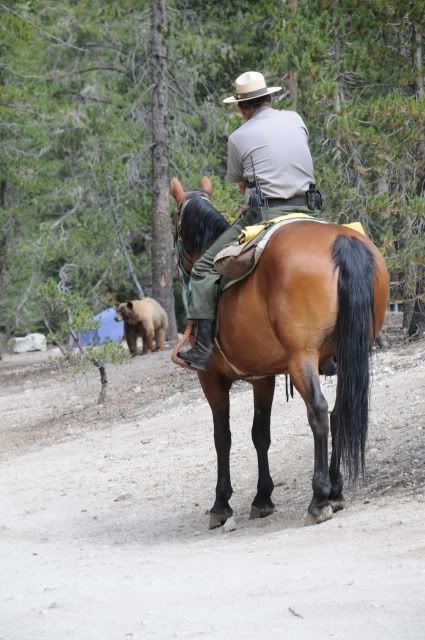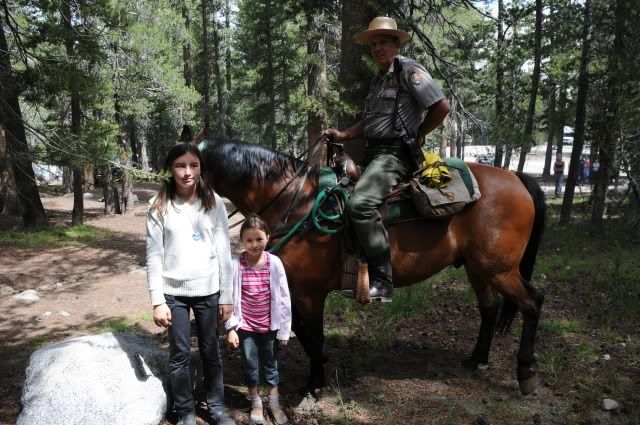 With more than half the day gone, a storm brewing, we decided to head out to Soda Springs and Parsons Lodge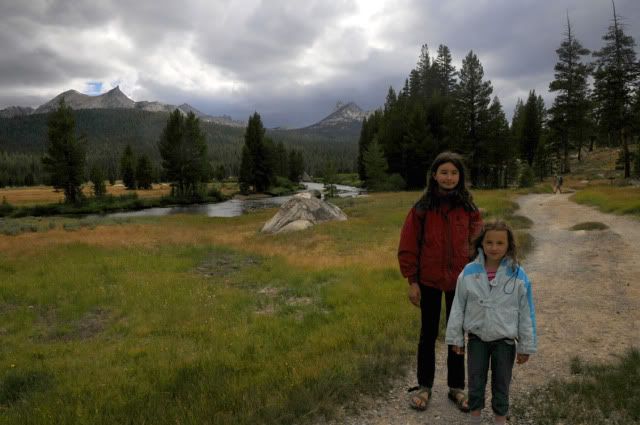 The Yosemite Association was hosting the annual poetry and music festival at Parsons Lodge, and we caught about 30 minutes of it (painful enough for two squirming kids, but possibly the highlight of the trip or me)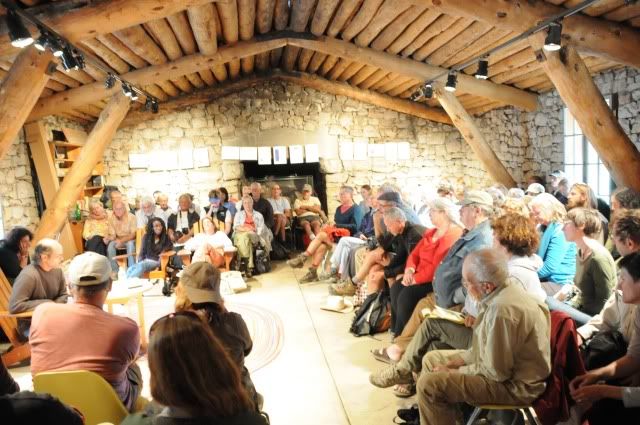 Later on, we chose to just do some down time in camp.
The next day, we met up my old comrade Bill R. who works at YMS. With beverages in tow, we headed out for my daughters' first rock climbing experience. They rate this as the highlight of the trip.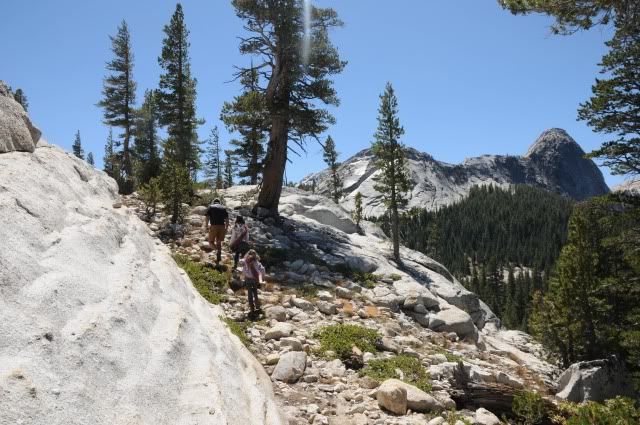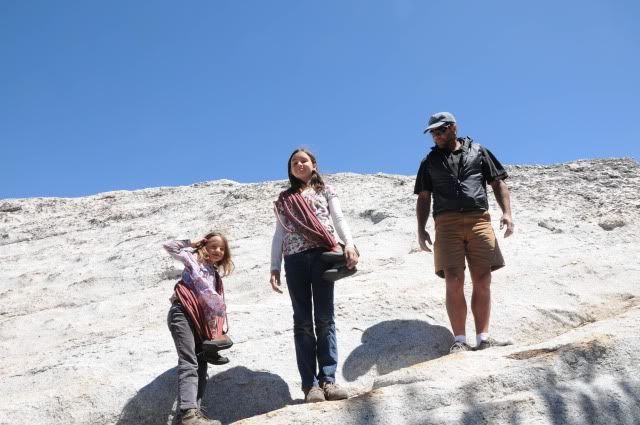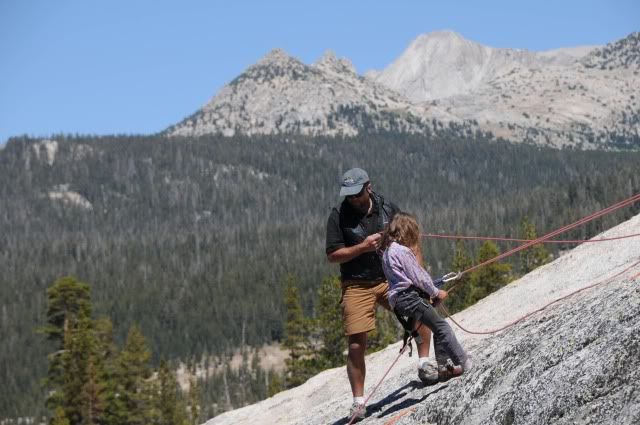 Proper form, I say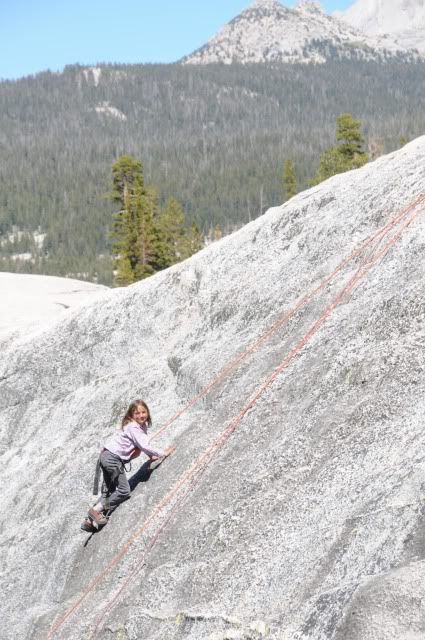 Its amazing seeing kids climb for the first time, and how they just scramble on up faster than you can pull the yo-yo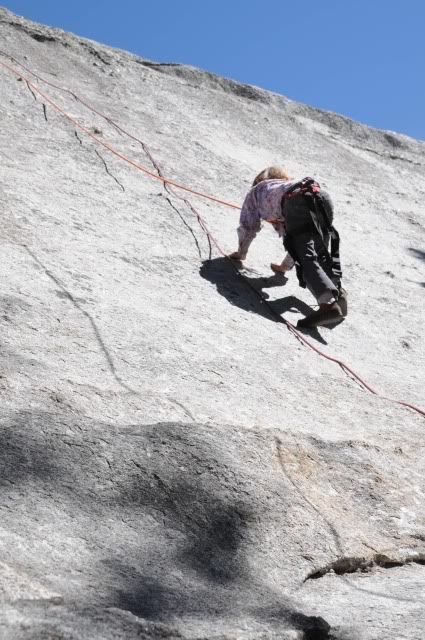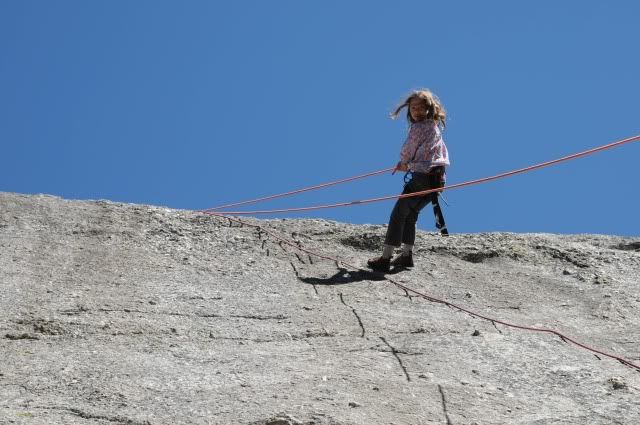 Wow, that looks steep!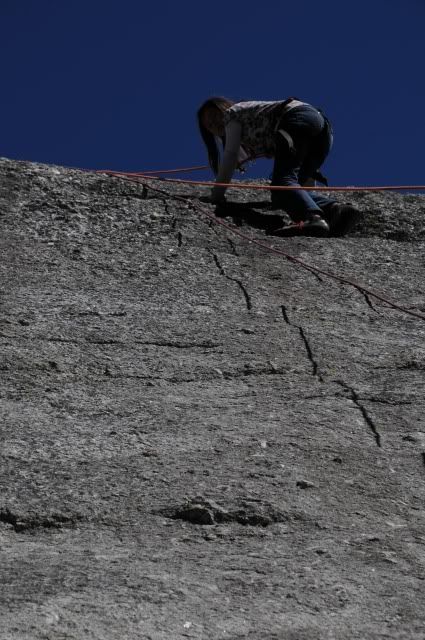 What a great introduction. Thanks William!
Afterwards, we settled in behind the gas station and ended up spending the whole evening there telling stories and playing cards with Hope, Gabe, Bill and friends. Just like the old days.
The next day, we opted from a long breakfast, chores and laundry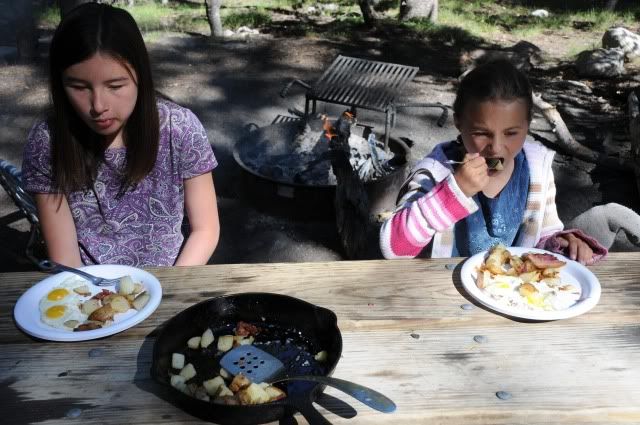 Hauling water, again?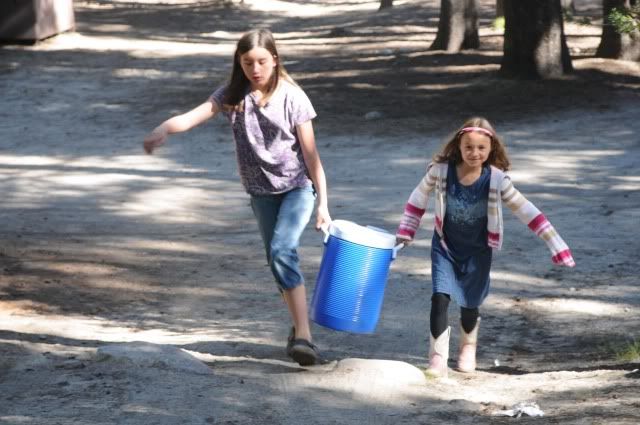 Hand washing clothes? This is supposed to be vacation!
Then a most glorious hike up to Bennettville with 1980's YNP Helitack Jimbo D. and his wife Dianne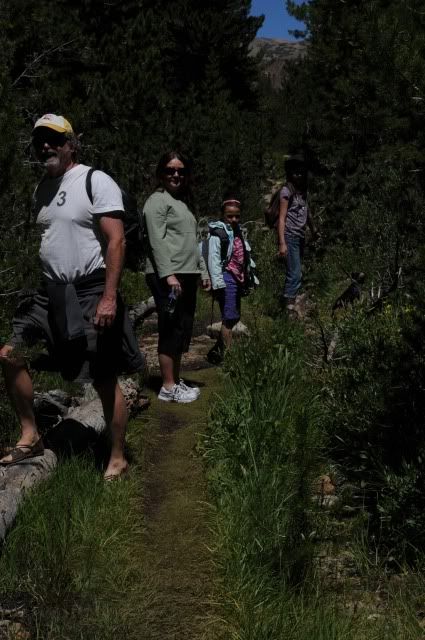 This has got to be one of the very best bang-for-your-buck hikes in the entire Sierra Nevada. Postcard views constantly in every direction, gentle slope, creeks, wildflowers, history, and lakes (and only one rogue mosquito). We didn't see hardly anyone on this unforgettable 4+ hour excursion.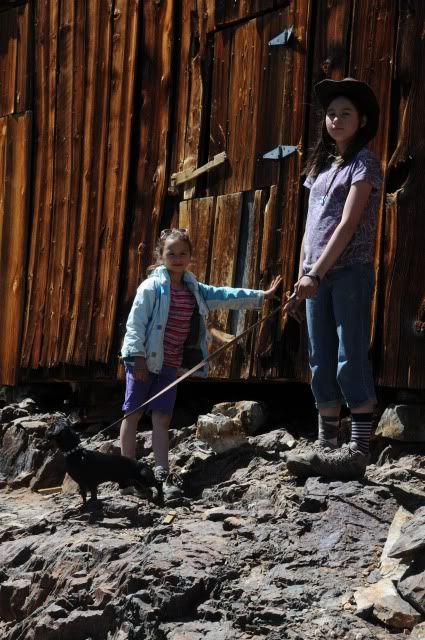 I love that wood grain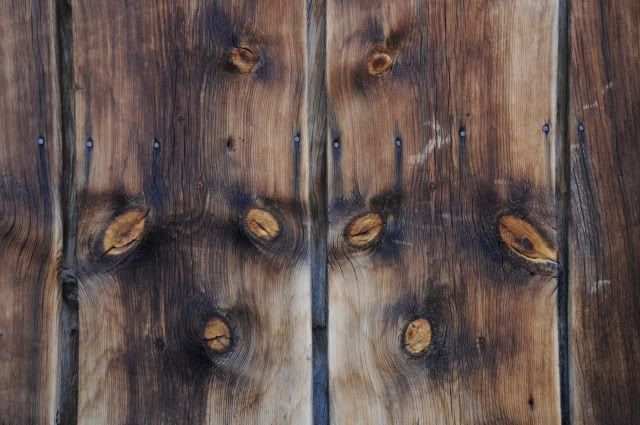 Ranger Buttons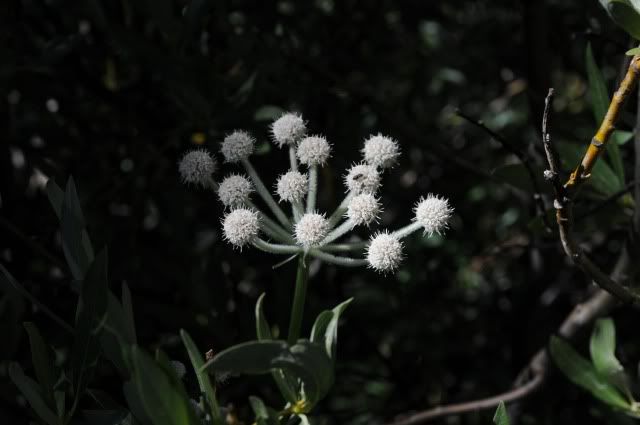 Great Sierra mine entrance
That evening, we were personally invited to the campfire by TM Ranger B-Rad Benter for his exemplary "Climb the Mountains and get Their Good Tidings" climbing history program. I recollected to him my encounter at the present site of their visitor center (CCC building) and how it was occupied in 1970 by YMS, and how I sat around one stormy day with the crew on hand, namely a forlorn Warren Harding draped in a blanket, feet in a pale of hot water, following the infamous accent with Galen off the South face of Half Dome.
That anecdote didn't make its way to the program, but Batso was mentioned several times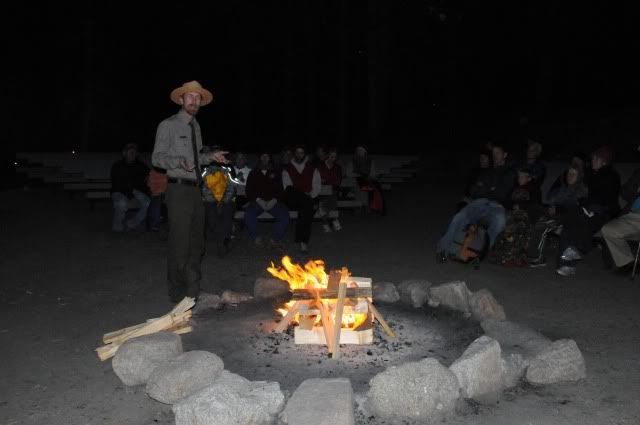 Our last day was a Tenaya Lake Beach day. Sunscreen is a must, and worked very well. Water temperature as perfect for swimming, playing, splashing, soaking, and logrolling. Perfect Sierra day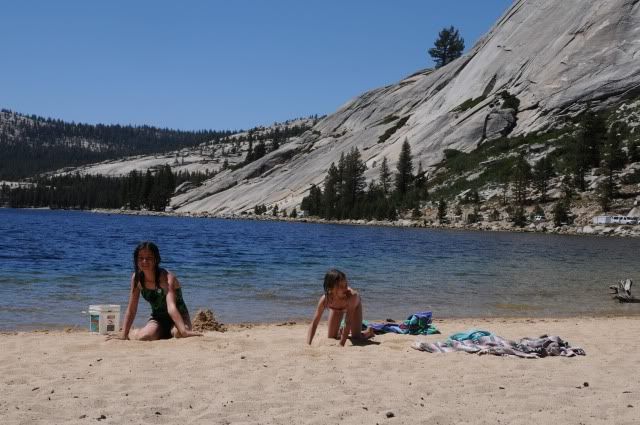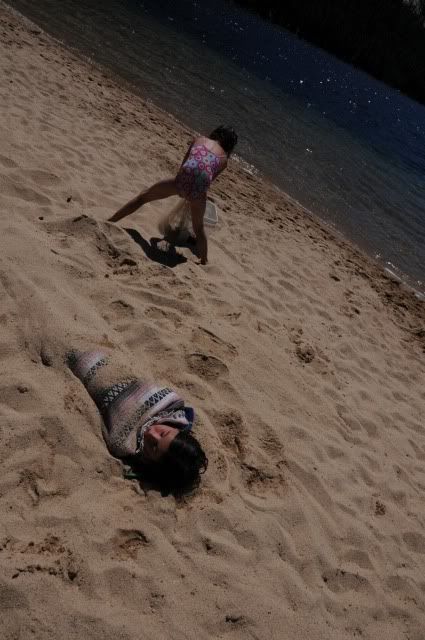 Picnics at Tenaya have to include fruit, cheese, candy and sardines or kippers.
Exploring the inlet to Tenaya Lake has to be one of my favorite childhood memories, and my girls seemed to play it out. What a perfect place to play all day.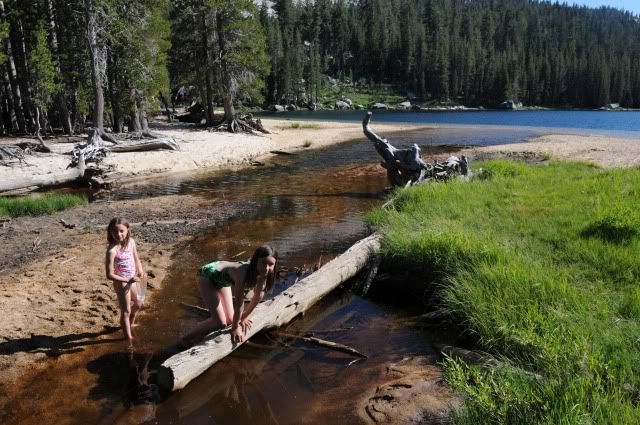 The next day we were headed out, and a friend was nearby to say goodbye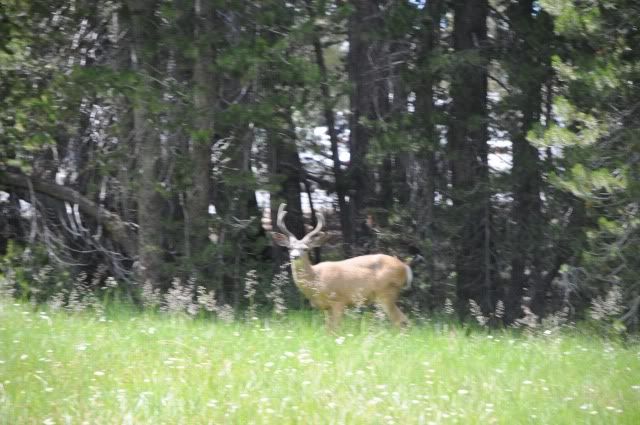 How fast 7 nights pass in Tuolumne Meadows.
Our trip, while now over from Yosemite, continued on with a feast at the Mobile station of cheeseburgers and steak sandwich (no doggie bags for this family)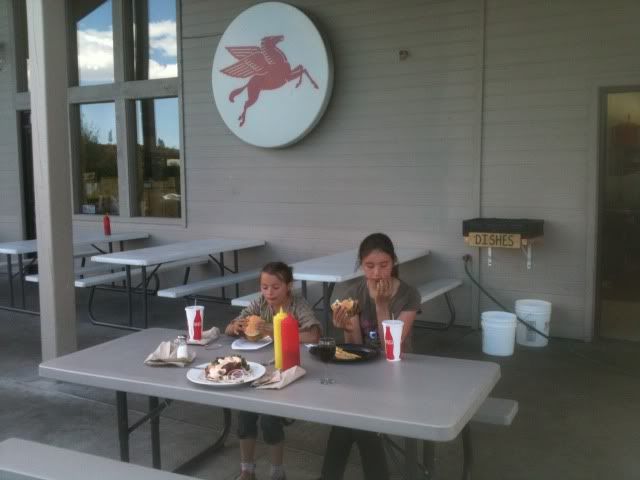 Then, after a rest bit in Twain Harte, we were on to Chico, with the Chico grand tour from Timid Top Rope and Nita, including a stop over at the candy store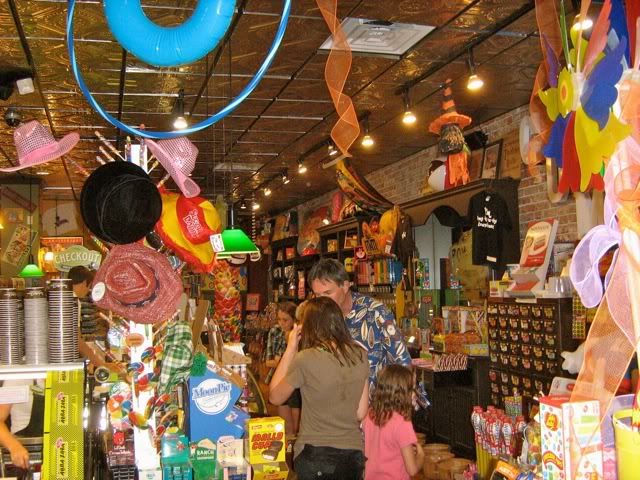 And finally, a morning wrestle and tickle-fest with Nita
We pushed onward Saturday and Sunday, arriving home to a glorious display of sunflowers and blooms at home, Our dog Dannan and two cats Lilly and Sazzy were fine, despite a flea infestation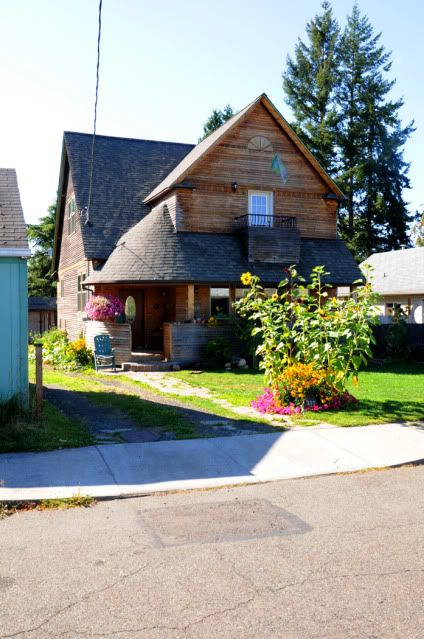 The ultimate outdoor playground, Tuolumne Meadows.
Schools starts here on Wednesday Sept 8, and we'll again carry the proud Tuolumne Meadows banner for the best place anywhere for a family camp out and vacation.
Summer 2011, we're already planning!