A two week trip to the north of Vietnam with about 50% of that spent on climbing. I think that many climbers think of Vietnam as a deep water solo and sport climbing destination. We find neither of those that interesting (too scared, too weak) and prefer some longer routes that ideally top out on some summits. While not really long, we did manage to find information on a handful of multi-pitch climbs there many of which to our surprise were trad and, fortunately for us, were not too hard. We visited two climbing venues: the famous (& pretty touristy) Ha Long Bay and the less famous (& totally un-touristy) Huu Lung Valley located some 2.5 hrs drive north of Hanoi. Given our tight timeline and the lack of Vietnamese language skills, we prearranged local "fixers" to smooth out the logistics for us in both places: a Kiwi named Andrew and a Ukrainian girl named Lena (both probably spoke like 10 words of Vietnamese between them – which was still 8 more than we had at our disposal). Still, things worked smoothly and we got to do what we had planned. Like most of SE Asia, Vietnam is a place to pursue our other interests as well: eating and drinking. Lots of beer and some happy water kept our minds supple and able to absorb all the sightseeing we did during the remaining half of the trip. For more pics, video clips, and voluminous bullsh#t, you can check out our site at
chossclimbers.com
.
Let's party. Actually, did not get sick despite not holding back on pretty much anything: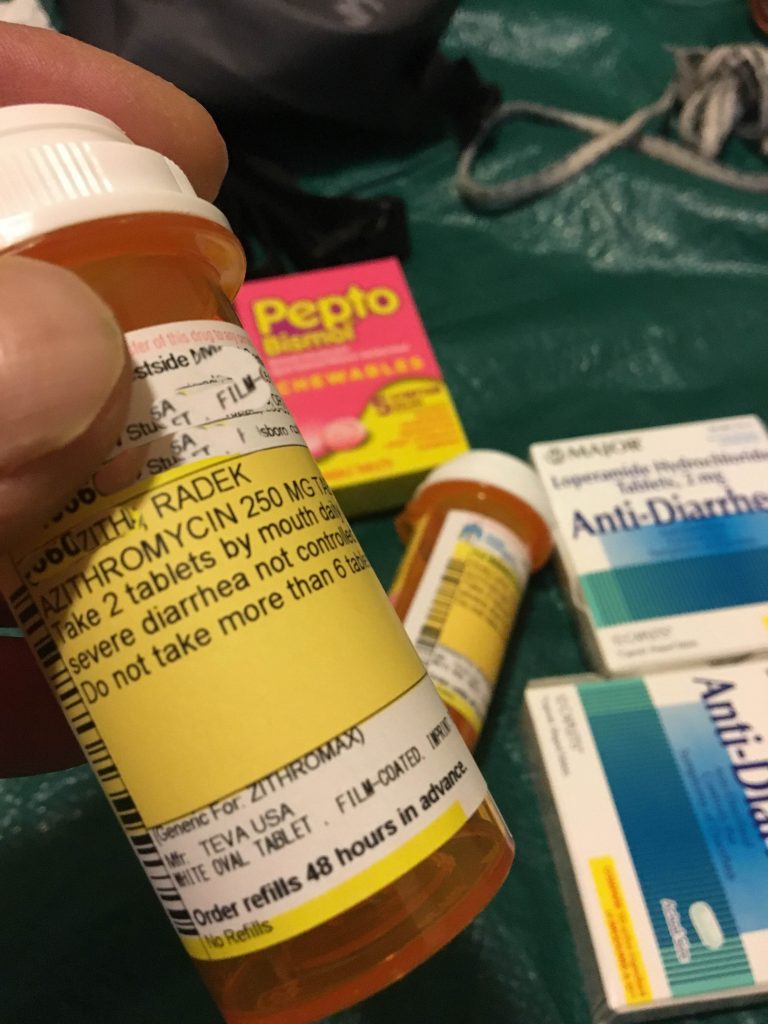 Welcome to Hanoi: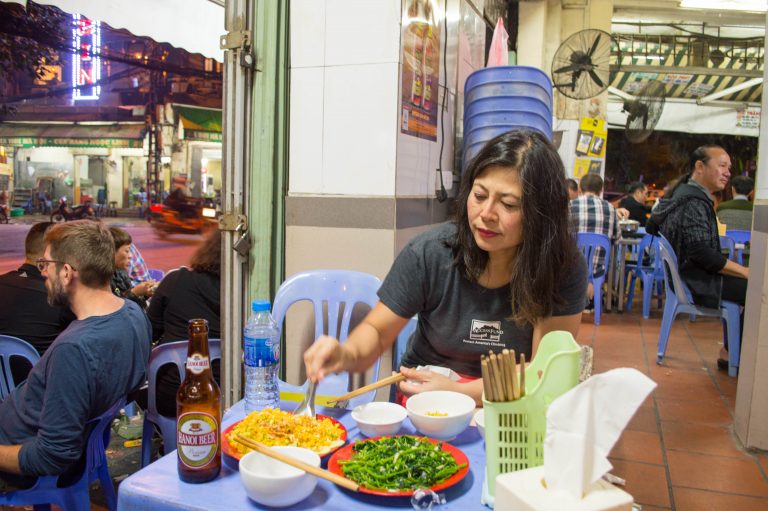 By the following afternoon we were in Cat Ba Town: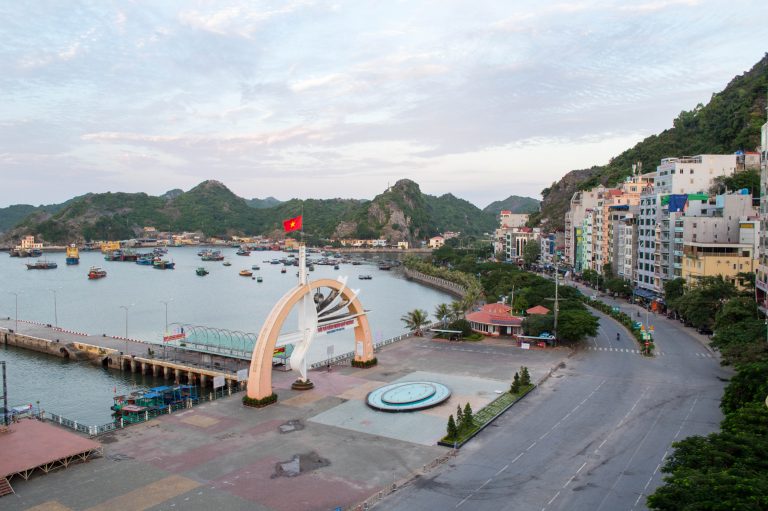 Welcome to Ha Long Bay and its numerous floating settlements: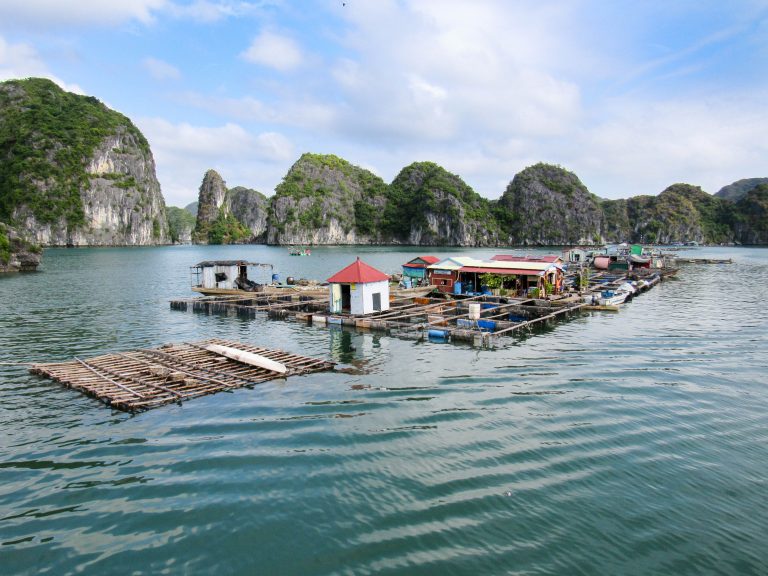 The arduous approach to some climbing on day one: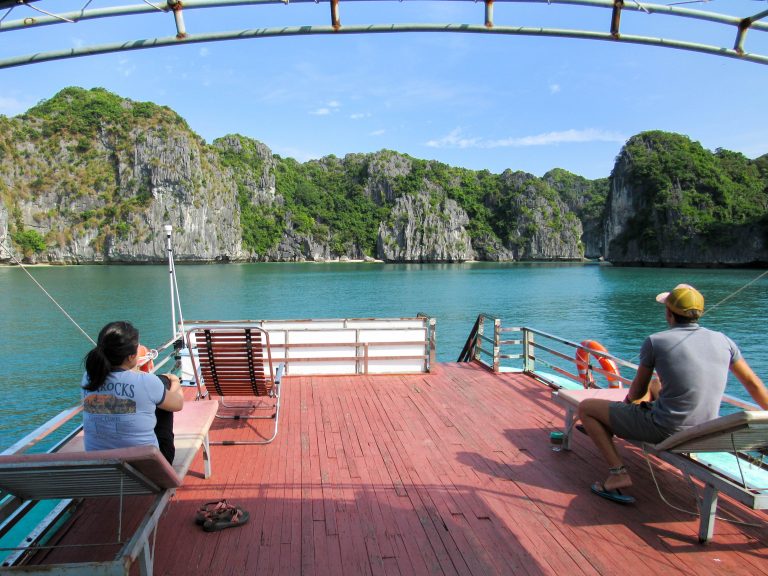 Random views: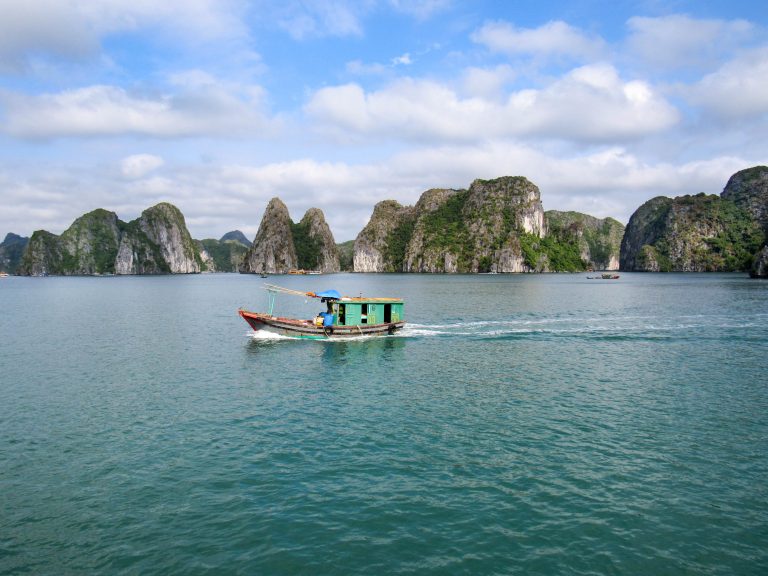 Shuttling over from the junk boat to the tower. Mr. Chu Bien was our basket boat driver for the 5 days on the island. He's well familiar with the climbs and the climbers coming through: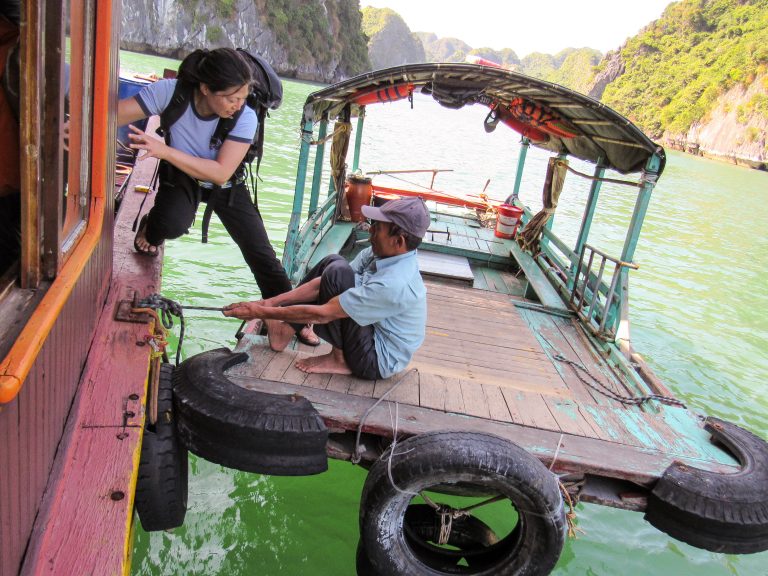 And there she is. Our first objective called Hon Dua which I think is Vietnamese for "not long for this world":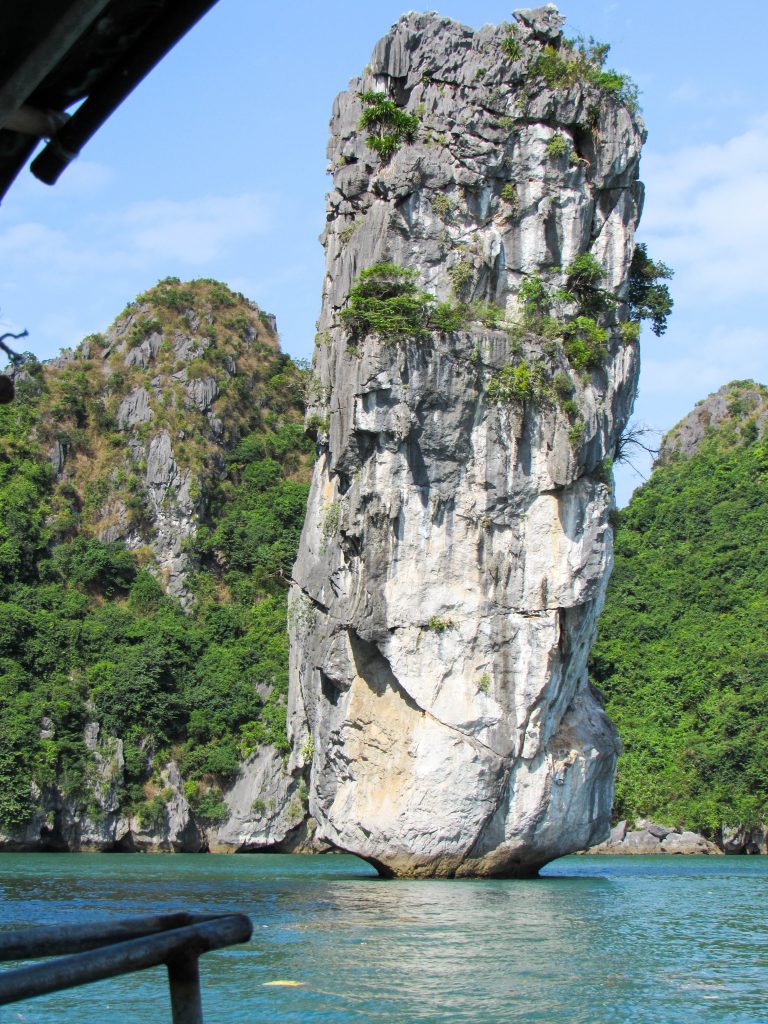 Shirley belaying me from the boat. This was only possible in calm seas: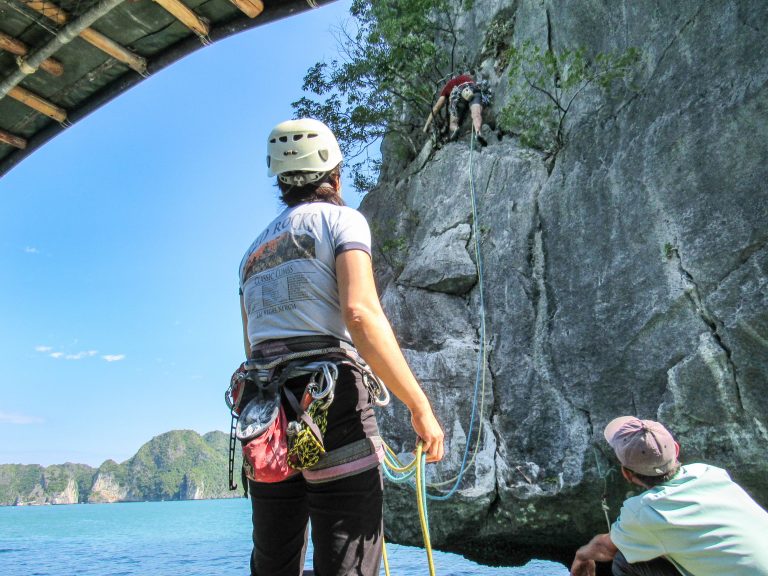 It's a one pitch route but on a pretty sweet looking tower. French 5c and trad which, dollar per dollar, always seems a little more exciting to me on limestone: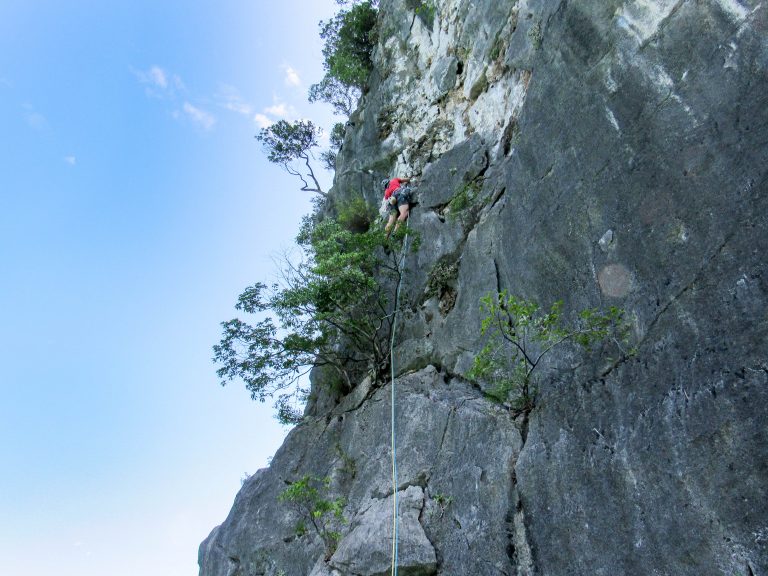 Shirley topping out on the summit which is composed of razor sharp fins of limestone: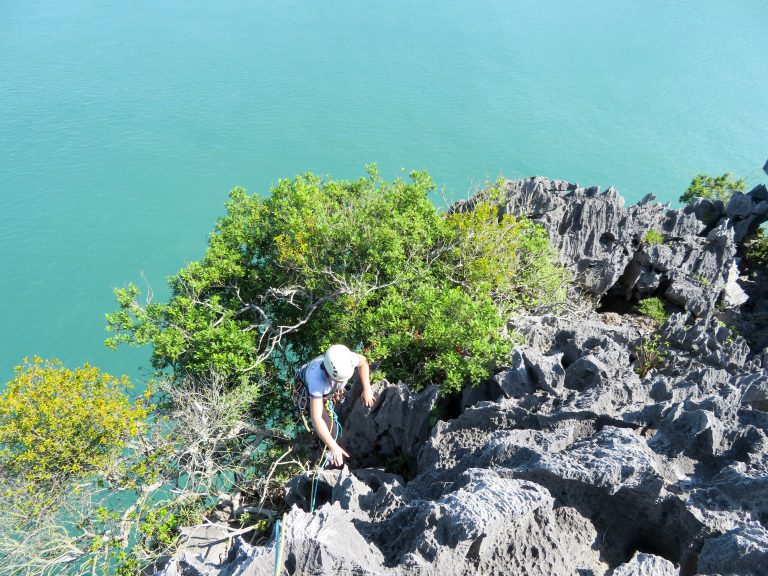 Rapping back to the boat: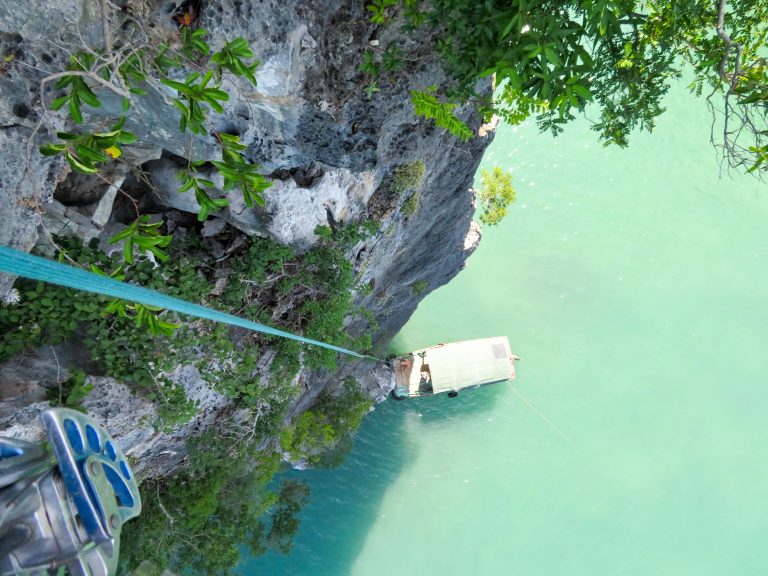 What's next?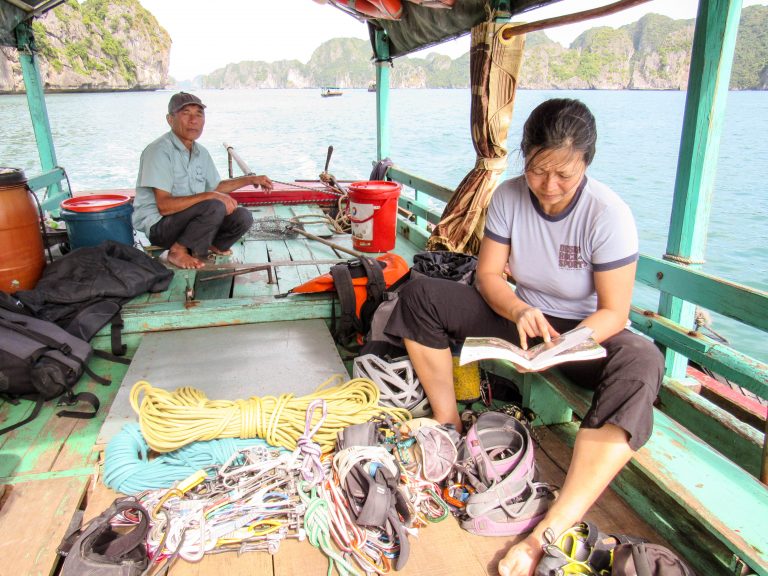 In the afternoon we climbed the classic (& bolted) Screw Loose route. Shirley belaying me from the boat again: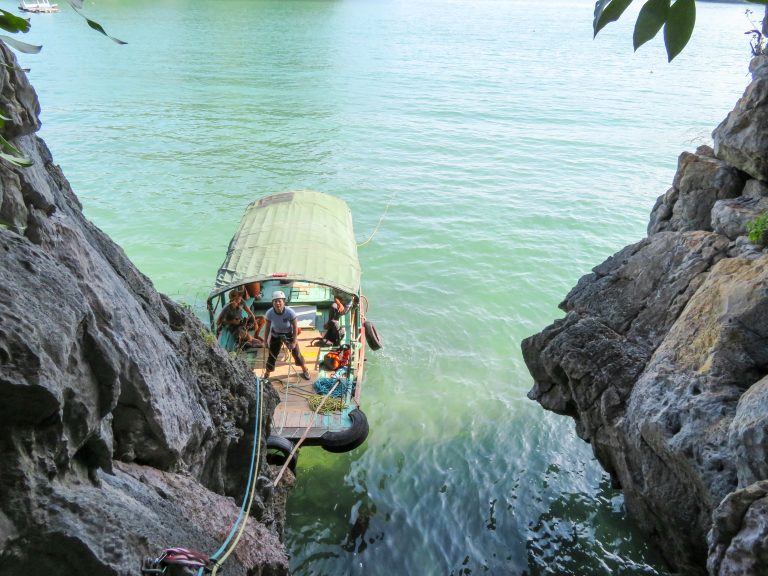 A giant stalactite: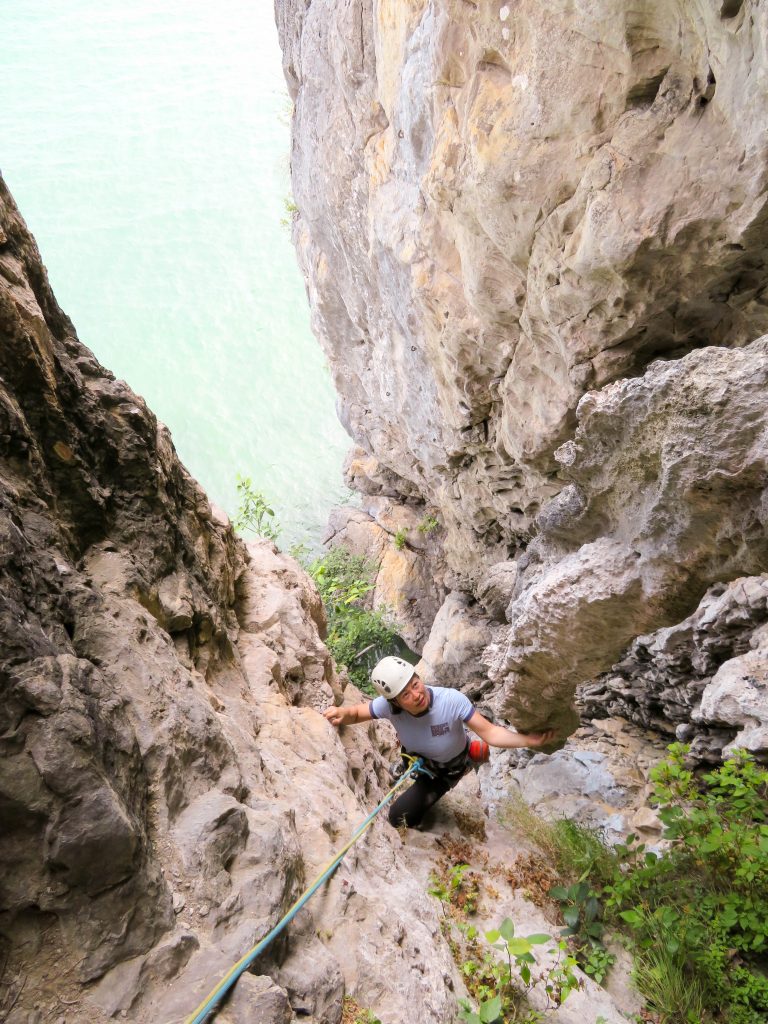 Pitch 2 crux. Photo by our fixer Andrew taken from the boat below:
Views from the route: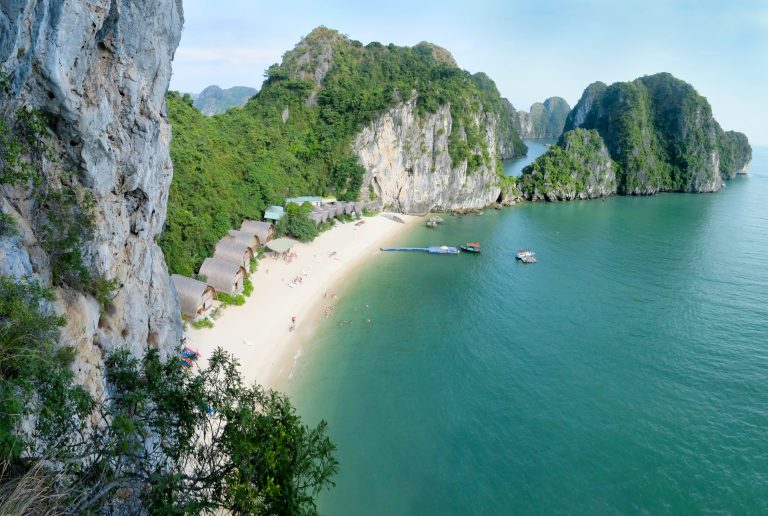 Shirley topping out on the 4th and final pitch: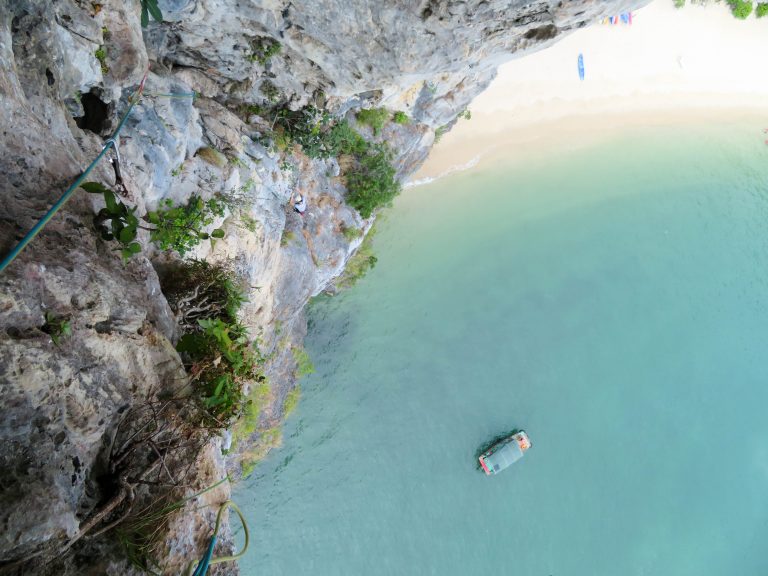 Rapping back to the boat. Name of the game was to not dunk the ropes. But we'd have other games later on too, like boat-assisted rope pull for example. And they'd get dunked plenty.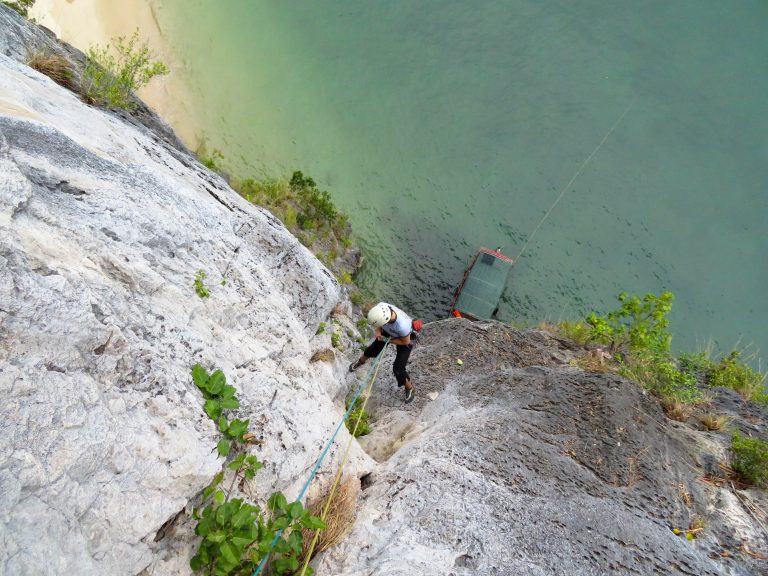 Back in town: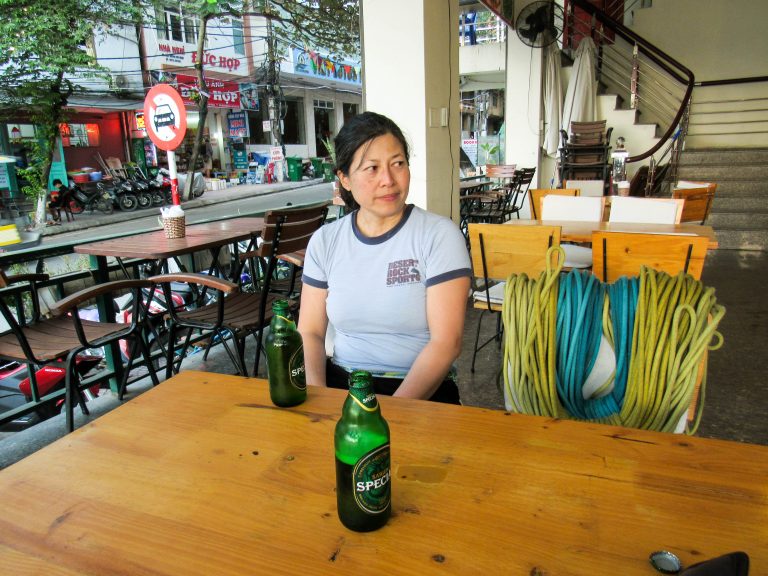 Next day it was a long and choppy ride in Chu Bien's basket boat. Came close to tossing breakfast: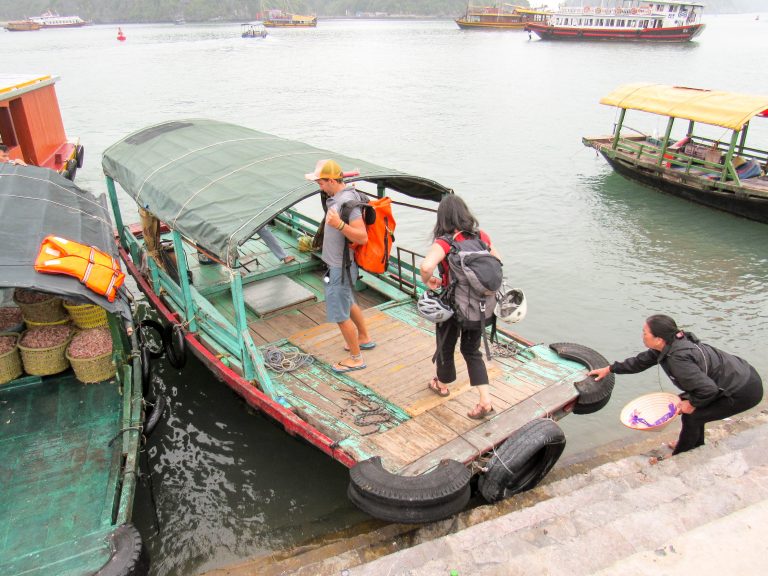 Traffic: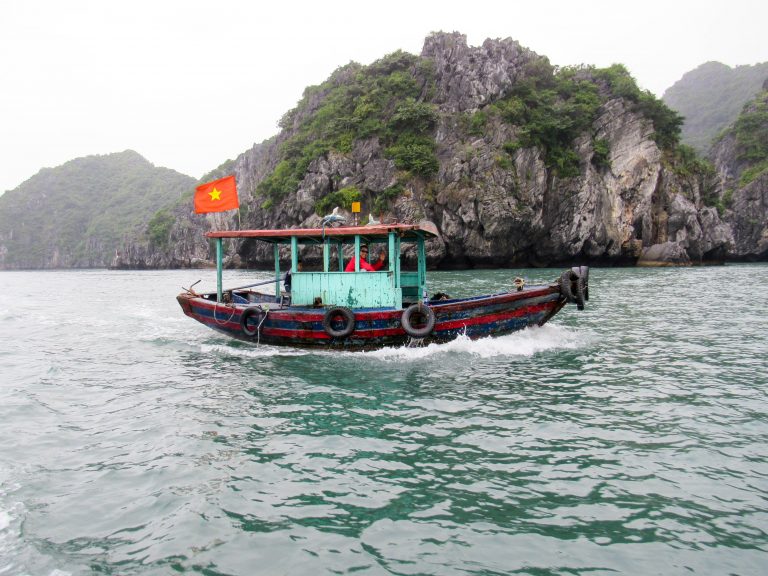 First objective for day two was this ~85 meter tall Big Ben Tower and its 4 pitch trad line (up the bushy corner, just right of overhanging face):
Choppy seas & no more boat belays. Instead it was a well timed jump over to the rock followed by a quick departure of the boat:
Shirley on pitch 1. Photo by boat-side Andrew: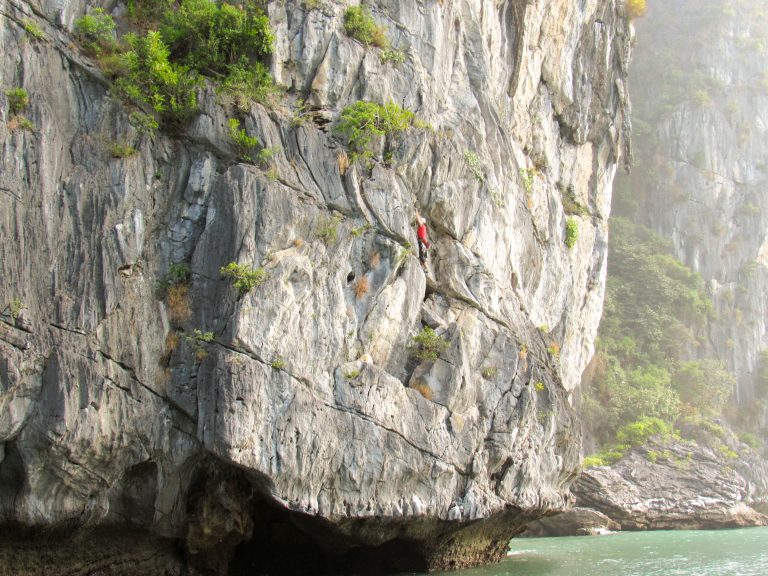 Sport climbing Ha Long Bay. We got some inaccurate beta. It mentioned scary wide unless you brought some 5s and 6s (which we did – couldn't even find a place to unload them for Shirley to carry them up):
Same pitch: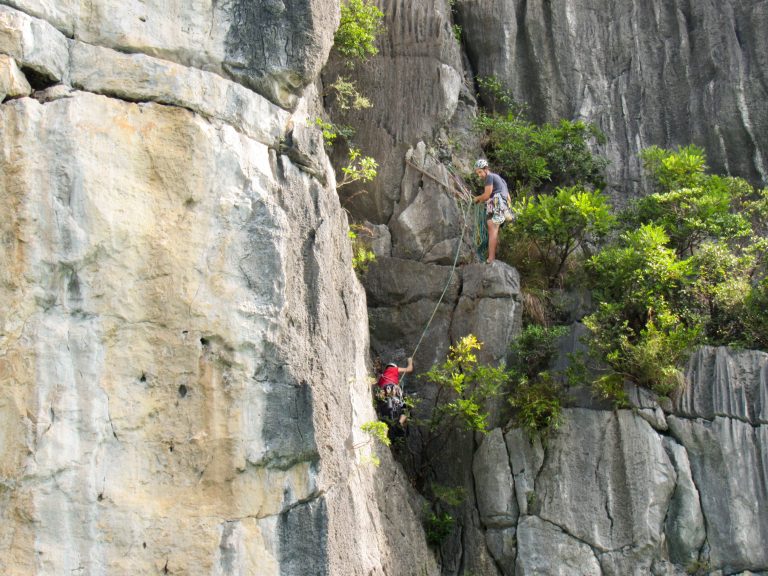 Chu Bien and Andrew waiting for us below: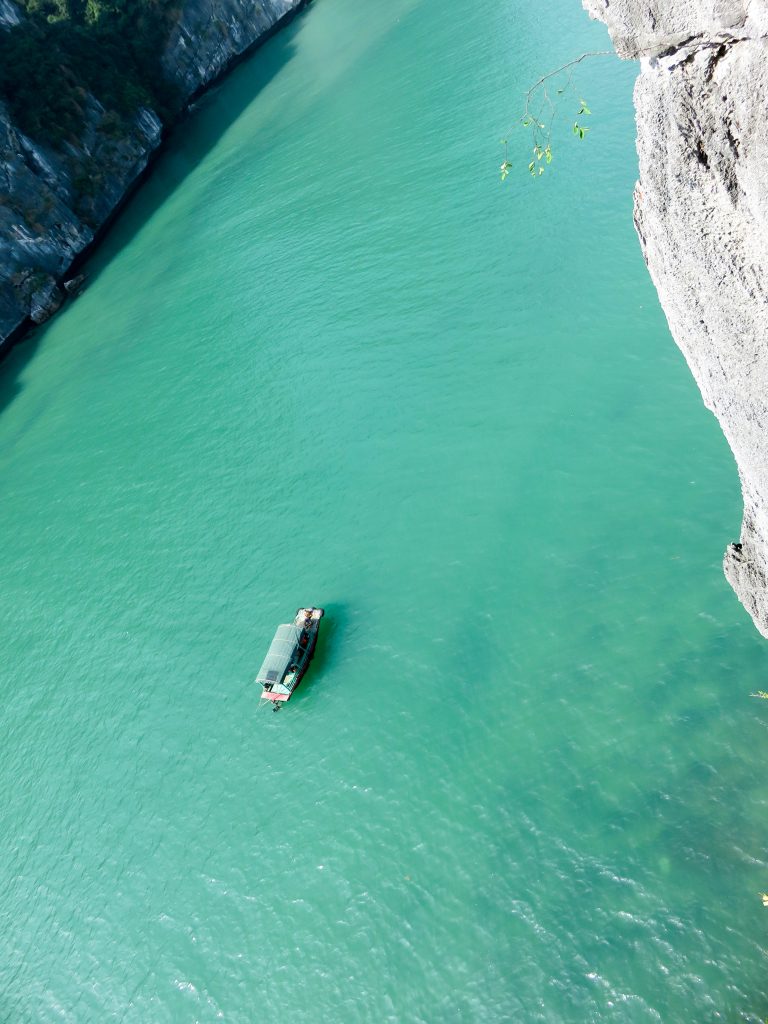 Razor-like. After dissecting my knee, I learned to respect the sharp: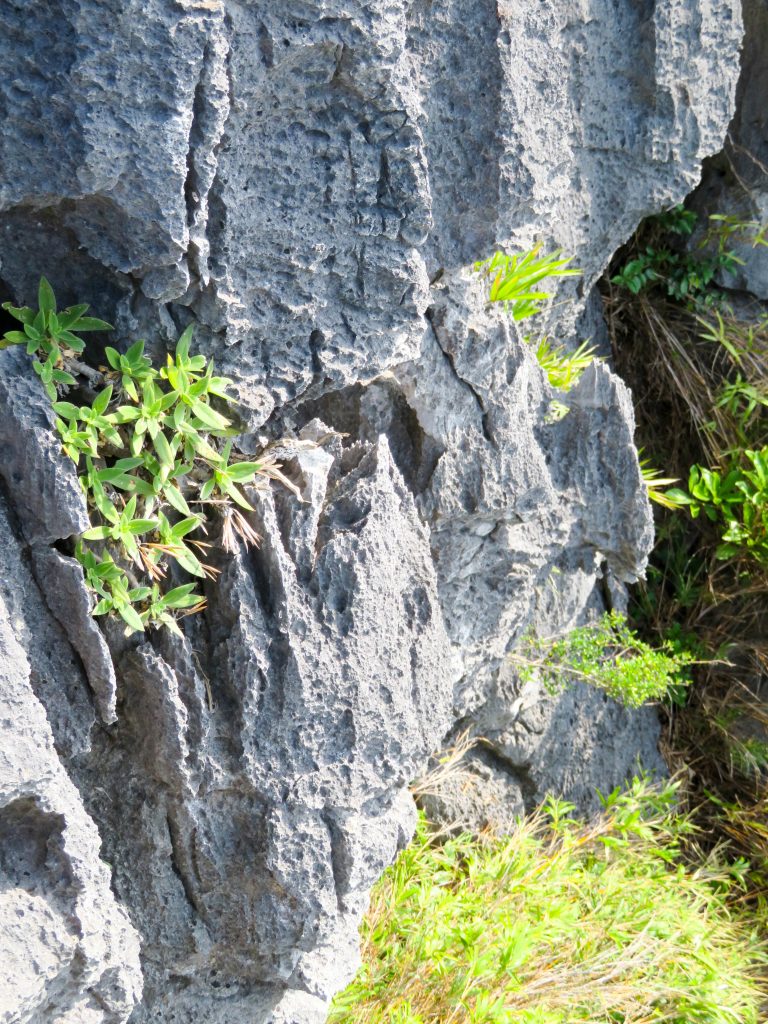 Summit views were pretty cool: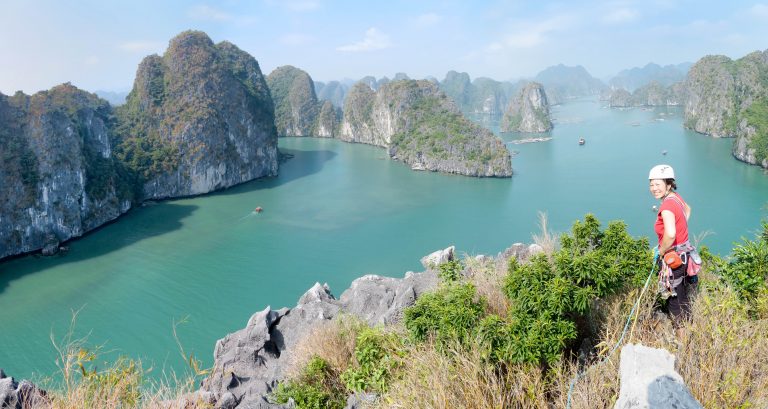 After some happy water (& lunch) we moved over to a formation called The Black Slab to climb its 2 pitch crack line. Easy but very nice. Establishing a foot hold on the slab in some heavy chop: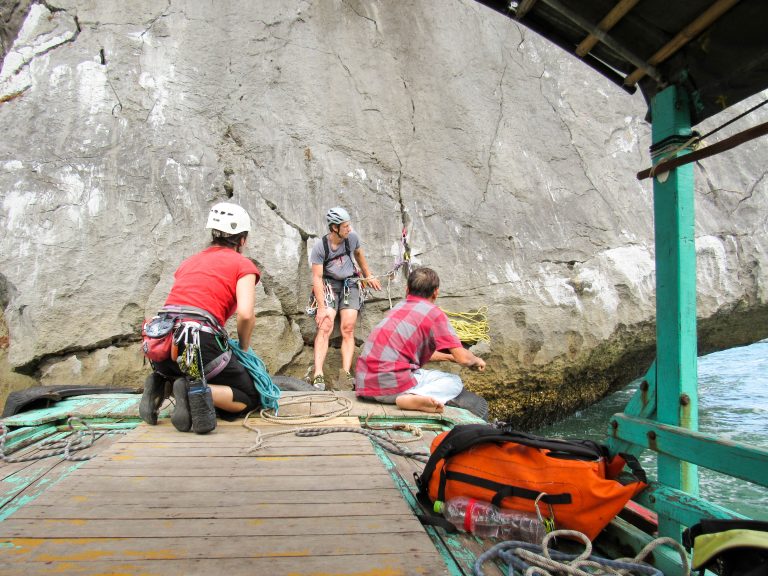 And it's on (with the boat safely away):
Shirley on pitch 1: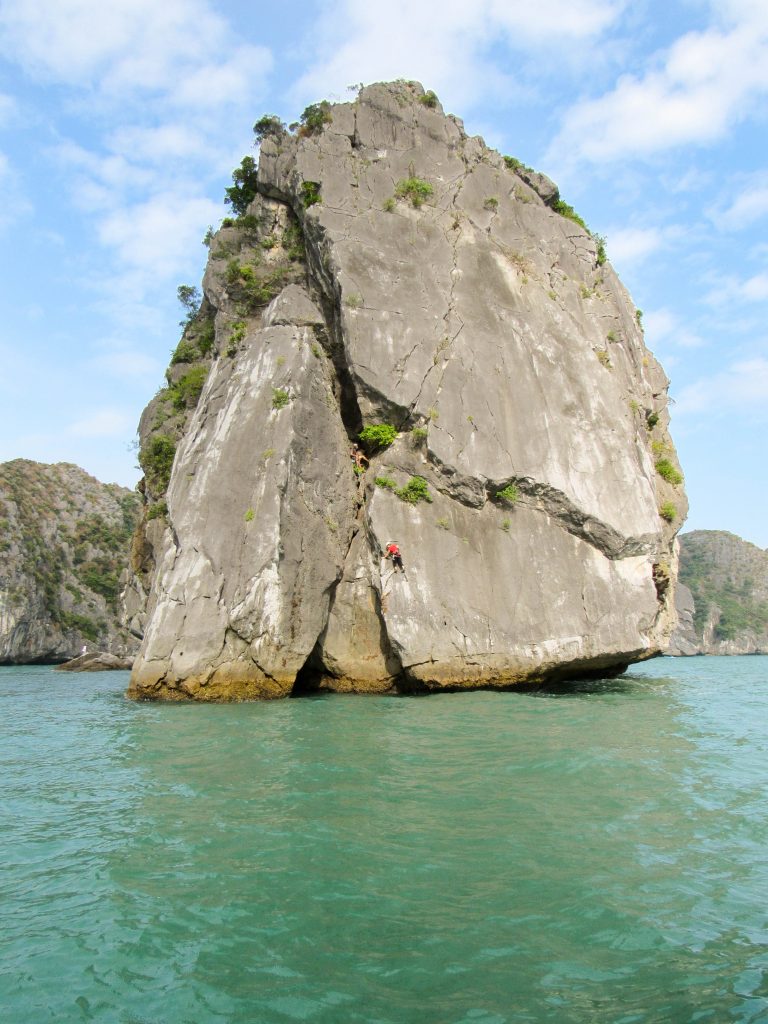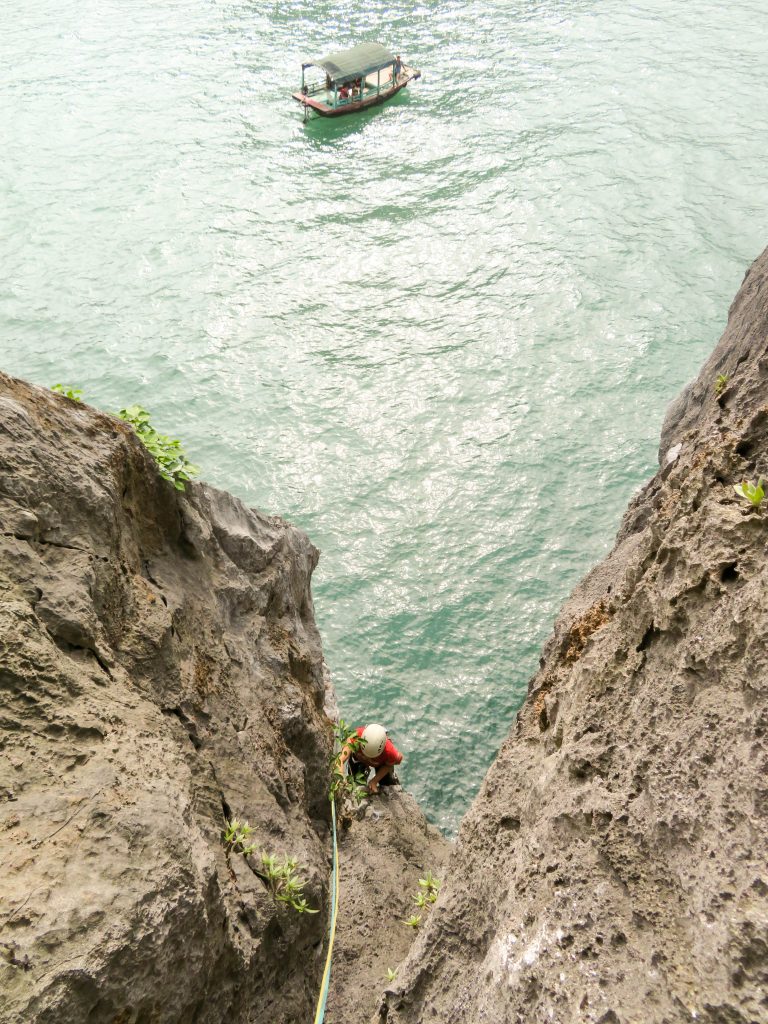 Leading the very aesthetic pitch 2: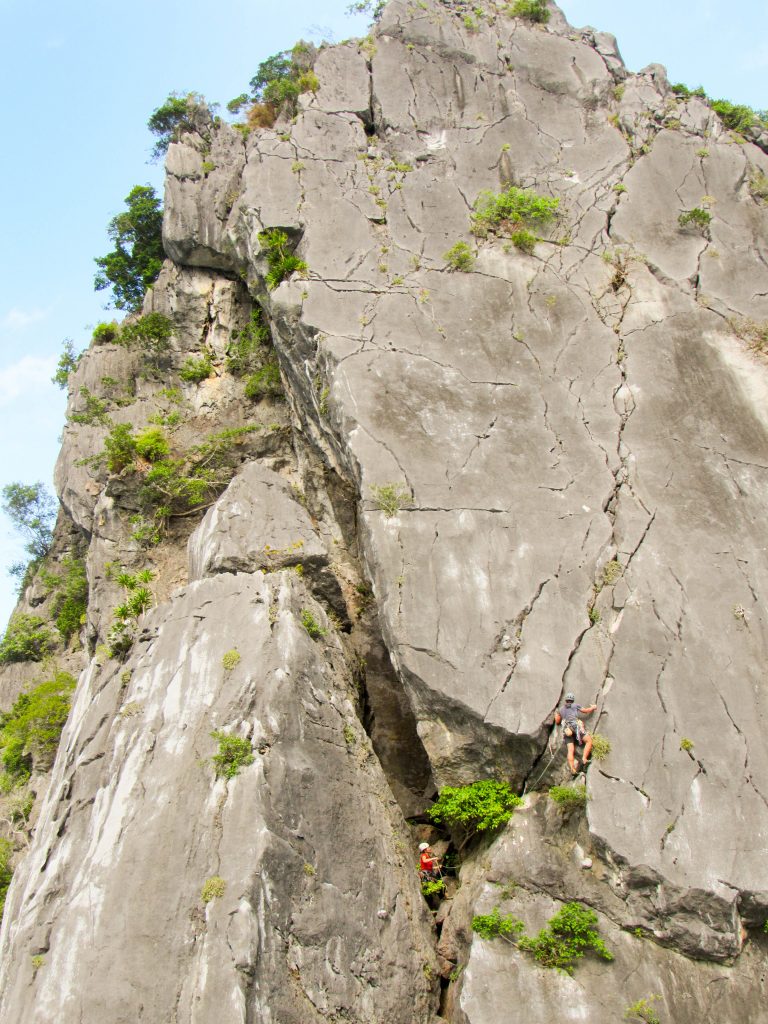 Views: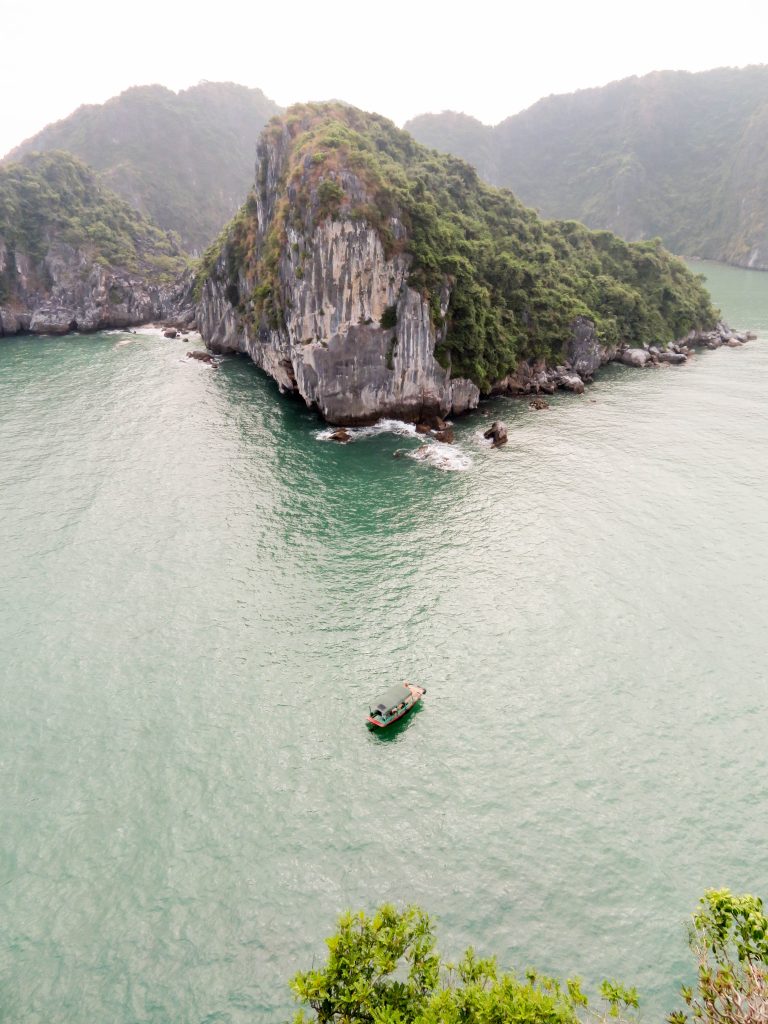 Summit: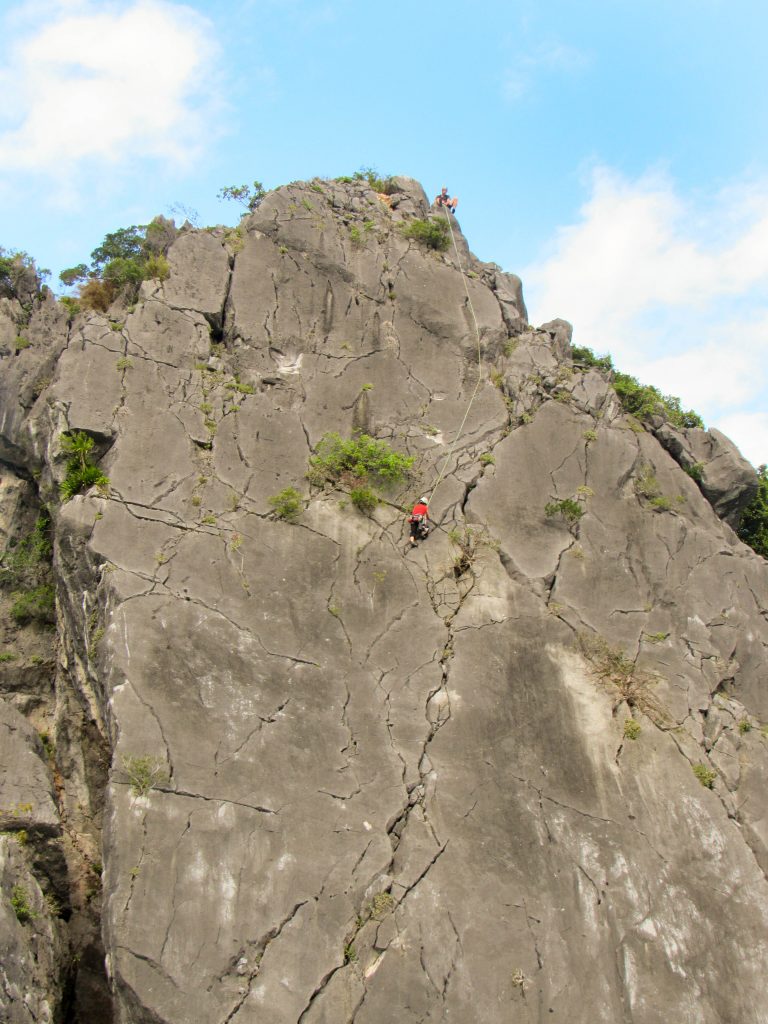 Chu Bien kicking back on the boat: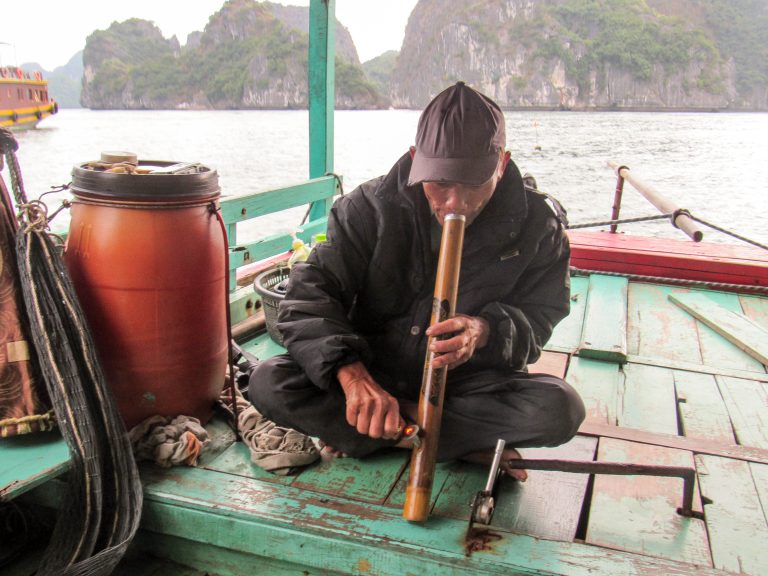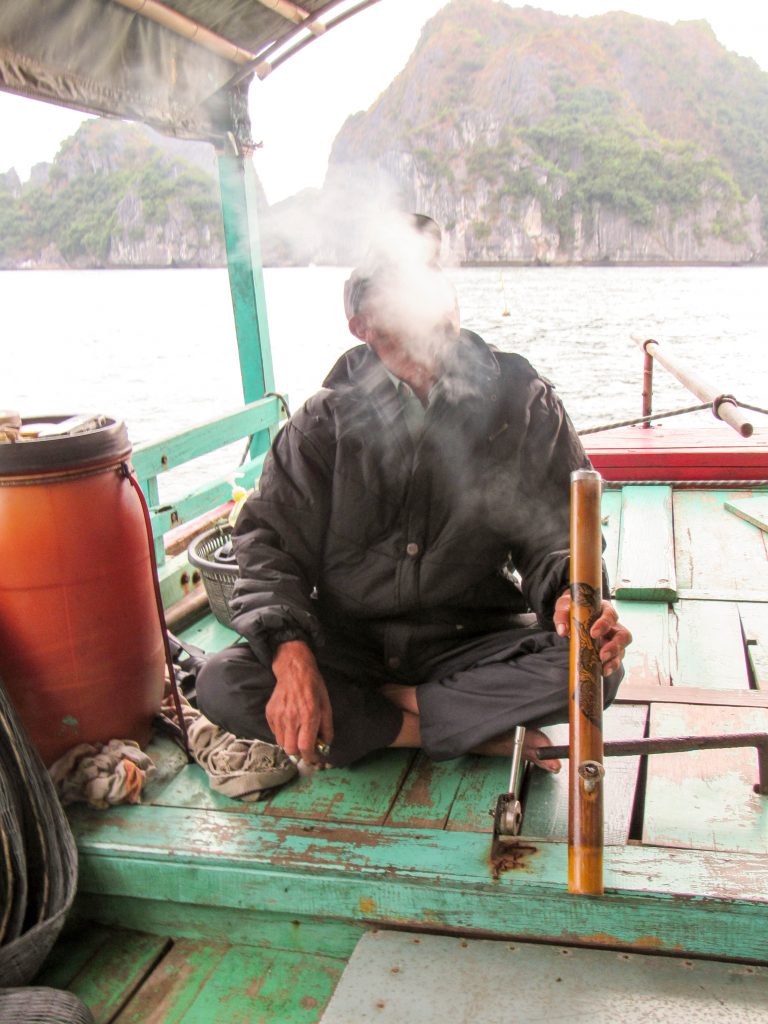 And so the days went. A ride to a climb: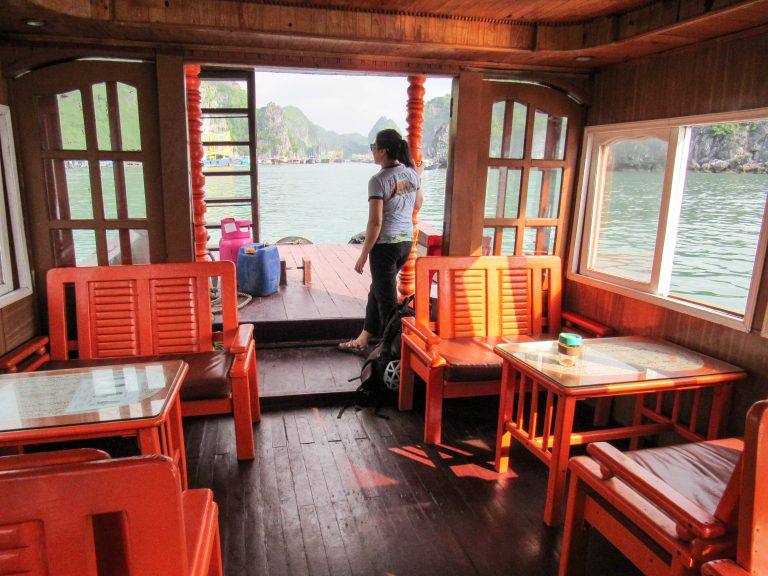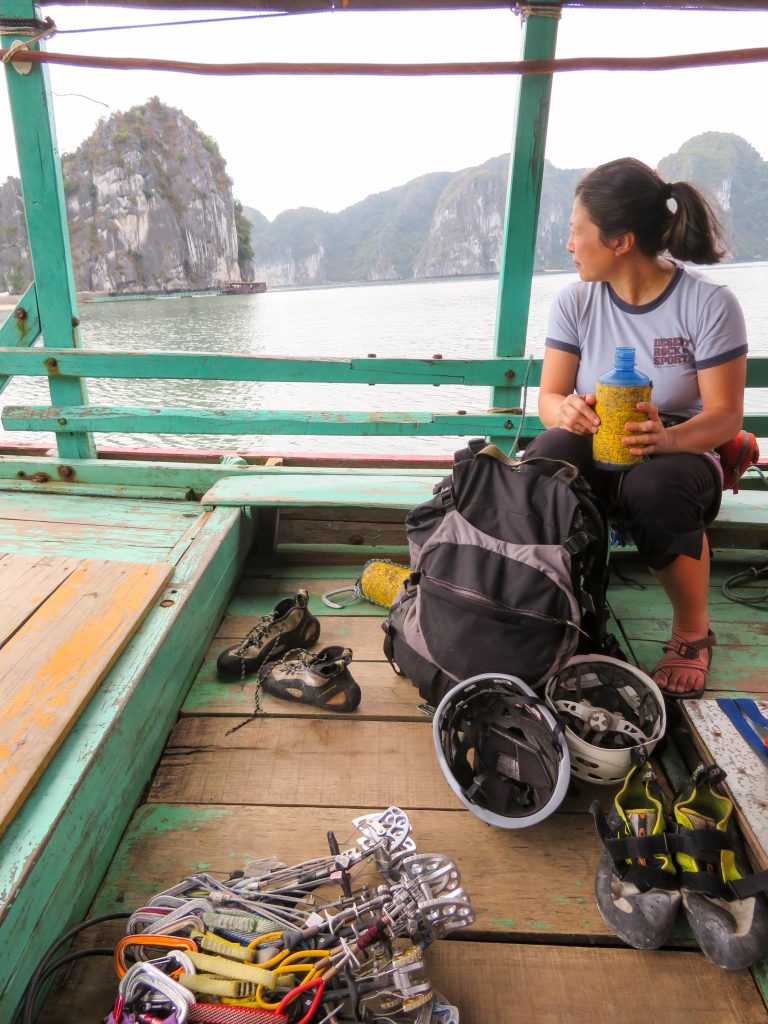 First pitch (spelunking) on Chu Bien Tower: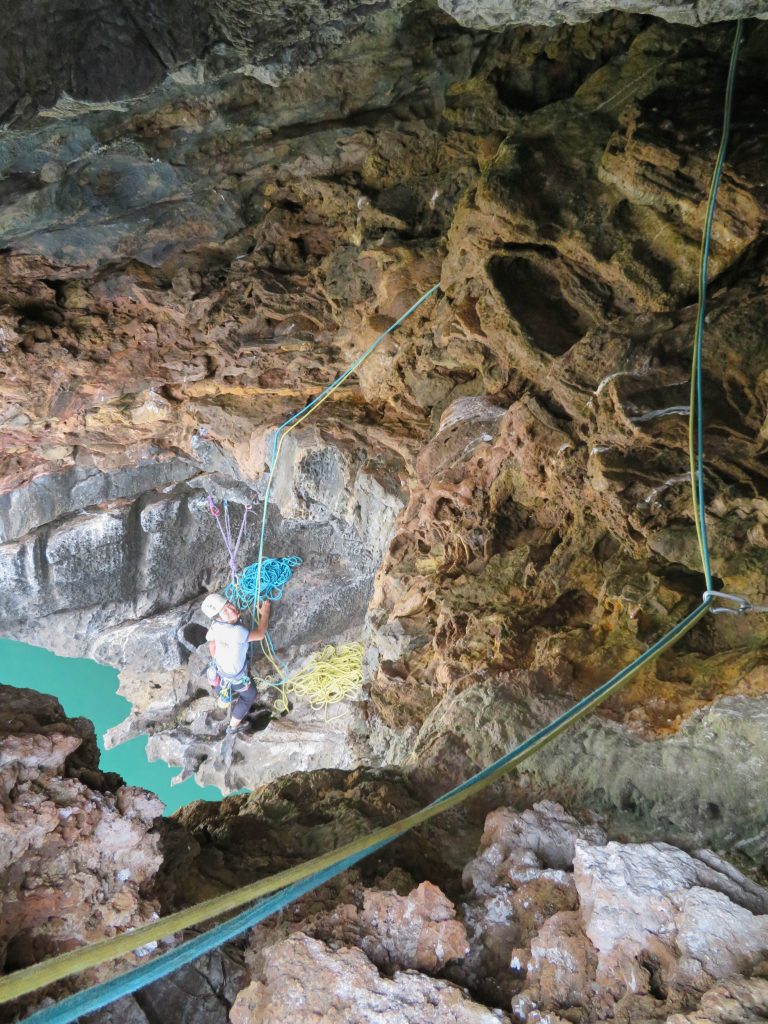 From the waterline up via the cave and out through a window: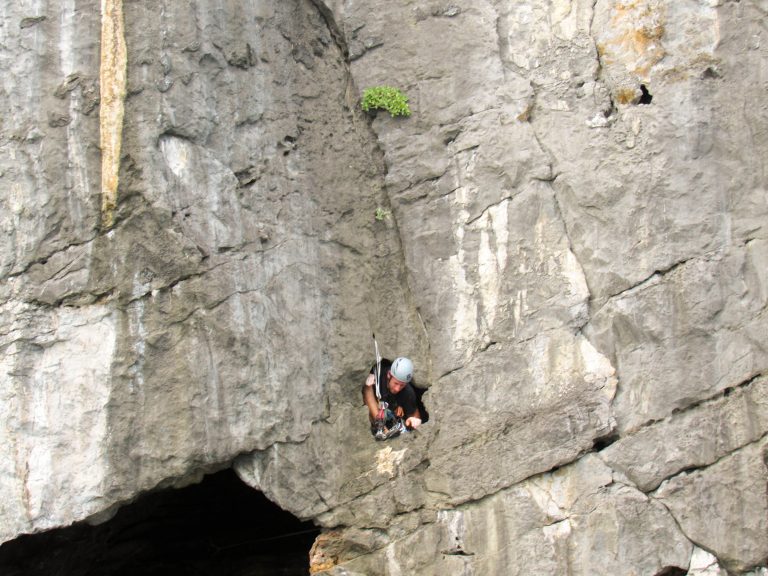 A nice 3-pitch tower route: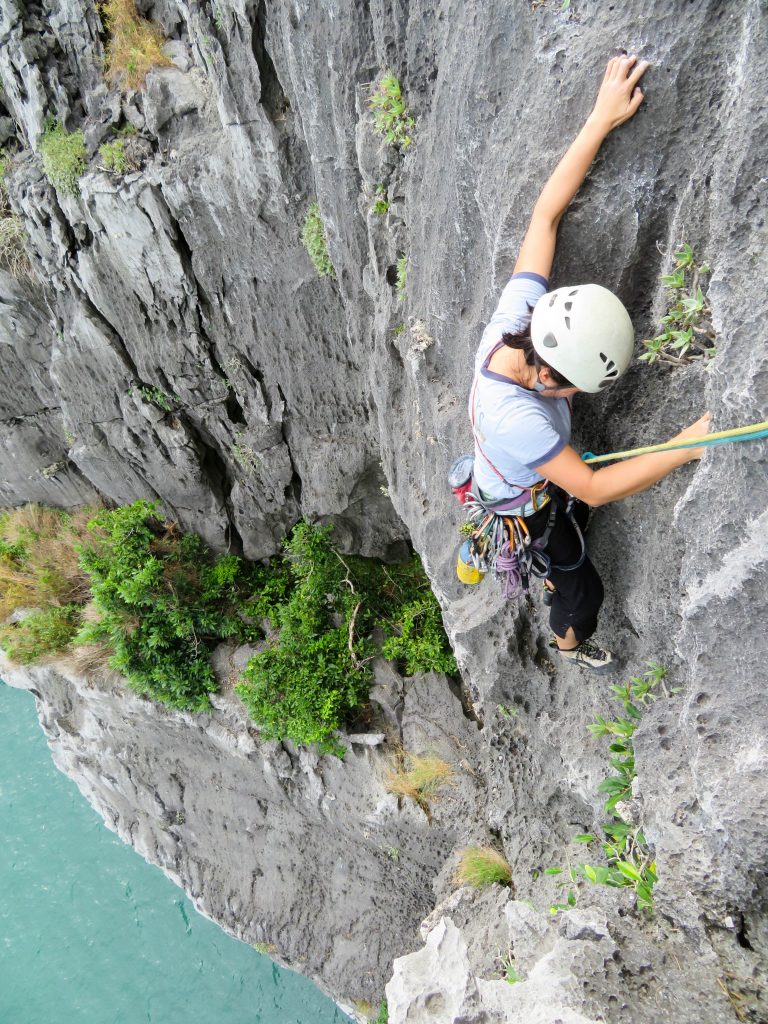 Look, a concrete boat: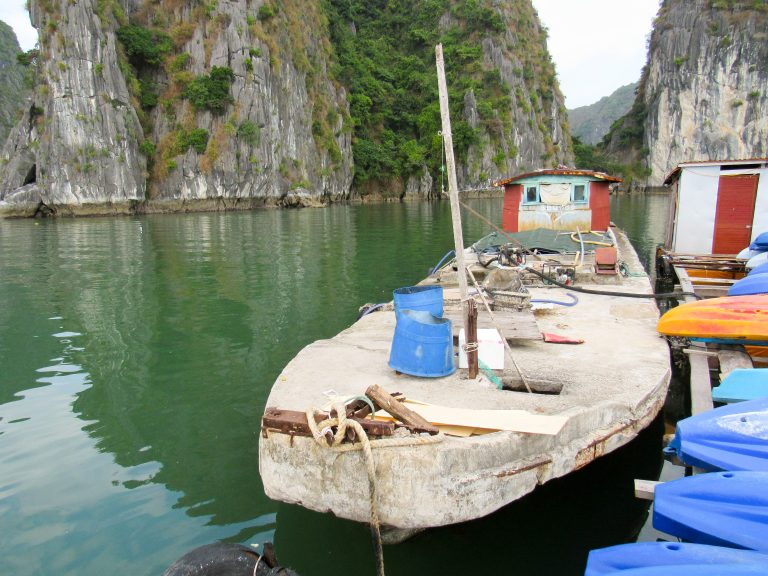 A floating settlement. Their happy water had this corrugated iron and diesel finish to it (not saying it's a bad thing):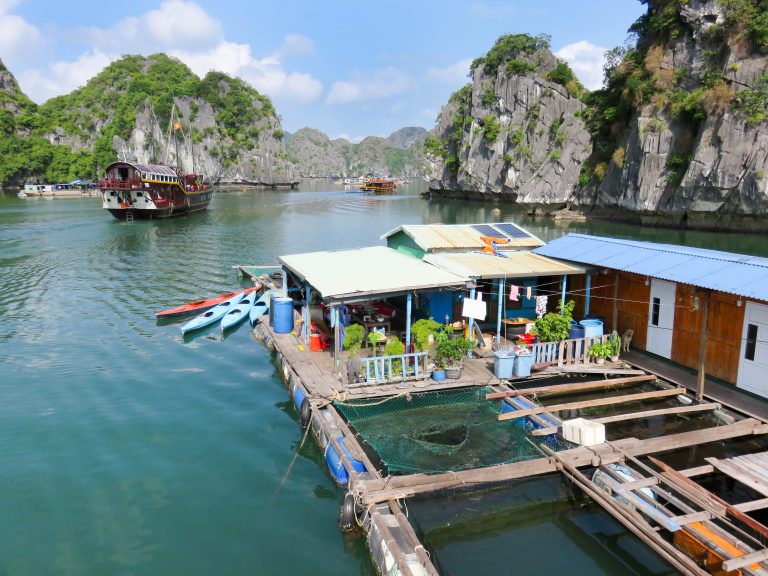 A happy puppy on the island: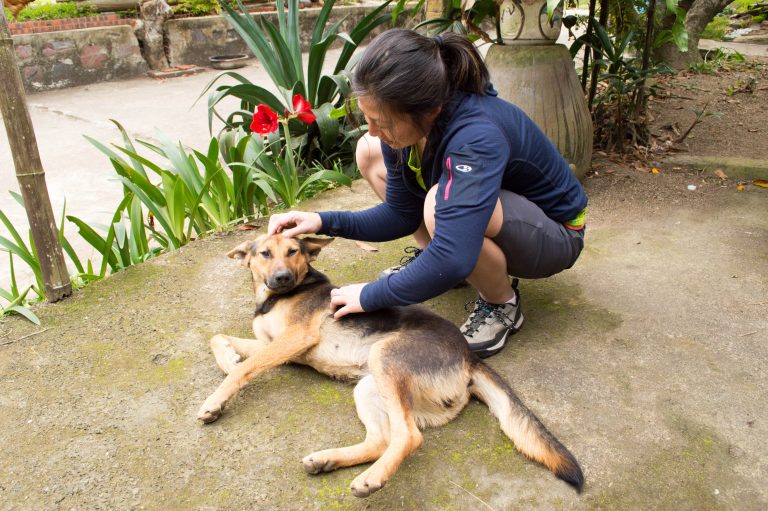 A stick insect: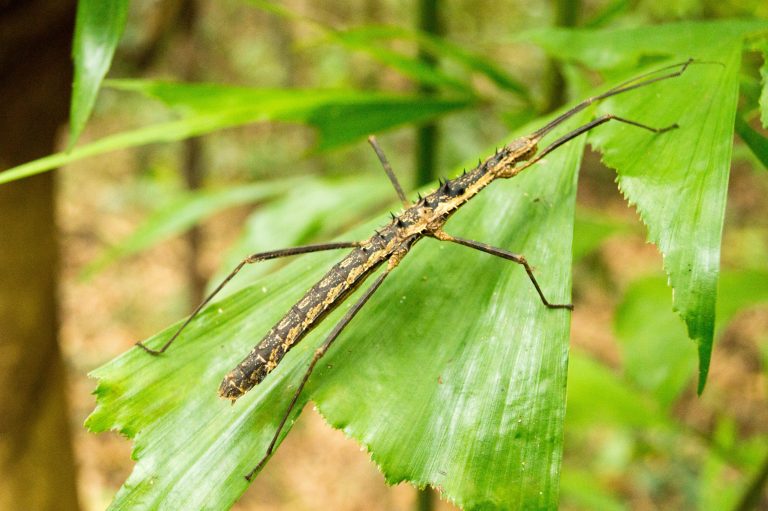 Our final climb in the Bay was a 2 pitch thing on a prow called Tiger's Corner: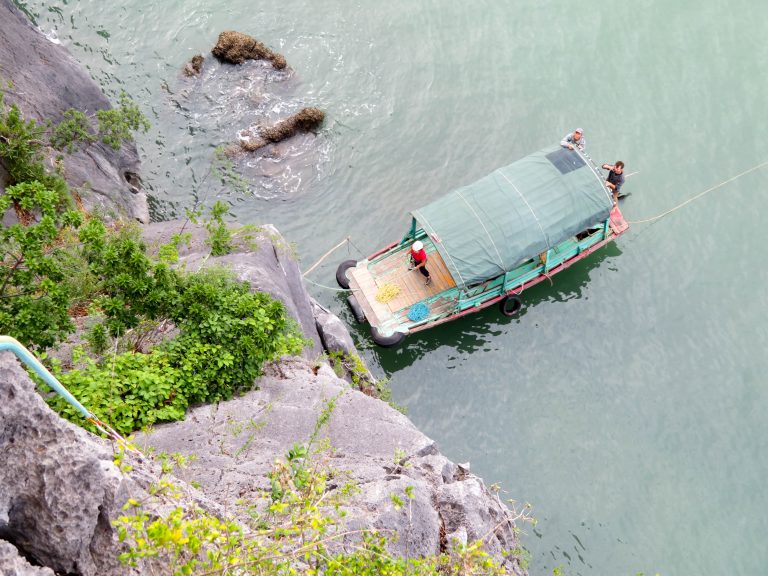 A nice line: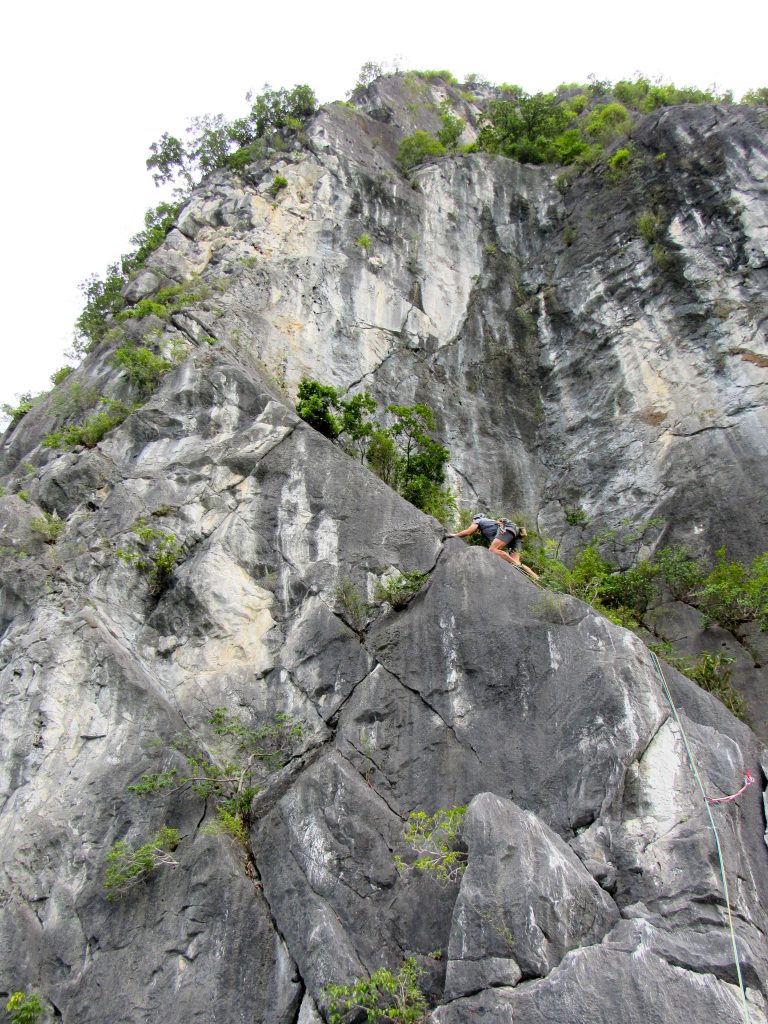 Views from pitch 1 belay: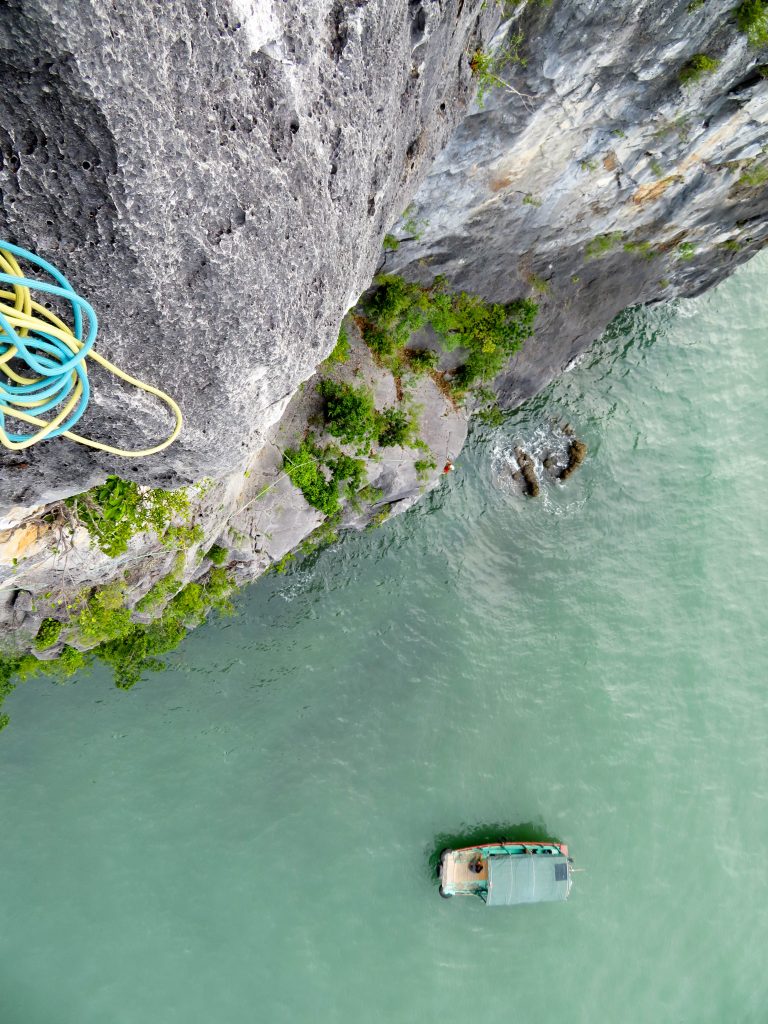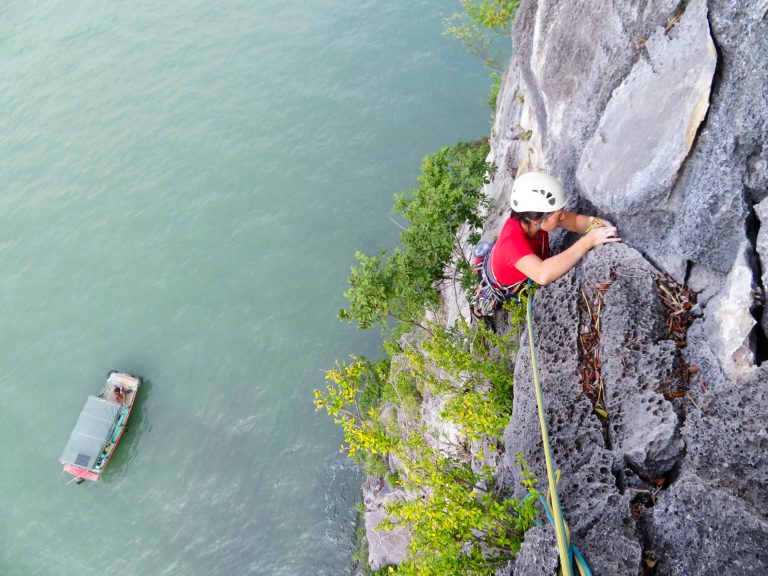 Back to the boat: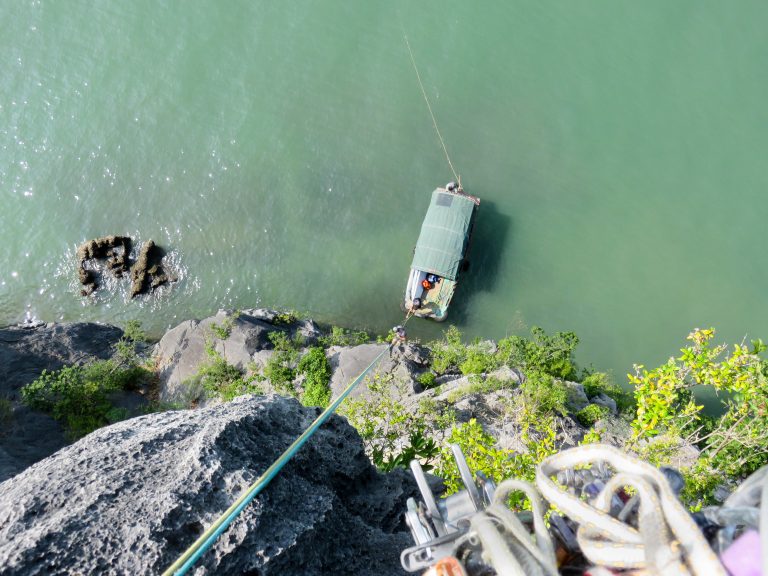 Then we left Cat Ba and after one evening in Hanoi: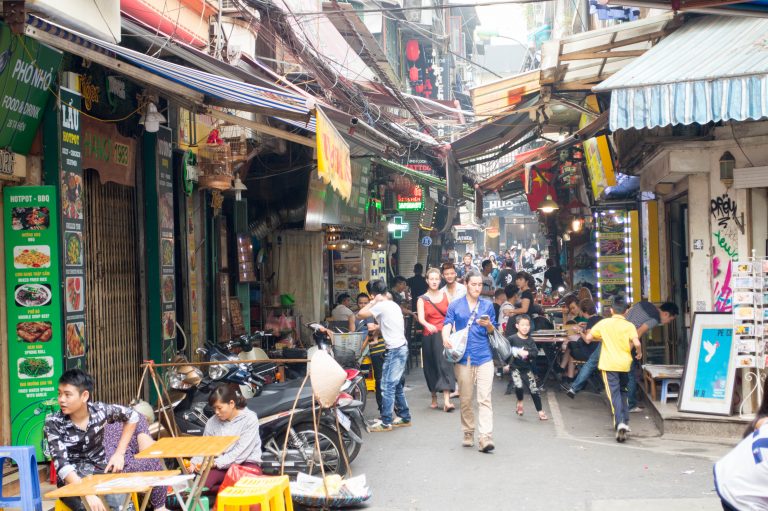 Drove 2.5 hrs north to a place called Huu Lung Valley. Farms and no tourists – outsiders are still very much a novelty item: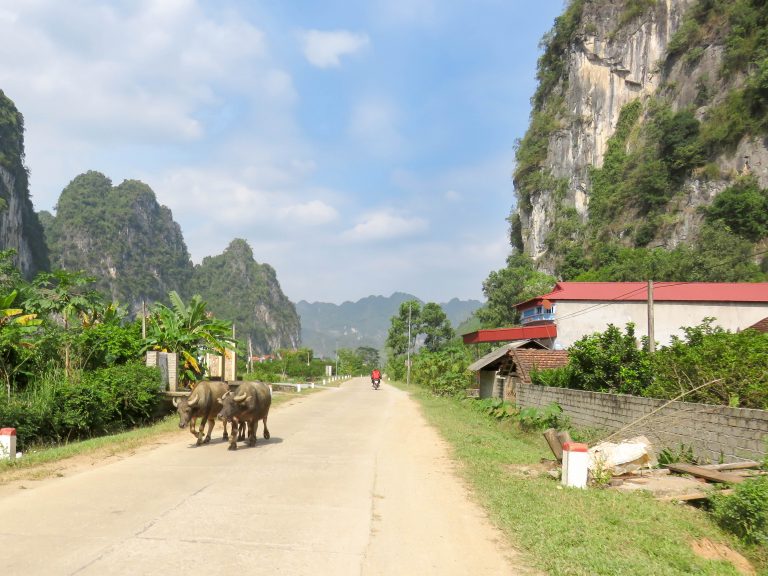 Did some long-ish jungle hike on day one: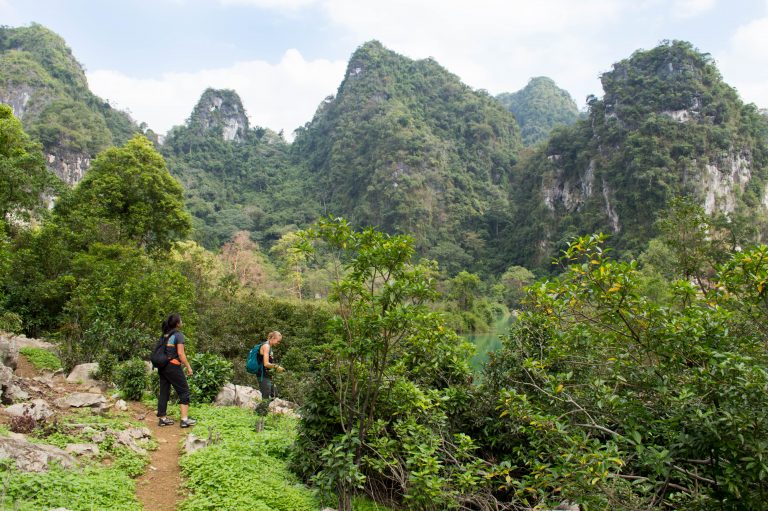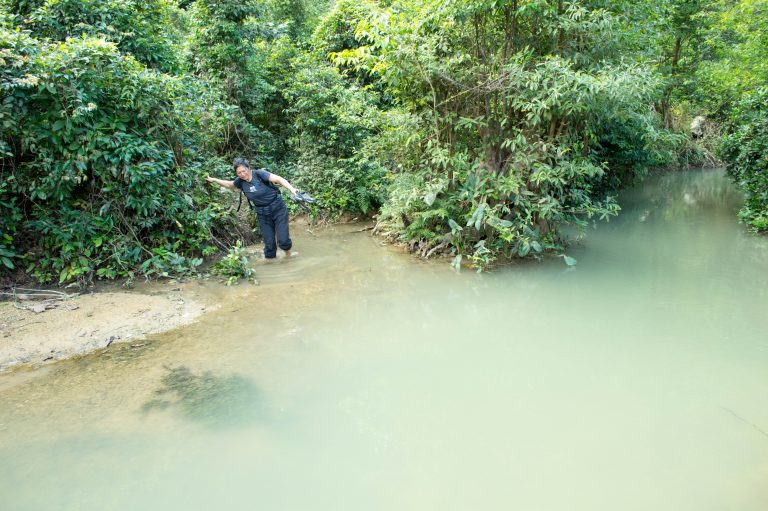 But the goal was a route advertised as Vietnam's longest (as of 2018); 105 meters and 5 pitches of tightly bolted sport climbing. Leading pitch 1: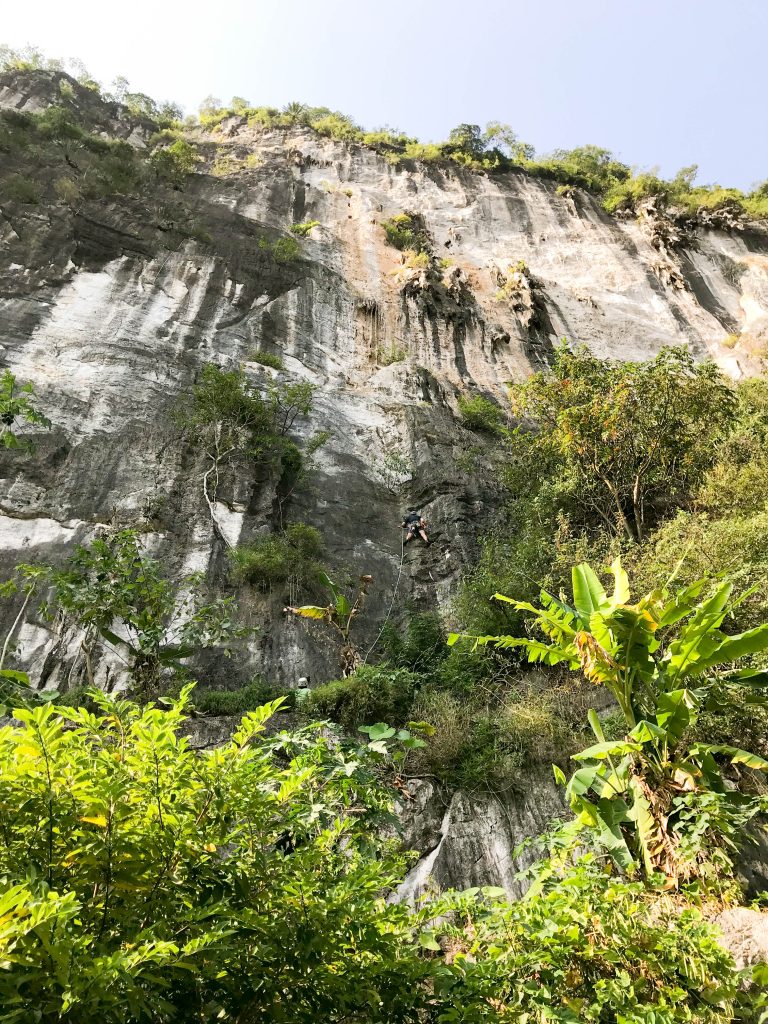 We got up it but it was far from clean (sustained 6c with bursts of harder climbing required):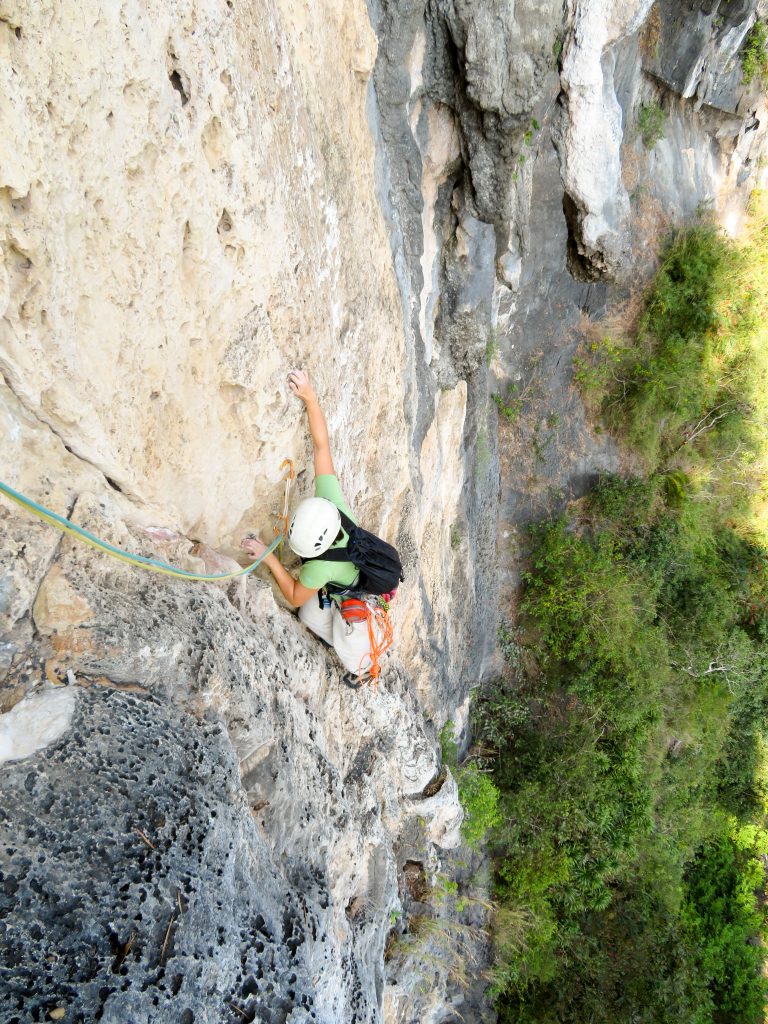 Views were nice though: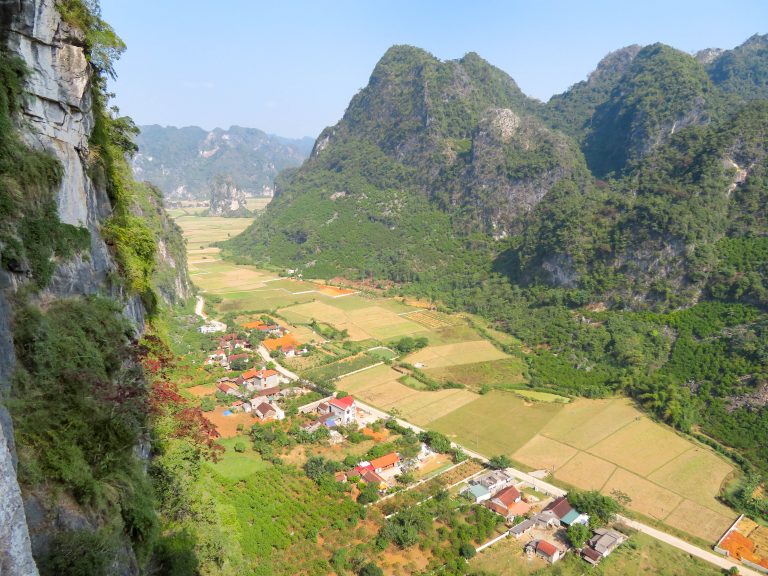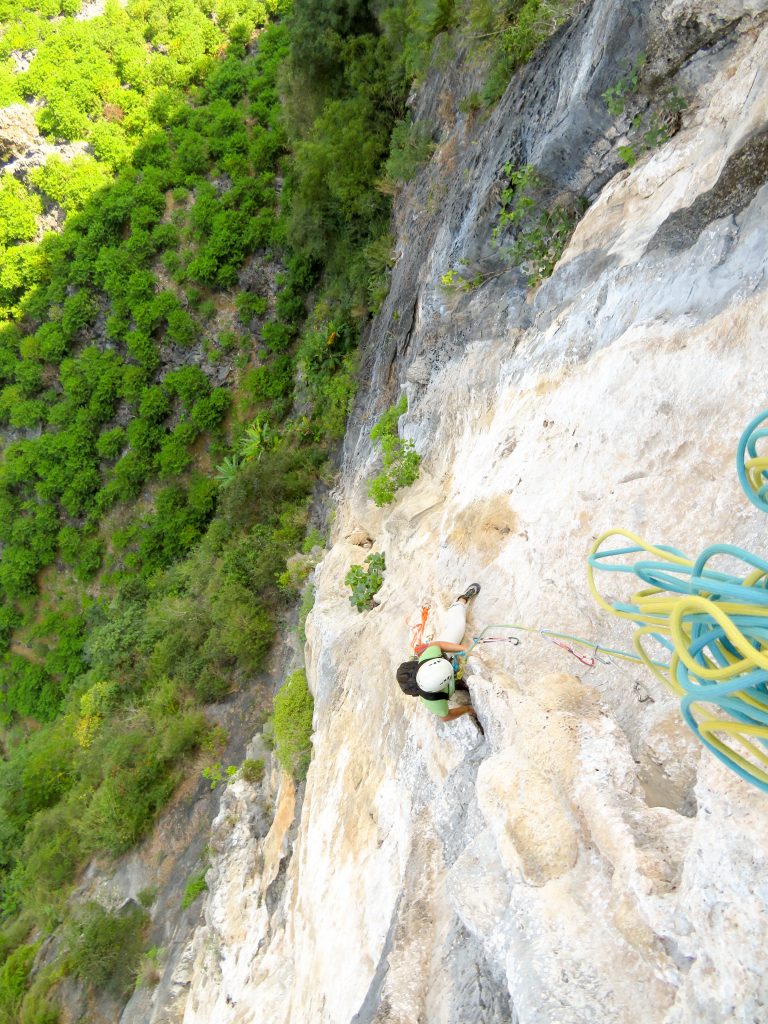 And that was it climbing-wise. We did everything that interested us and that we could get up. Rest of the time was spent on some touristy sightseeing (and eating).
Back to Hanoi to catch an overnight sleeper train to Sa Pa next to the Chinese border: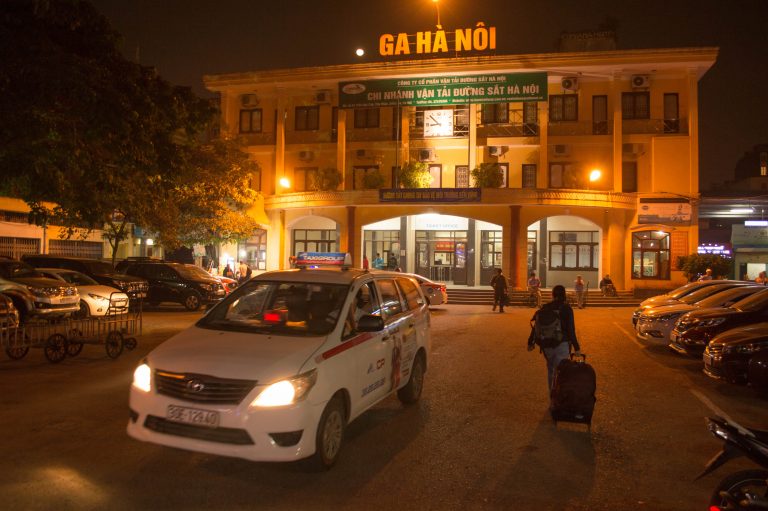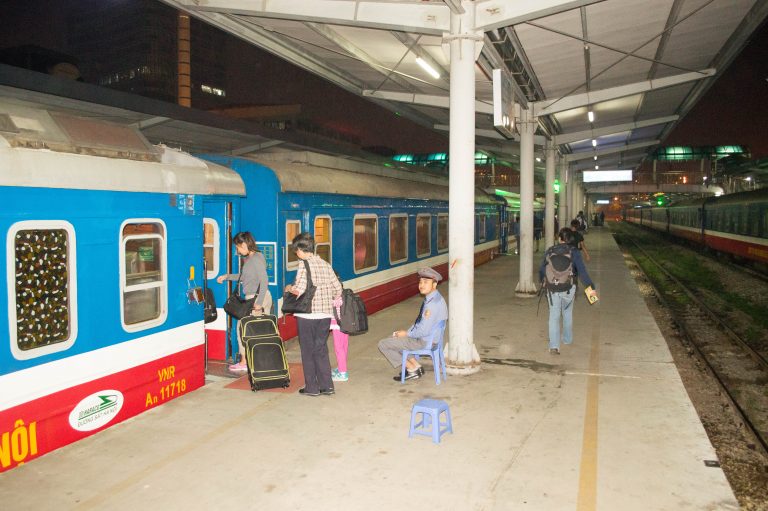 Rice paddies: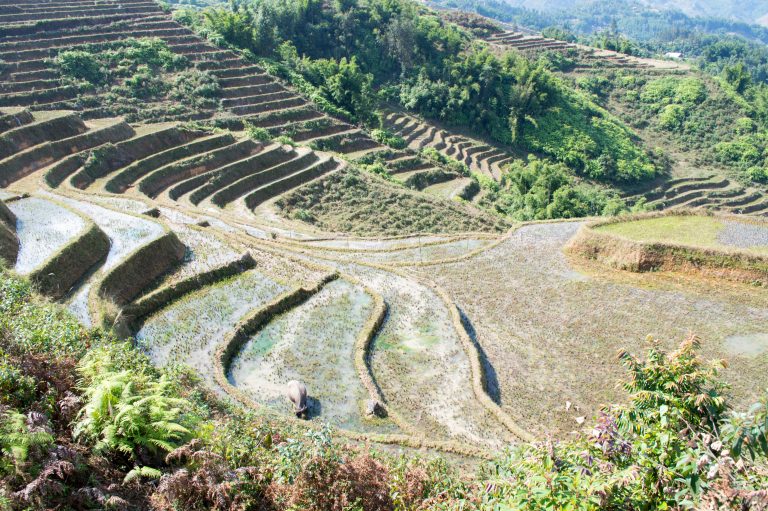 And wildlife around Sa Pa: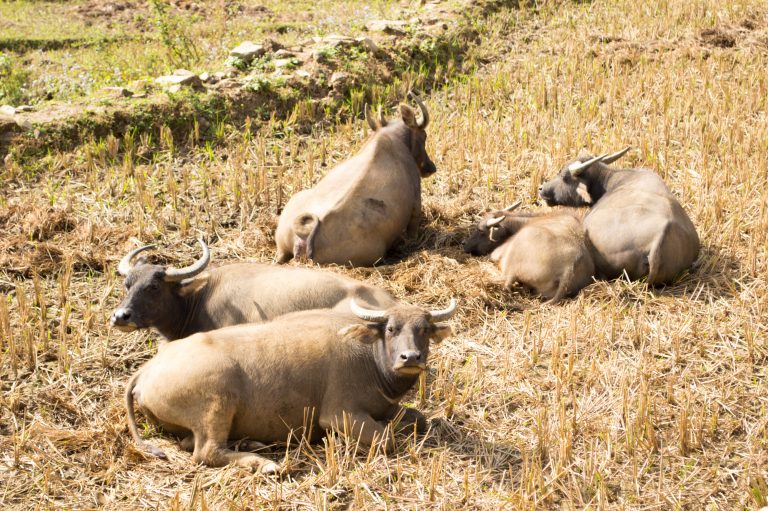 Black Hmong wedding party: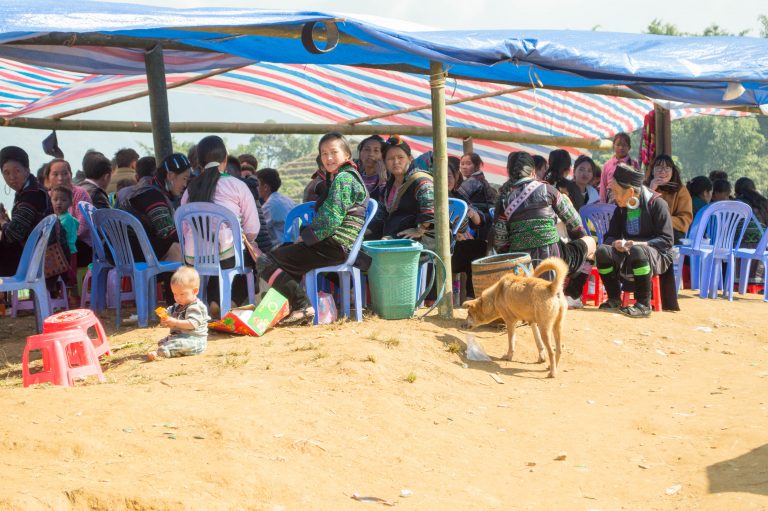 We did a 16km hike with an overnighter in a farmer's house: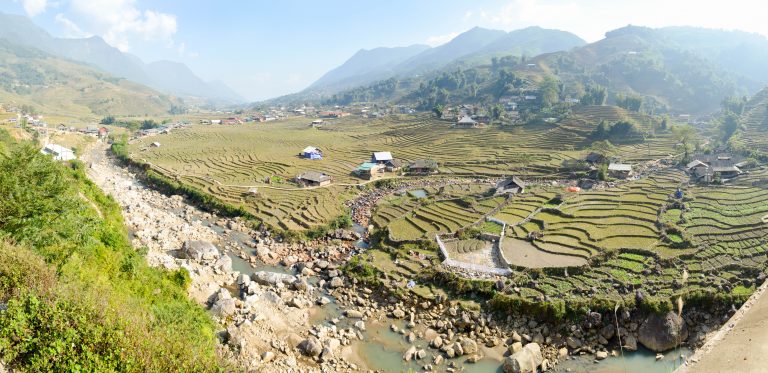 And a visit to a weekly village market the following day.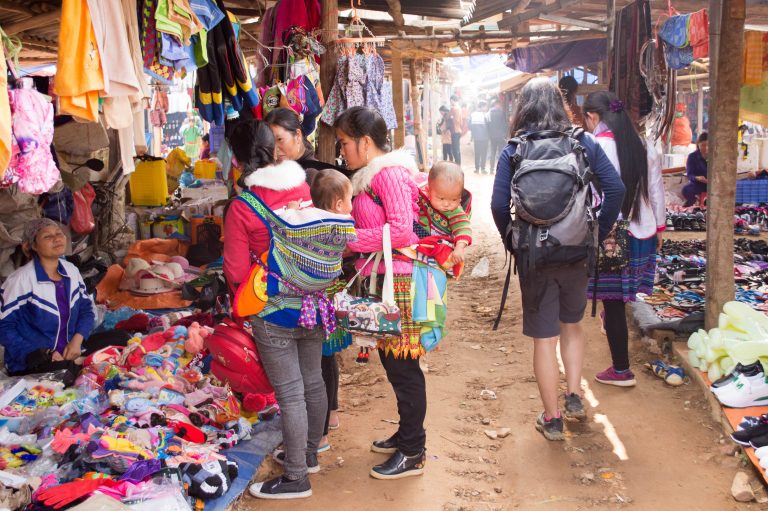 Where I managed to get a great haircut for 2 USD: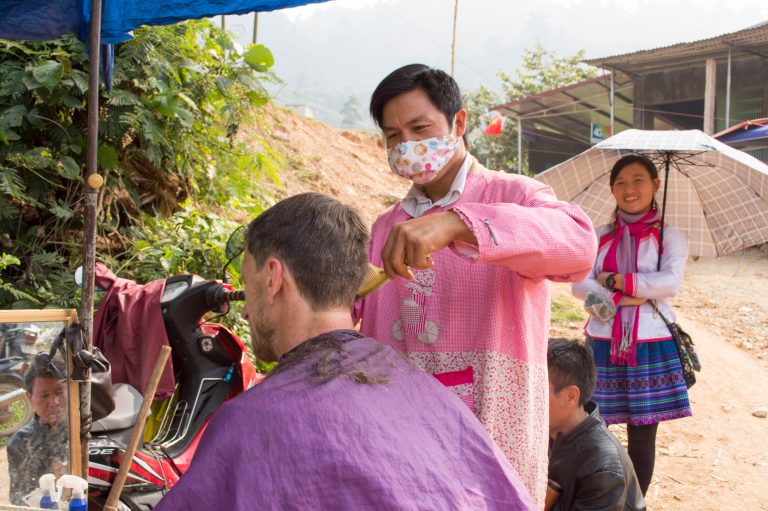 After that we went back to Hanoi & flew down to Da Nang to check out Hoi An just to the south. Pretty nice but very touristy and rainy (we were not complaining as we had perfect weather for the climbing parts of the trip):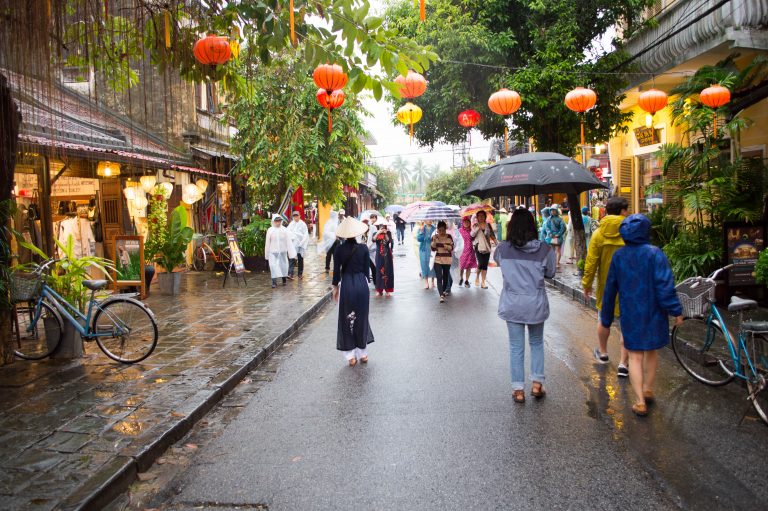 Most of the interesting fruits were out of season. Got some scraps of mangosteen:
And some dried up durian – not great: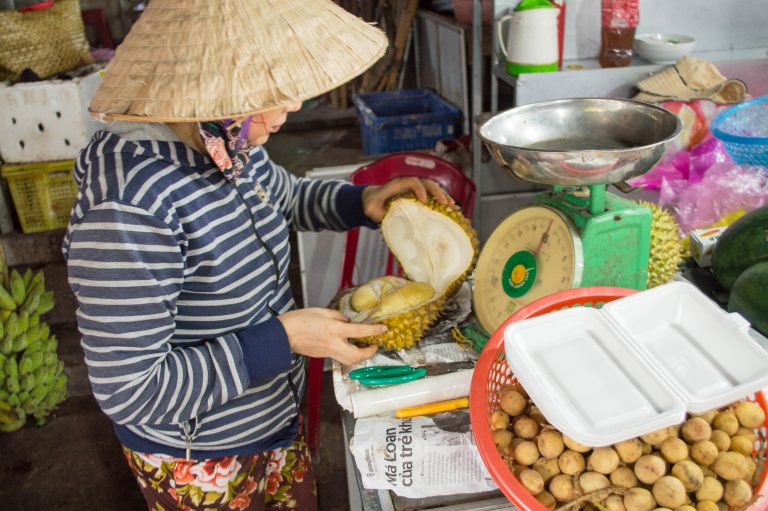 A farmer showing off his puppy: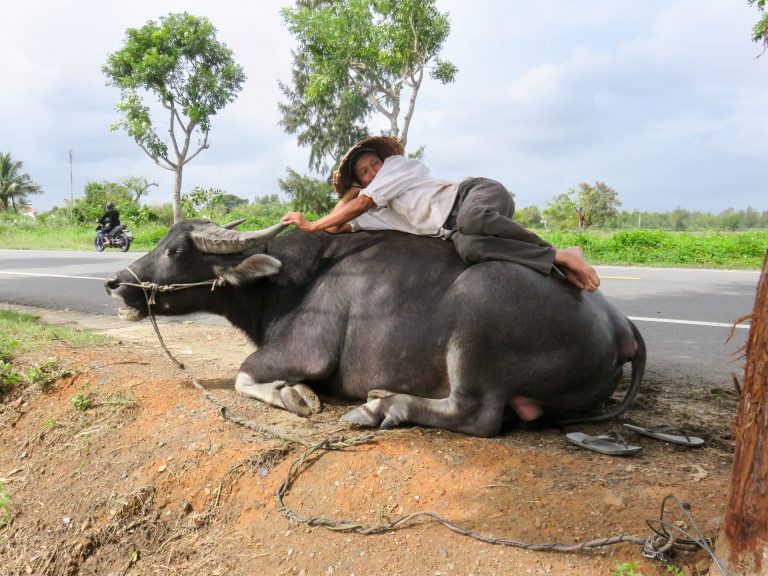 Lots of eating – but that's really 50% of the reason of going to SE Asia for us: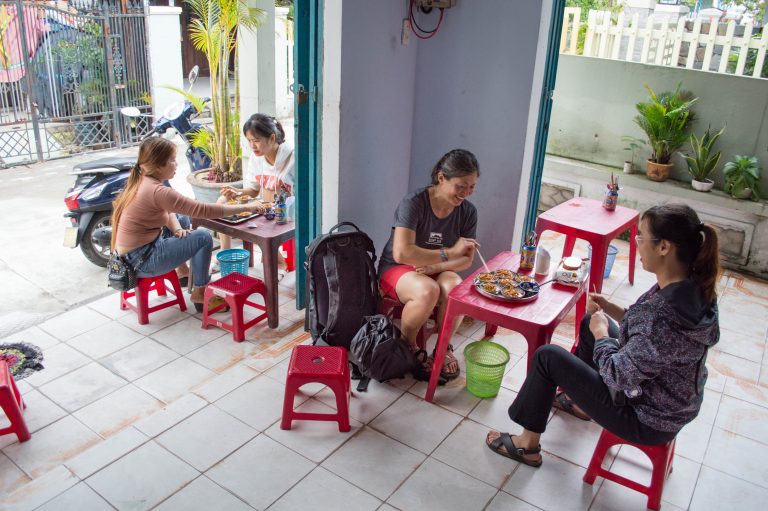 Went to check out Hue for a day: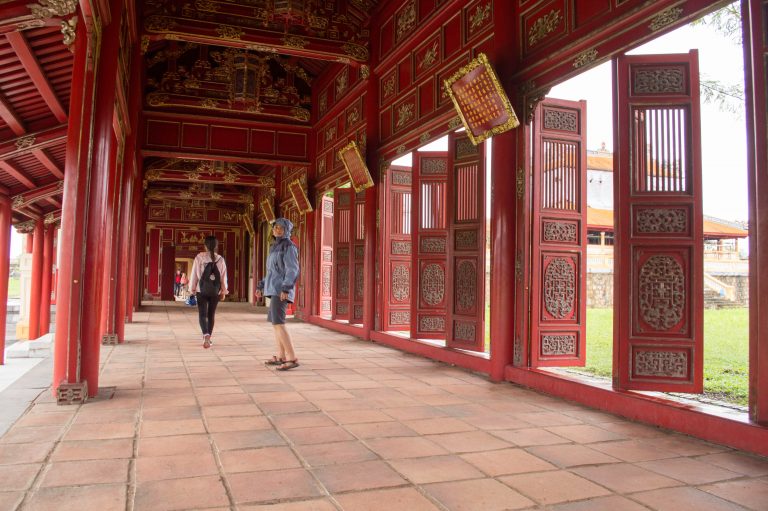 Finished off the trip with a full day scooter tour of Hanoi. If you really want to get in there and literally taste that city (smog and all), this is the way to do it. Took me two weeks to cough up all the smog particles. Long Bien Bridge: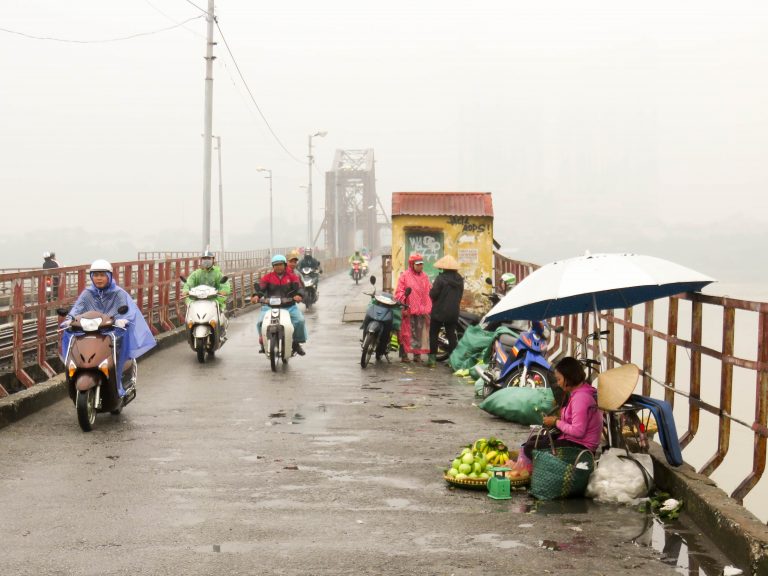 Our scooter guide Andy about to leave the tea party for some 5-10 minutes: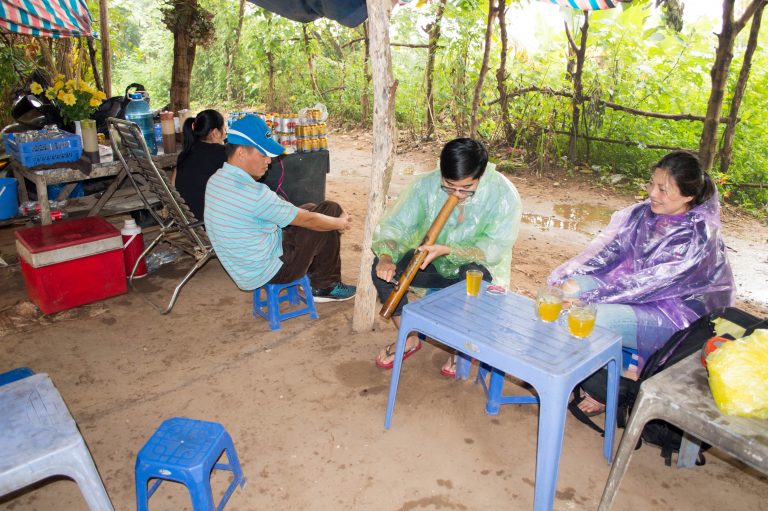 Hanoi: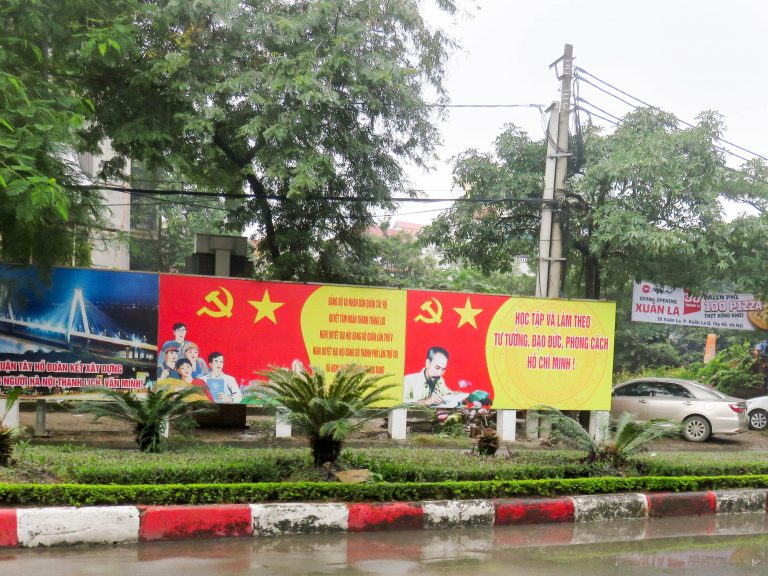 Old Quarter: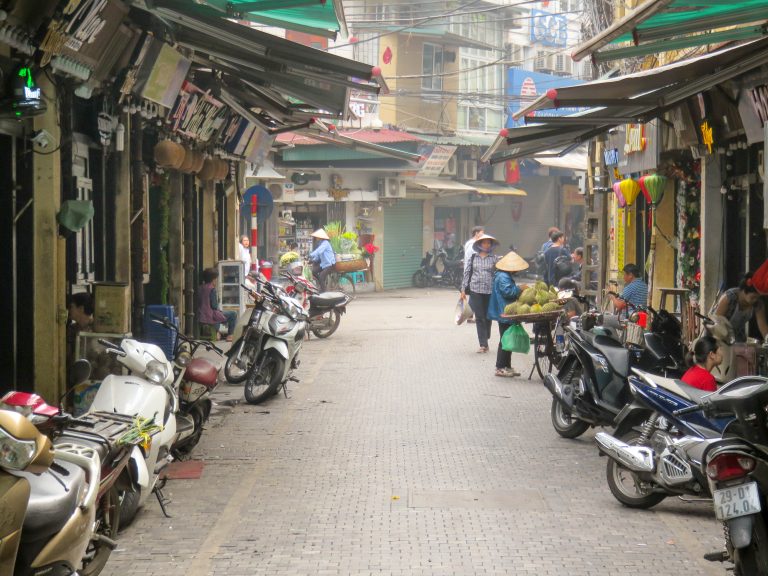 Remnants of the downed B52: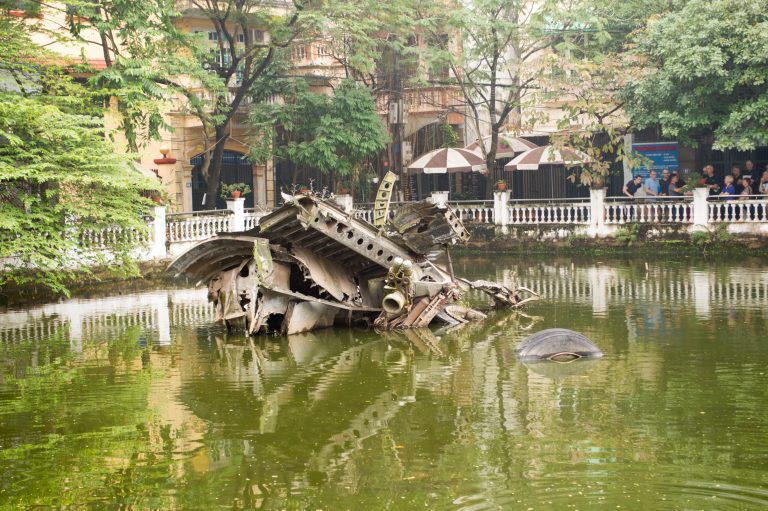 And then it was time go home.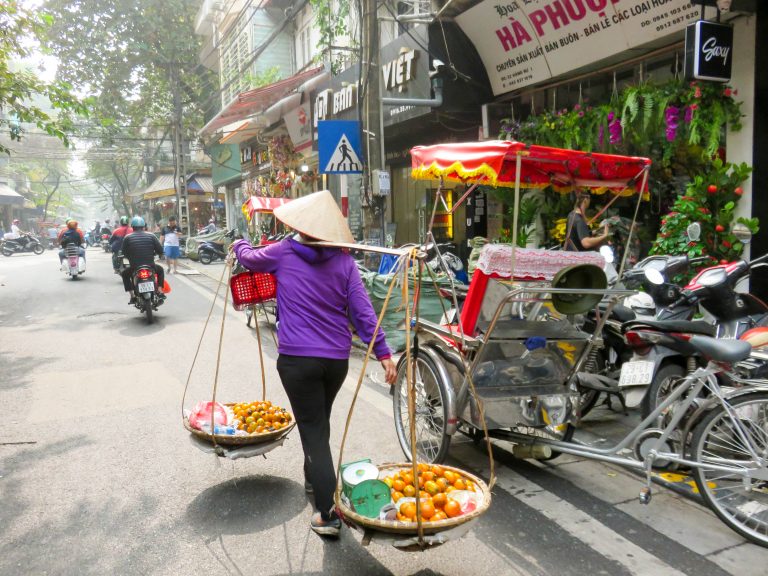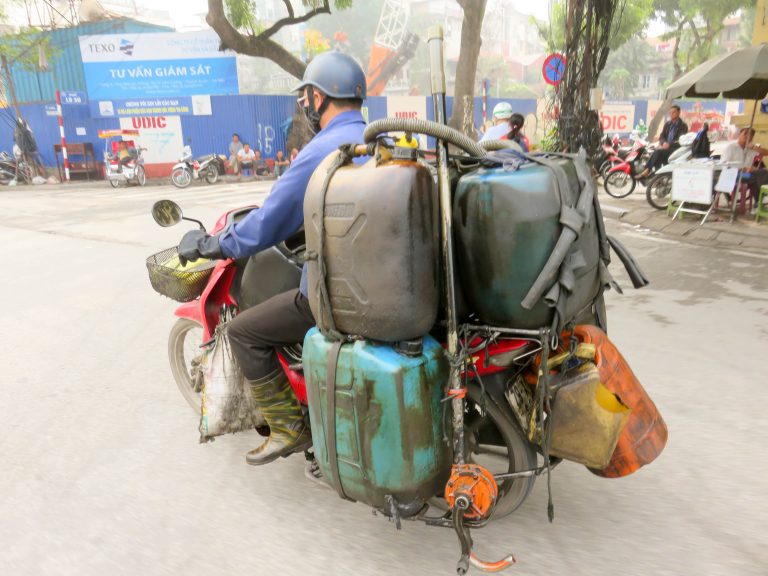 The end.