NPR has an occasional series called something like "Books You Must Read" which once featured
Moby Dick, or The Whale
by Herman Melville. The commentator described it as a classic tale of obsession, referring to Ahab and his pathological fixation on the Great White Whale.
"Hmmm..." I thought to myself, sitting at my desk at work, "I'm kind of obsessed with climbing. Maybe I should read this book." So when summer arrived I picked up a copy to bring along on climbing trips, something to read while settling into the sleeping bag at the end of a satisfying climbing day.
It took awhile to get through the book because, frankly, once you get into the thick of it there are some pretty tedious chapters. It's not ALL like that - certain parts really move, especially the early chapters, and then later whenever they meet other ships or whales out in the open seas - but the action chapters are interspersed with some LOONNNNGGGGGGGG stretches on whale taxonomy, whale anatomy, whale phylogeny, how to chase a whale, capture a whale, cut up and store different parts of a whale once you catch it, etc., etc., etc.
Soon I started to suspect that the REAL obsession here was Melville's towards whales, more than Ahab's towards Moby Dick. Well whatever, obsession is still obsession and how come I'm not climbing? By two-thirds of the way though the book I found myself speed-reading the whale-minutia chapters to get to the more interesting action chapters. But even then (*spoiler alert*) did you know they never actually catch up to Moby Dick until the very last part?!?! SIX HUNDRED pages of buildup about a Giant Evil White Whale and then it's all over in thirty pages!! After hearing about this classic all my life I was expecting a more sustained climax.
Nevertheless it was worth it and, in retrospect, very appropriate in light of a climbing trip later that summer.
It turns out I was *almost* to the end of
Moby Dick, or the Whale
in August, when one of my favorite climbing partners and I got together to climb Mt. Whitney. Before leaving the Whitney Portal parking lot I liberated the last few chapters of Moby Dick, hermetically sealed them in a ziploc, and tossed them in my pack as we headed up the North Fork of Lone Pine Creek.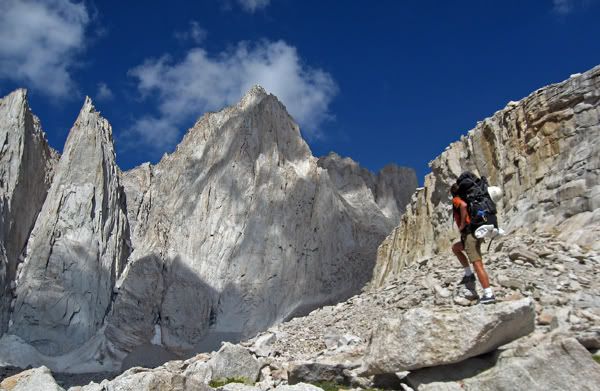 Mt Whitney was great.
We camped at Iceberg Lake and our strategy was to get up in the morning, do the deceptively short-looking yet (in my condition) actual 45 minute approach, and climb whatever route was less congested when we got there.
My dad's old Bulova wind-up alarm wristw#tch helped assure that we didn't oversleep.
http://www.youtube.com/watch?v=1z2D8feSzXU
We climbed the East Buttress.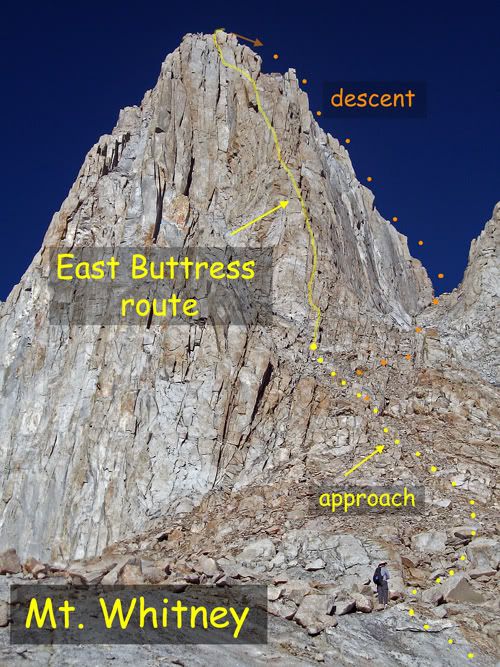 The next day we hiked out and got down pretty early, scored a campsite at backpackers camp in Whitney Portal, and (back to the book report) that evening I finally got to the all-too-brief climax where Ahab & his unfortunate crew finally catch up to Moby Dick only to meet their near-complete demise.
Now, speaking of obsessions, one of MY obsessions ever since seeing a picture in Peter Croft's
The Good, the Great, and the Awesome
was to climb a route called Bony Fingers on
The Whale
at Whitney Portal. The siren call of a perfect finger crack!
The Whale at Whitney Portal: it really DOES look sort of like a breaching whale, doesn't it?
Maribel and I didn't have get back to the real world until Friday night, so the next morning we set out early on the 2-minute approach-drive to the trailhead and mellow hike up to the base of the route.
I'd been wanting to climb Bony Fingers for YEARS. What a rush. (Not that I was obsessed or anything. Nobody made me climb it. I can quit any time I want.) Maribel even let me lead all the pitches. What a great partner!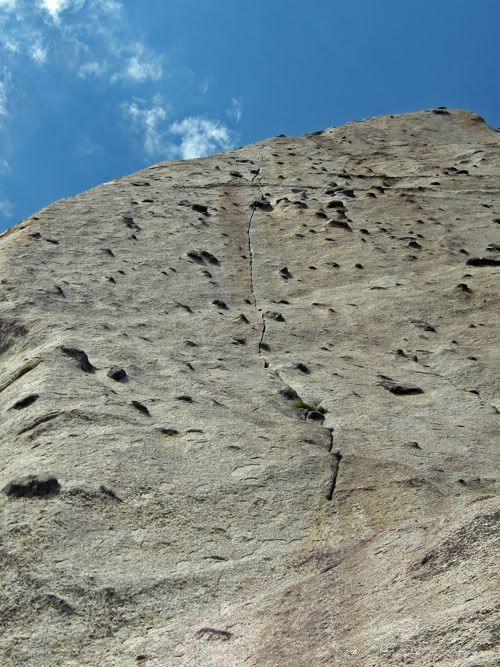 Getting down was a minor adventure, too. Beforehand when Maribel said (twice) she thought the rap took two ropes someone in the team wasn't listening very closely, but hey, we got down eventually and only had to leave one old runner and a bootied locker from a different route. (Who was it that said "It's not an adventure until something goes wrong."?)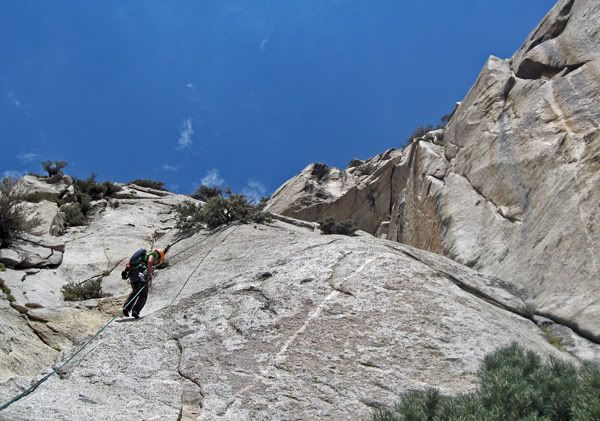 (Beta note: There is/was a typo in the Croft book and, in fact, you do need two ropes to rappel. But that's obvious if you actually read the book instead of getting too excited and ignoring the text like I did. The more recent Bishop Area Climbs book corrects the typo.)