Three years in a row, my two awesome daughters and I have made an annual pilgrimage to Tuolumne Meadows for our summer campout and basecamp. I started going there in 1959 with the folks, and those early trips left permanent memories with me. I want my daughters, as I was, shown how this is the most beautiful place on Earth. One can never predict when or if the magical Tuolumne feeling will come upon you, but my goal has been to provide the opportunity for this feeling to present itself to them.
1959 in the meadows
Based on Nita's suggestion, here we are in 2009, 2010 and 2011at Soda Springs:
2009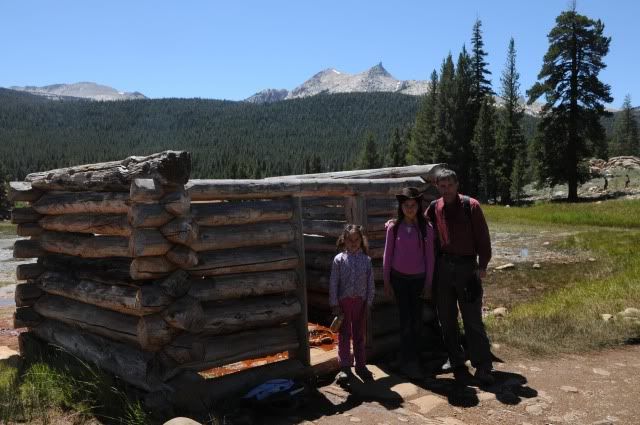 2010
2011
We stopped on the way in Roseburg, OR at Shady Oaks Motel, where flavorings of the Bates Motel were evident when we woke up in the morning and looked out the back window: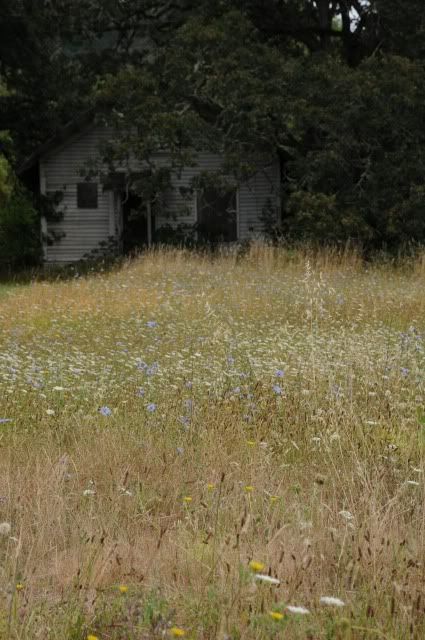 But, it's the very best motel around; good people , clean, safe, quiet, and way inexpensive.
A day or so later we stopped in at the base of the Sierra near the Grotto at my friend Joe's place, where I took another picture of the cows at sunset as we had a wonderful dinner with friends.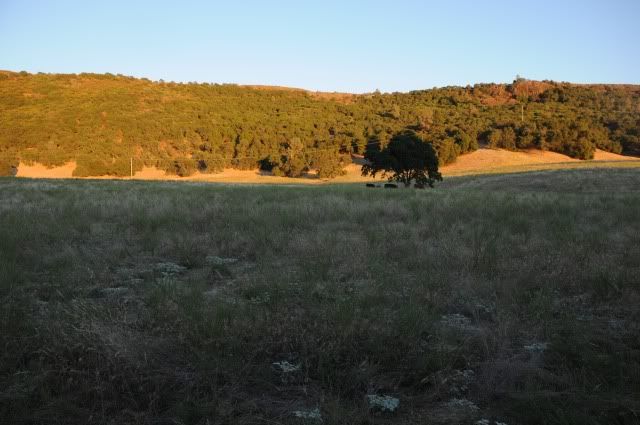 Then, it was on to the park, where we drove straight to the campground and quickly got a good campsite in "A" loop. As always after setting up camp we headed over to the government stables to collect firewood, getting distracted by the stock, the dust, and all of the commotion. Our "secret supply" is getting pretty picked over, but we did get enough wood for the first few days.
The next morning was a typical camp breakfast with hot coco, bacon and eggs
And a well-deserved bit of chill time in camp after our 900-mile journey
Then, we took our annual ceremonial hike out to Soda Springs for taste of the Sierra Nevada's best drink (besides SN Brewing Co); a veritable sacrament for me.
I also told how the Sierra Club used to have the climber's campground at Soda Springs, and this was where we would keep our food and wine:
Afterwards, instead of our usual lunch near the bridge, we hiked about a mile and a half on the PCT toward Glen Aulin and the hung a left in this fine meadow for the river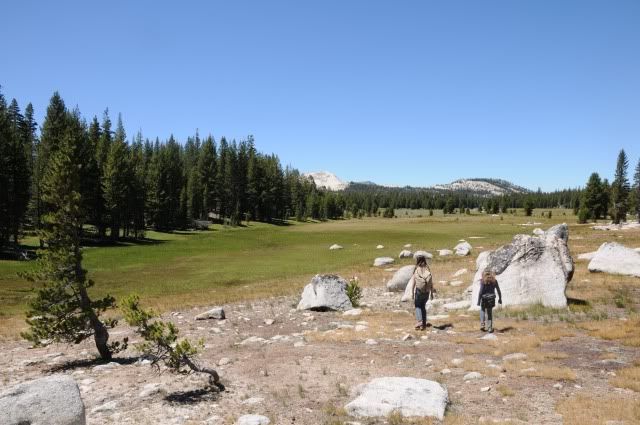 Pretty cool spot with nice swimming
After lunch, we slowly picked our way up stream and ran into (almost literally) a whole bunch of friends with horns
These bucks were numerous and in different groups. They we 75% un-afraid of us as we walked into their "living room" slowly. Except for once in late season just inside the Park near Mono Pass where a group of bucks ran from me when alerted, I have never seen this as it was. A "boys club" of sorts.
Then, upstream was this awesome boulder I've never noticed before.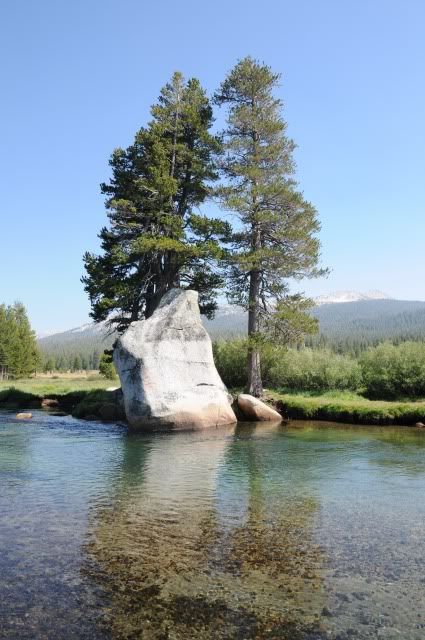 So, with this little hike behind us, we were off to the "finger" for a dip to finish off the day (we thought)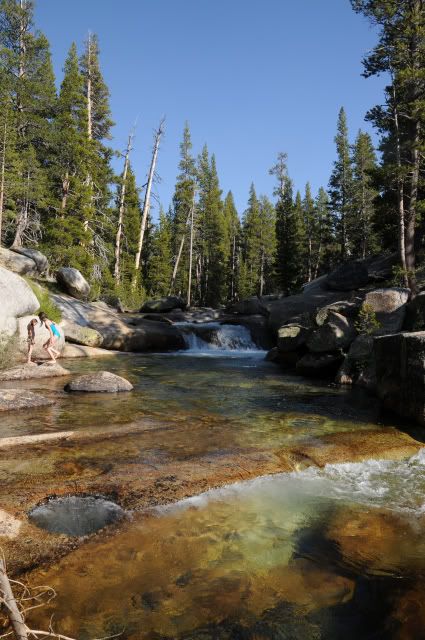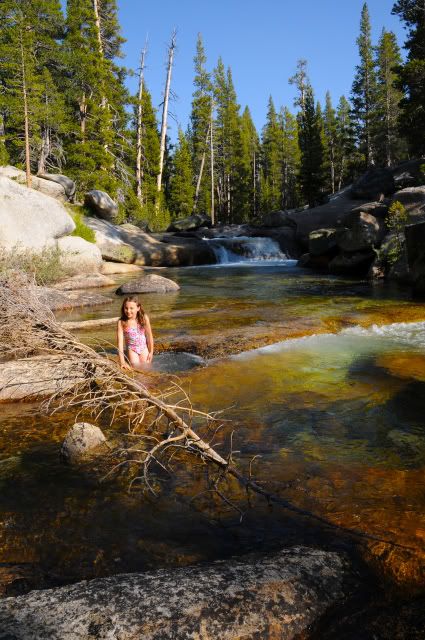 When we arrived back at camp, a note was affixed to the camp chair bearing the name and phone number of none other than Mike Seatter (of is that cedar?), who soon arrived with his Italian girlfriend (named "Fiat"). It was really great seeing Mike and hearing about everything. As a veteran of the Ahwahnee, I now really appreciate Mike's lifestyle and his success at "living the dream" his way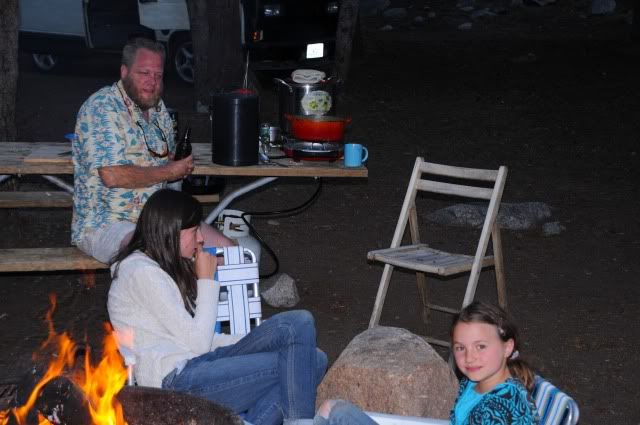 The next day I tried parking the van at Gaylor Creek along the Tioga Road and hitching a ride back to the pass so we could make the shuttle trip from the Pass to Dana Meadows hike, but every car blew past me like I was some sort of goon or something. So, we just did a round trip from Tioga Pass to Gaylor Lakes, which is always great hike (man, that 800 foot climb from the pass to the saddle bout did me in - used to be able to scramble up it in 10 minutes!)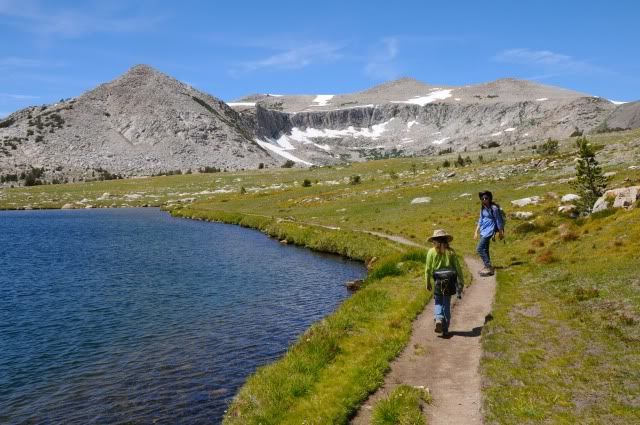 The last of the Shooting Stars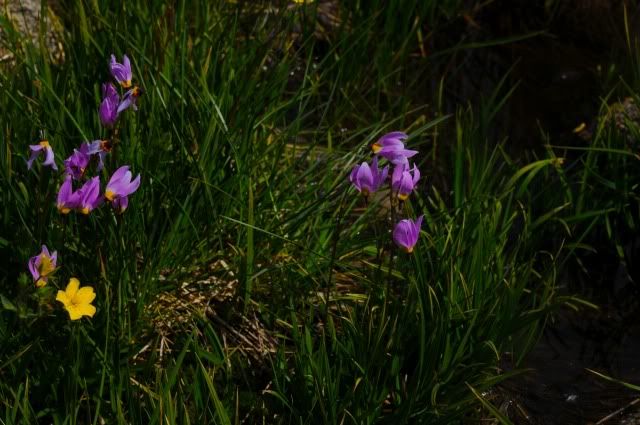 There is always a special moment in those high meadows
The views were spectacular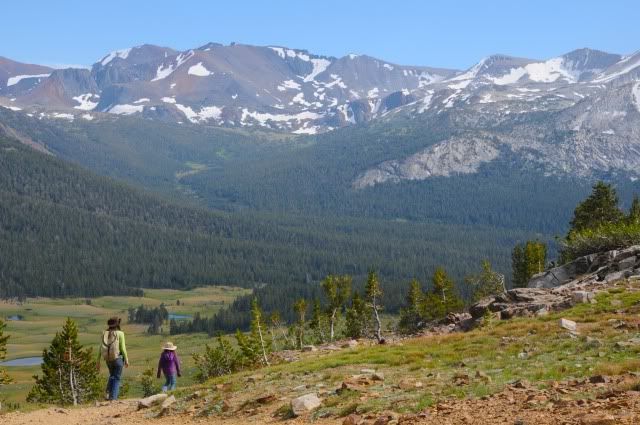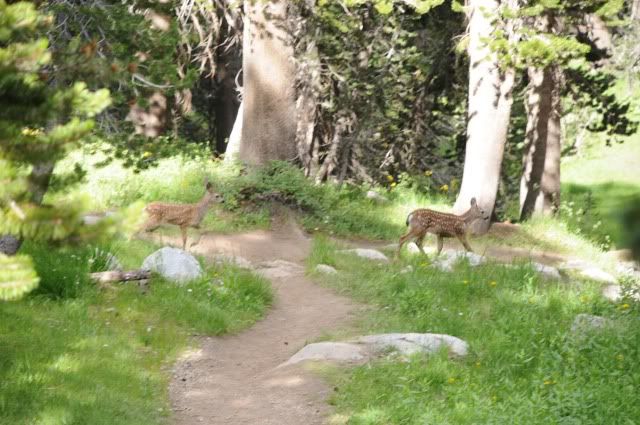 Our day was not over without getting more firewood – the really good kind
Day 4 was another casual day strolling up the Lyell Fork for swimming and exploring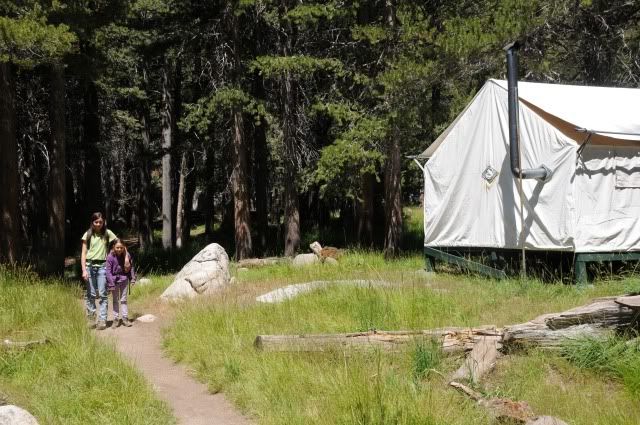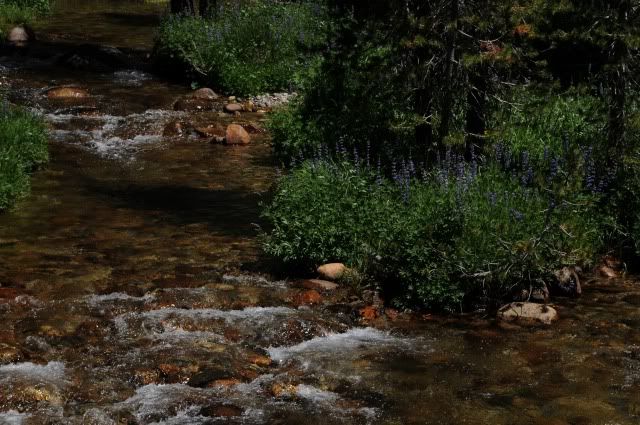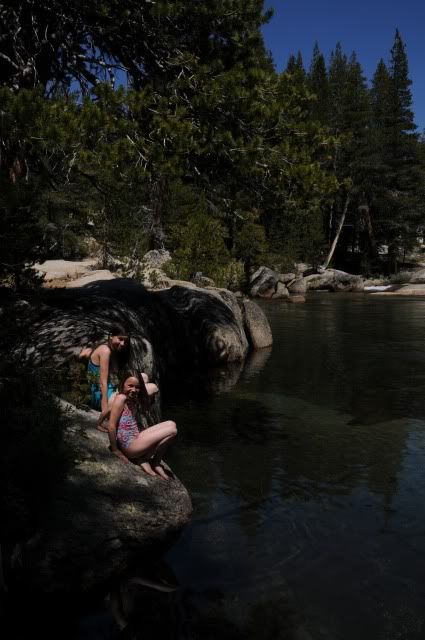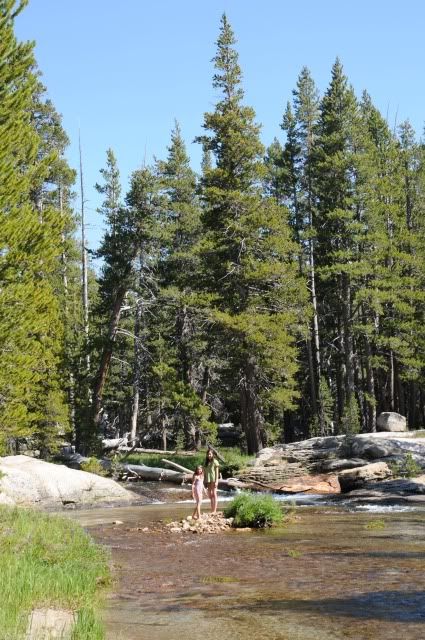 The Lyell Fork has to have magical blue dye in it to make such beautiful pools, yeah?
The place is a veritable rock garden masterfully tended, yet untouched
No breaks for any campers!
Like last year our own Swilliam took the girls out for a morning of climbing. He was moving carefully and patiently after "gut-bomb" buckwheat pancakes and a plate of camp bacon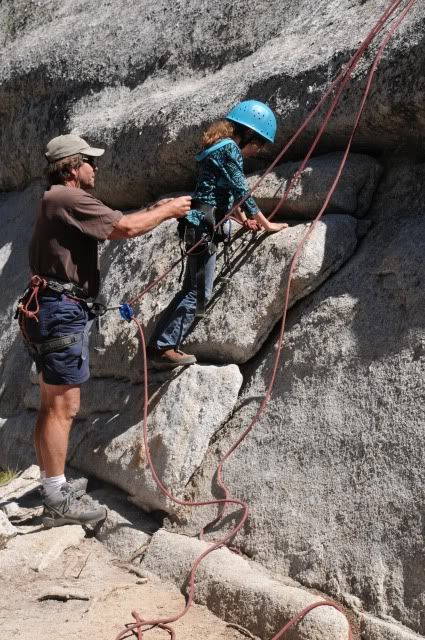 A very rare shot
Stella moving on up without hesitation
Reasonable form
Magda doing just fine
Way fun
Bill, winding things up
Over at the YMS HQ/gas station, TM Herbert arrived for the weekend, DY was waiting for a friend to show up, and all the normal banter and trivia was in full hang-out mode. Pinky was in charge of the MT shop while Rick S was on days off. Swilliiam spent at least an hour fixing a toy remote helicopter using an exacto knife and a plastic pop bottle. Vehicles were parked in such a manner that one has to do a near chimney move to gain access to the back area. Later that same day, the YMS picnic table was adorned with Makers Mark, Old English, and an assortment of other fine refreshments.
What is not to love about Tuolumne?
Lunch at camp –leftover stew after doing some laundry
Casual afternoon at the river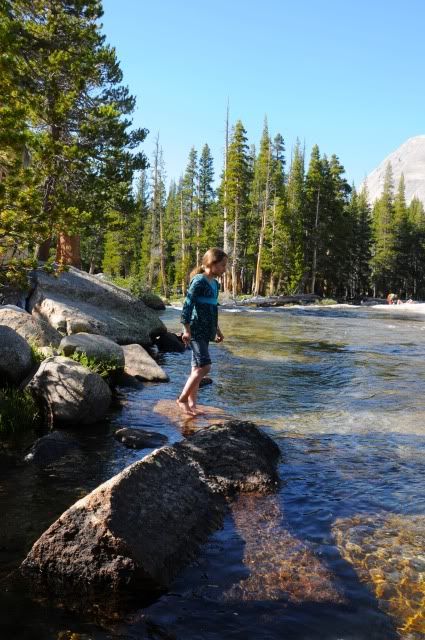 The best chicken stew I have ever made for dinner
After a great BD party over in B loop with others of ST, and a sudden changes of plans had us on a "group hike" to 20 Lakes Basin above Saddlebag the following day – possibly the highlight of our whole vacation. That place is awesome and easy every time.
We hiked around the lake to get started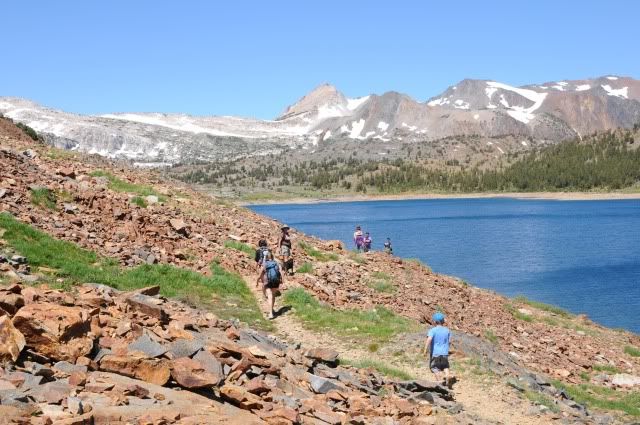 Stopped briefly at the first lake
Then pushed on to Stealhead and Shamrock lakes
What a spot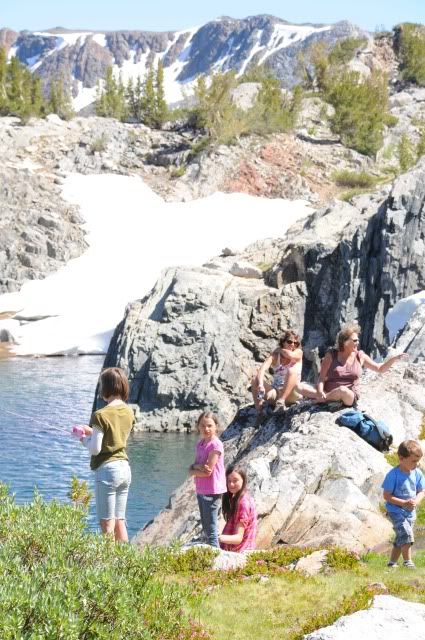 Photo by Deb Drew
The casual hike back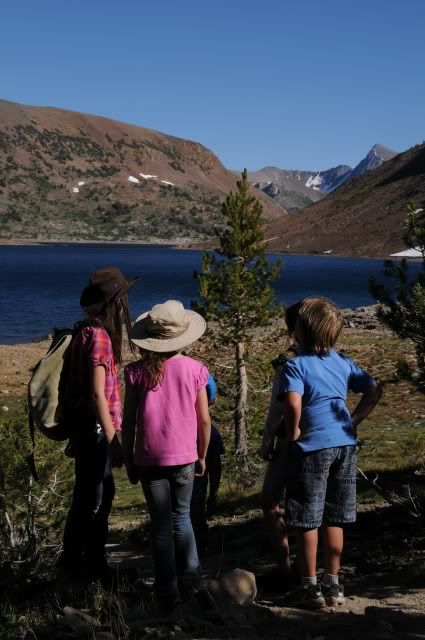 And our exhilarating boat taxi ride back to the resort. Mt. Dana in the background.
Day Seven – what's a week in Tuolumne without a whole day at Tenaya!
Paddle boarding and Tenaya playtime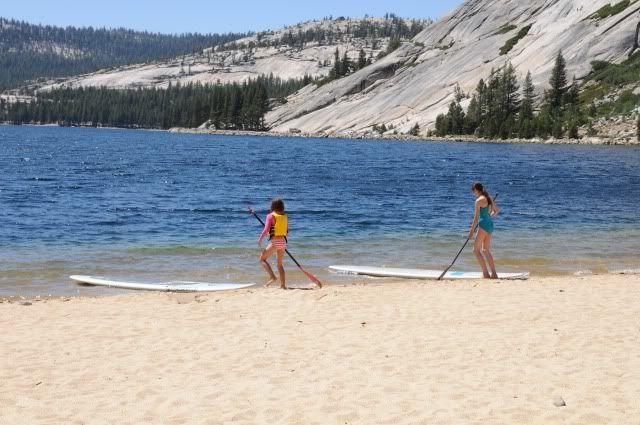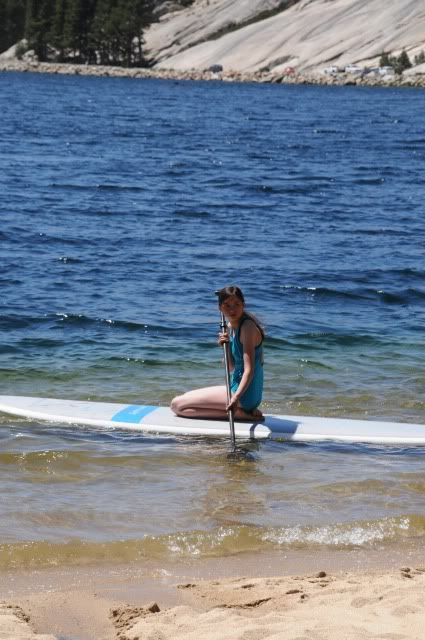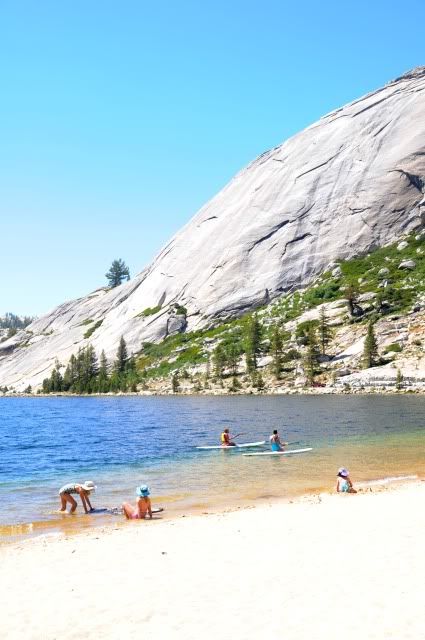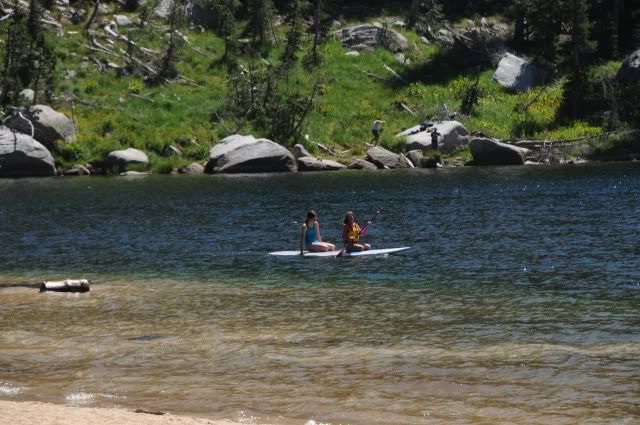 Sand, sun and water
Buried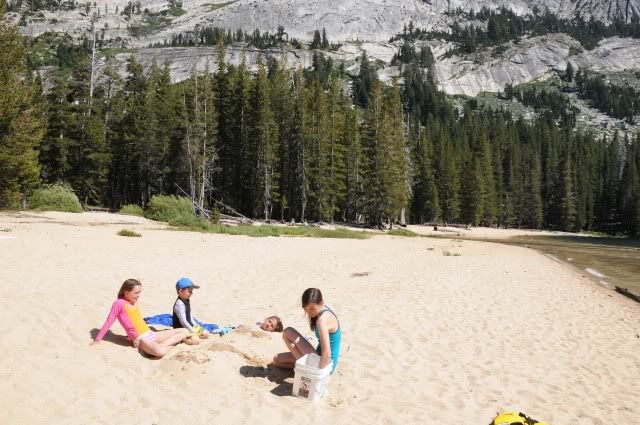 On day eight we said farewell to our home for a week
Took a small side trip to WW
An then spied the wonderful flowers around Crane Flat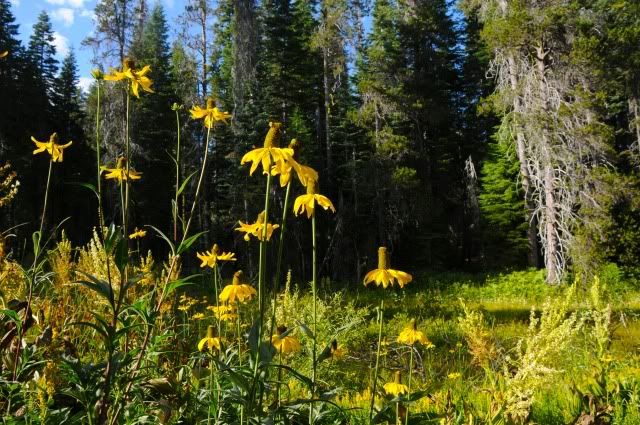 Treats in Columbia SHP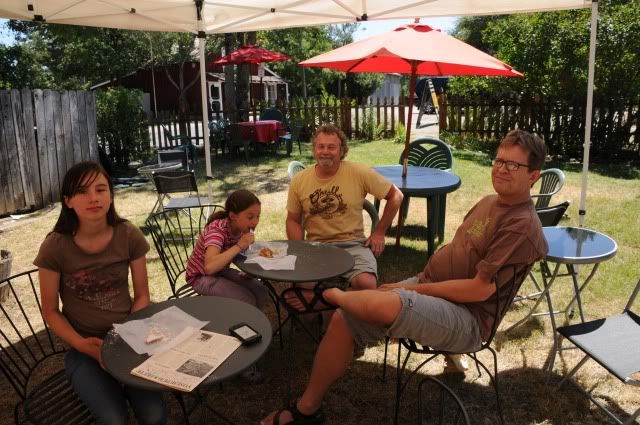 A special haircut
And then off to Nita and Timid TR's place in Chico for constant swimming in 95 degree weather, $1/lb heirloom tomatoes at the Farmer's market, and just pain fun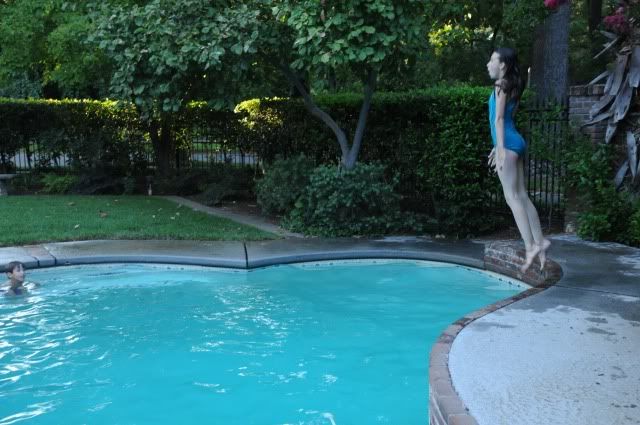 As always, this is the main vacation we take every year. 900 miles from home, but always worth the tedious drive. I dreamt just last night that I woke up to another day in Tuolumne; wish it were true.